Atlas Announces 3 NEW body styles
Published: 2017-06-25 - By: Jenna
Last updated on: 2021-08-13
visibility: Public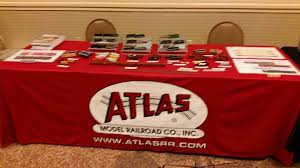 While at this week's 25th Annual N Scale National Convention in Pittsburgh, PA, George learned about some exciting new product announcements from Atlas.
The company introduced three new body styles that it plans on producing (no release or pre-order dates were given): 40' Rebuilt Well Car, 45' container and Bx-177 Box Car.
As of the writing of this blog, we could not find any of the usual details about these releases on the Atlas website. However, here is some information George learned while chatting with Paul at the Atlas booth and some data we gleaned from the product fact sheets, which George photographed.
New to N scale: 40' Rebuilt Well Car

This size well car, which is not articulated, is completely new to n-scale. Apparently, Micro-Trains and Atlas chatted with each other before committing to making future well cars and this resulted in a 40' model from Atlas and a
Husky Stack 48 foot Well Car from MTL,
which has been in production since earlier this year.
Some of the features of the 40' Rebuilt Well Car will include: die-cast body, etched metal walks, metal wheels and body-mounted couplers.
45' container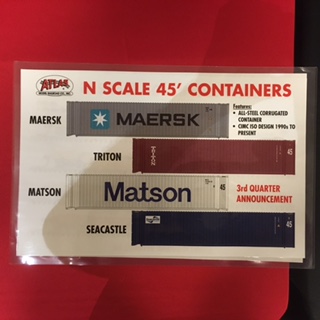 This size, along with 48' and 53' containers are used in the U.S. and Canada so we would expect North American road names. Ninety percent of dry freight or so-called general purpose containers are mostly either 20' or 40'. This model is an all steel corrugated container and will come in shipping names: Maersk, Triton, Matson and Seacastle.
Bx-177 Box Car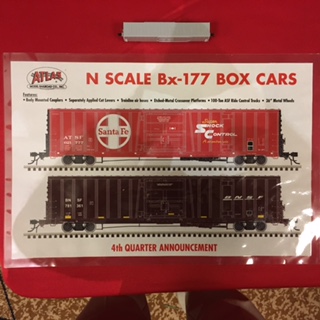 The Bx-177 box car will be another new model for n-scale; some of the features of this freight car will include: body-mounted couplers, separately applied cut levers, trainline air hoses, etched metal cross over platforms and 36' metal wheels.