Athearn Announces New N-Scale Tooling: 45 foot Intermodal Container
Published: 2019-02-01 - By: Jenna
Last updated on: 2019-03-01
visibility: Public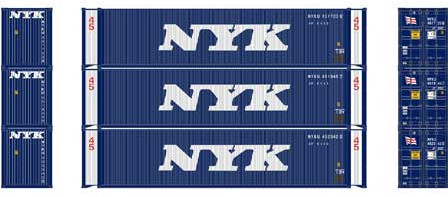 Athearn N Scale NYK 45 foot Intermodal Container
In January 2019, Athearn announced a brand new n-scale tooling: 45 foot intermodal shipping containers. These items will come in 3-packs/3 road numbers per package ($31.98) for the following names: Evergreen, K-line, Maersk, Hapag Lloyd, Hyndai, Hanjin, Mitsui Overseas Line, NYK, American President Lines, CMA•CGM, OOCL and Sealand.
These containers will work well with the company's
Husky Stack well cars
released in 2017.
We can expect to see more n-scale containers from Athearn, which formally announced this new product line at the
2019 Amherst Railway Society Railroad Hobby Show .
These containers have an estimated release date of January 2020.
For more information about this release, here is a link to the
Athearn announcement pdf.