Broadway Limited's N-Scale Cryogenic Tank Cars Offer Loads of Detail
Published: 2019-10-25 - By: gdm
Last updated on: 2021-08-12
visibility: Public - Headline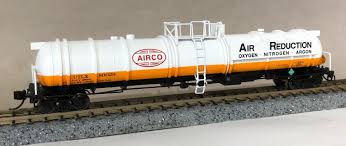 Broadway Limited first released this car in June of 2019. These cars are specialized high-capacity tank cars used for the transportation of very cold liquids. They have never been modeled in N Scale (mass production) prior to this release, likely due to the complexity of the prototype.
The cars were initially released in seven different paint schemes as well as three undecorated models. They come in three variations: Type A, B and C. The Type A's lack the distinctive roof platform. The B's differ from the C's in that the C's have more valves on the roof than the B's. Each paint scheme comes in one of the three different model variations as appropriate per the prototype. Our review model is a Type C painted for Airco. (MPN 3727)
The models were released as single cars and 2-packs. Each paint scheme has a single and a 2-pack associated with it allowing the modeler to collect up to three different road numbers per paint scheme. The singles carry an MSRP of $39.99 and the 2-packs are priced at $74.99. We obtained our review model from Tophobby Trains for $34.
The Prototype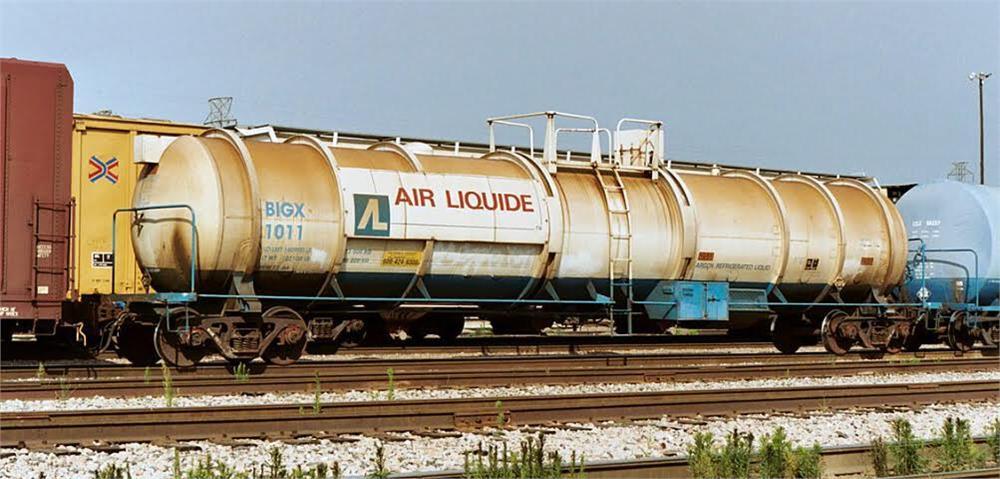 Cryogenic liquid tank cars are vacuum-insulated with an inner container (tank) and carbon steel outer shell (tank, not jacket). They transport refrigerated (extremely cold) liquefied gases (such as liquid hydrogen, ethylene, oxygen, nitrogen, and argon) having a boiling point colder than minus 130 F at atmospheric pressure.
The Box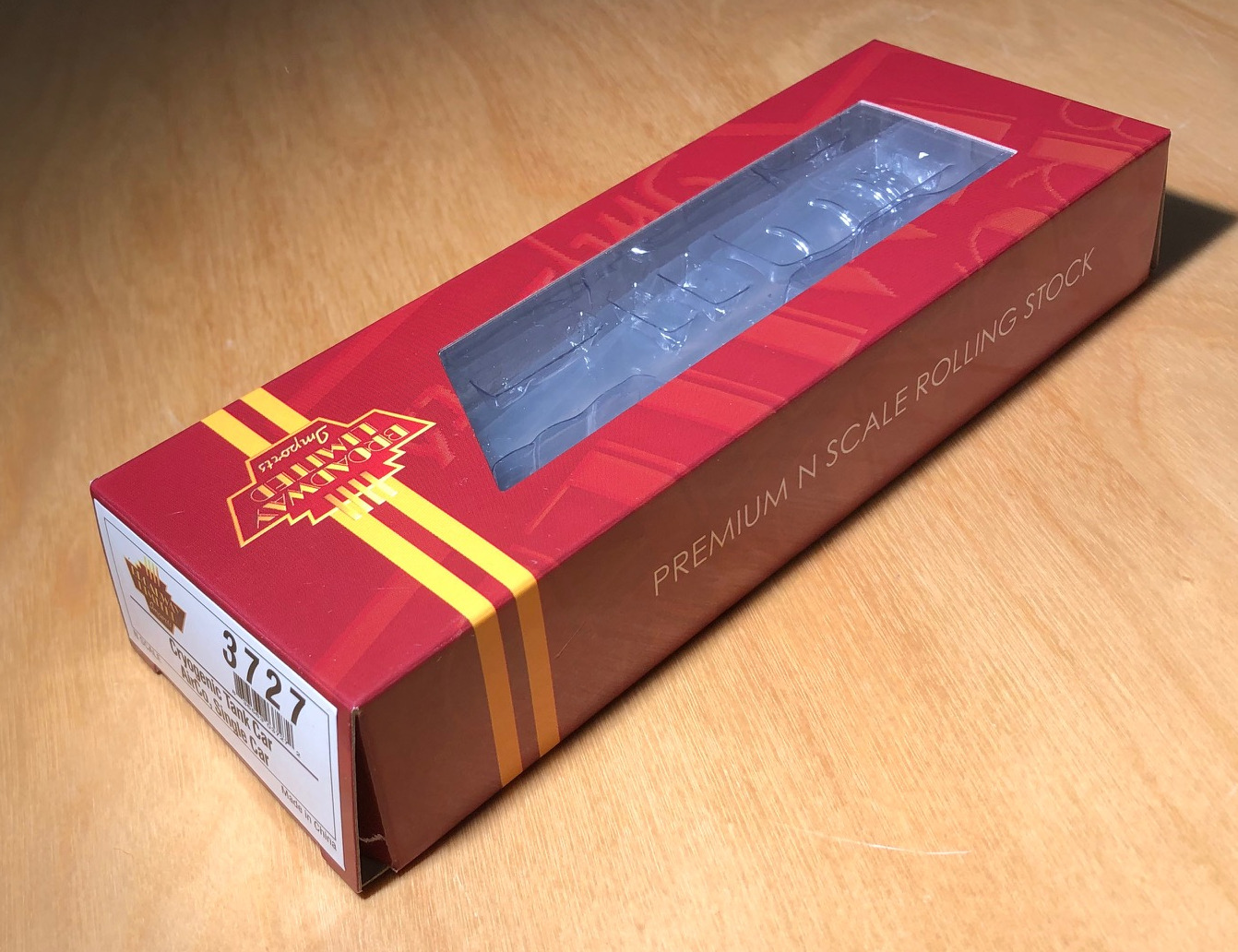 Cardboard Box with Cellophane Window
These cars were released in a 6 1/4" cardboard box. The boxes have a clear cellophane window on the top allowing the buyer to see the model inside the box. We are not a big fan of the cardboard box. They are prone to being crushed and they are annoying to open and close. That being said, the cars are sleeve wrapped and nested inside a double cradle within the cardboard box with a bag of desiccant for good measure. The packaging seems to make sure these delicate models are well protected as they survive the gauntlet of container ships, delivery trucks and the local post office on their way to the consumer.
The Trucks and Couplers
Like many modern releases, these Broadway Limited cars use MTL knock-off couplers. Our opinion is that these couplers work fairly well with longer consists, but not as well as an OEM coupler from Micro-Trains. The knuckle is more angular than an original MTL but usually this does not present a problem when coupling with each other or with other knuckle couplers. We hope that with the rise of production costs in China, we will see more manufacturers migrate to using original MTL couplers in their models.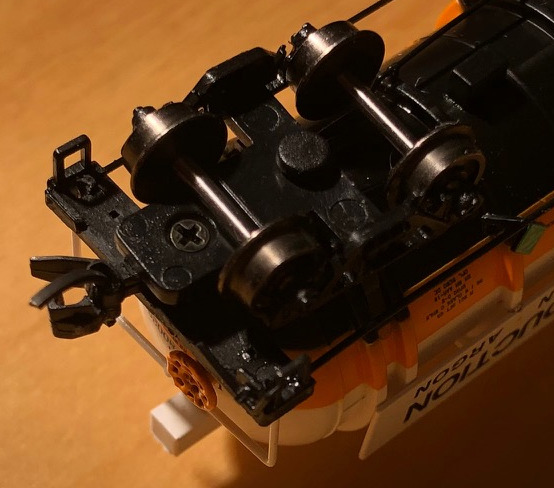 Trucks with Attached Magnetic Knuckle Coupler
The couplers are truck-mounted, using a fairly short extension. The couplers are locked to the trucks by means of a small Phillips head screw. The wheels are high-quality chemically blackened metal. The wheels are low-profile and will be happy to play nicely on Code 55 track. However, they have a little more edge than some of the other recently released wheel sets and we really like to see this as more edge means better tracking. N-Trak and T-Trak layouts often have some sketchy track work and ultra-realistic wheel sets cause derailments. We are quite pleased to see this nod to us runners in the design of these wheels. While not as pronounced an edge as the MTL 'Standard' wheels, they are close.
Our only gripe with the model is that the couplers are truck-mounted instead of body-mounted. We suspect this was a conscious decision made by the designers to make the cars play nicely on tight-radius turns. However, nobody should be running these things on 9" turns. They are 60+ feet long for goodness sake! They will look ridiculous on small radius curves. We believe the BLI folks should have gone for body-mounted couplers because they generally look better and stay coupled better than truck-mounted jobs.
The Model
The overall quality of the model is quite high. The details are really splashy and attention grabbing. On close inspection they hold up well. A lot of labor went into the construction of these cars. They are quite possibly the most detailed tank cars we have seen from any manufacturer. Given the sheer volume of labor that went into attaching all the various parts together, it is truly amazing that our sample car had no broken or missing or unglued bits! Very very impressive.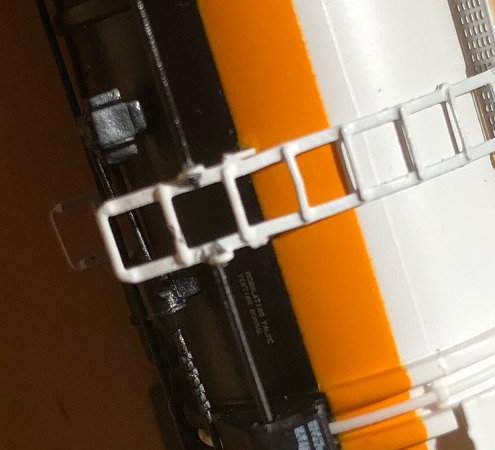 Ladder Detail
So our favorite part of this model is the ladder detailing. As you can see in the picture above, the handrails attach to the ladder
and then there is a gap
and the handrails resume on the far side of the ladder. The labor it must have taken to carefully attach the ladders to the hand rails and the ladders to the side of the car is awe-inspiring. What is even better is that our sample car did not show any excess glue at the attachment points! The under frame has a lot of cool details as well, especially with the brake lines and electrical boxes.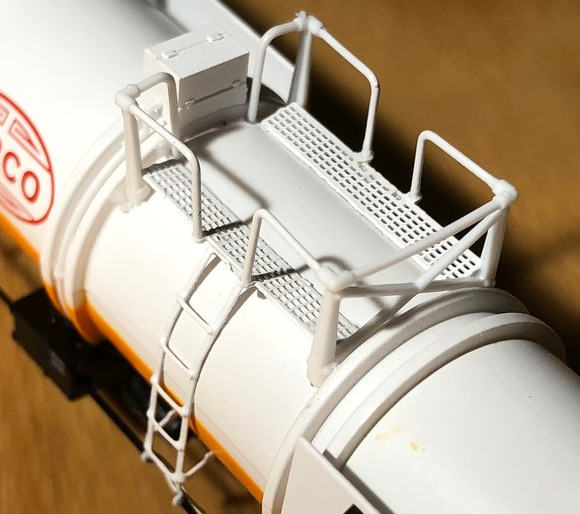 Roof Detail
The roof is also very detailed. The platform and guard rails are excellently modeled as are the various valves and miscellaneous tank car widgets on the roof. The sides of our sample model have plaques that are noted 'Air Reduction' and this signage does not look like an afterthought. It is well executed and looks quite good. It would have been easy enough to attach these signs as an afterthought at the end of the manufacturing process but the designers of this model went the extra distance to make sure that these details were executed correctly. I also liked the four hazard placards attached to each side of the card. The green on the placards with the word 'Flammable' was a nice touch. I am a huge fan of the venerable MTL 39' tank car but I find it annoying that the placards on that car come unpainted and unattached. Thank you BLI for including this nice detail. Once again I am awed by the labor that went into building this car.
But all this detail comes at a cost. Handle these cars gently. Don't break anything off. You will likely never be able to re-attach a broken bit as well as the factory folks who assembled the car did initially. There are stanchions, placard, guard rails, handrails, brake lines, ladders and some cool but random detail parts attached to the end platforms that can all easily be snapped off.
Summary
You are getting a lot of car for your money here. I don't have much sympathy for people who complain about the price for a car like this. If you want something simple and low-priced, go elsewhere. These are a modeler's car but priced low enough that adding a few to your collection won't break the bank. I don't suppose that everyone will get as lucky as I did with the model coming out of the box with NO defects or broken pieces. Examine your models carefully as BLI has excellent customer support and will repair any defects or broken pieces should one of these cars get damaged in transit.
I would have liked to have seen body mount couplers, as this is a generally accepted standard feature for high-end cars. I also want to emphasize that this car should be handled with care and run with care. If there are small children around, hide your cryogenic cars, they will never survive contact with the floor.
In short, I appreciate this car. No car is ever perfect, but this one has a nice balance of acceptable price, huge level of detail and lots of coolness. Thank you BLI.
Click here to see a full list of all the cars in this series.