Athearn Trains PS 4427 Covered Hopper
Published: 2021-02-13 - By: CNW400
Last updated on: 2021-02-17
visibility: Public - Headline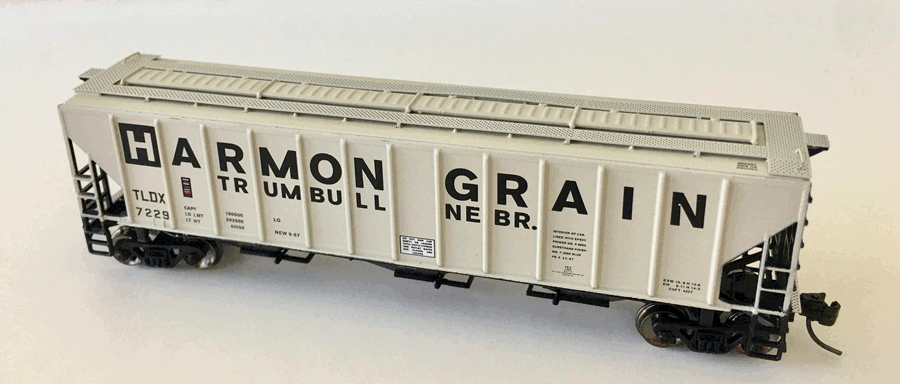 In September 2020, Athearn Trains introduced the Pullman-Standard 4427 Covered Hopper into their rolling stock family. This fully assembled model is a brand new N Scale rolling stock product for Athearn.
Road Names and Pricing
The initial production series released in September 2020 was comprised of eight different paint schemes. The road names represented in that collection included:
Burlington Northern (BN)
Chicago & Northwestern (CNW)
Harmon Grain (TLDX)
Montana Rail Link (MRL)
Pillsbury (TLDX)
Santa Fe (ATSF)
Union Pacific (UP)
Wisconsin Central (WC)
Three different road numbers for each rail line were available for individual purchase at $28.98. A 3-Pack for each line with different road numbers was also offered for $84.98.
Athearn Trains has announced a second release of the PS 4427 Covered Hopper with an estimated delivery date of January 2022. The railroads included in this second collection are:
Burlington Northern (BN)
Burlington Northern Santa Fe (BNSF)
Chicago & Northwestern (CNW)
Continental Grain (TLDX)
Corn Products Company (CCLX)
Rio Grande (D&RGW)
Rock Island (RI)
Santa Fe (ATSF)
These hoppers have a suggested retail price of $32.98 for a single car and $93.98 for a 3-Pack.
My review includes observations of Athearn Trains stock number: ATH27421 - Harmon Grain (TLDX) #7229.
Prototype History
Open hoppers were a common freight car since the 1800's, used to carry products that did not need protection from the wind and rain such as coal and stone. The railroads were simultaneously looking for a more efficient method of shipping consumer bulk dry goods that were commonly bagged and loaded into standard boxcars. This routine had proved inefficient as it was time consuming and a great deal of product was either damaged or wasted. The railroad industry began to experiment with converting open hoppers by adding a waterproof top and outlet gates on the bottom. The car manufactures saw an opportunity and met this demand by introducing the first purposed-built covered hoppers to streamline the process of shipping such goods as: flour, sugar, starch, plastic, feed and fertilizer.
Pullman-Standard began to produce covered hoppers in the mid-1930's. Most of these cars were two-bay, 50 or 70-ton hoppers designed to transport cement and carbon black as well as lime, sand and phosphate. The covered hopper simplified the hauling process by allowing the product to fill the freight car through roof hatches (30" or 36" square shaped at first) and discharge out the hopper gates.
Pullman-Standard further revolutionized the covered hopper design with the introduction of the PS-2 line in 1952. The Pullman-Standard cars were all-welded with round roof hatches (30") and center running boards. The first PS-2 was a two bay 70-ton/2,003 cubic-foot covered hopper. Pullman-Standard introduced the larger 42-foot long, 70-ton, 2,893 cubic-foot car in 1953 and a 3,219 cubic-foot car in 1958. These cars were used to carry such items as salt, sugar, meal, barley and fertilizer.
With the debut of a 4,000 cubic-foot covered hopper in 1962, Pullman-Standard began their dominance of the wheat transport industry. These hoppers introduced the center discharge system and trough-style top hatches - both features became the norm for loading and unloading grain hoppers. These cars also had an increased load capacity of 100-tons. These advances lead to the demise of the 40-foot boxcar hauling grain along the rails.
The center discharge system (CD) allowed the hopper to discharge grain from bottom outlet gates. These gravity-controlled outlets had a plate covering their opening - once the plate was slid open with a crank - the load flowed out of the gates. Furthermore in 1962, the newly designed grain roof hatch had a centered trough-style opening with running boards along both sides of the car. This allowed for speedy and continuous grain loading along the hopper's single car-length hatch opening. Since grains didn't require a tight seal, four narrow hatch covers were used to seal off the grain product. Other commodities that needed protection from the elements such as flour, sugar, chemicals and plastic pellets still used covered hoppers with round loading hatches, as these hatches offered a more weatherproof seal.
Loading 40' Boxcar with Wheat - Litchfield, MN ca. 1939
Credit: John Vachon Collection, Library of Congress, Prints & Photographs Division, Public Domain
Newly Designed Car-Length Hatch Allowed an Even & Continuous Pour
In 1964, Pullman-Standard designed a larger covered hopper with the 4427 cubic-foot PS-2CD. The early versions of these hoppers were a foot longer (50' 7") and two feet taller than the 4000 cubic feet cars. These cars also had a trademark 4-3-4 side post pattern and side sills that extended straight across the end platforms.
Pullman-Standard reconfigured the design of the PS-4427 hopper with an evenly spaced 13-side post pattern and raising the lower edge of the sidewalls thus revealing more of the discharge bays. This new composition added strength to the car and reduced overall weight. The newer cars were labeled 'high-side' cars while earlier PS-4427 hopper were called 'low-side' cars.
More than 23,000 PS-4427 covered hoppers were built - approximately 10,000 of the 'low-side' version and 13,000 of the 'high-side' variety. Pullman-Standard introduced the larger 4740 cubic-foot covered hopper in 1966 with their recognizable 16-side post pattern.
Covered hoppers could be owned the railroad, a leasing company or private owner. The railcar builders also created subsidiary leasing companies to provide rolling stock for their shipping customers. Pullman-Standard formed the Transport Leasing Company (TLCX) - later changed to the Transport Leasing Division (TLDX) in the 1960's. The leased cars carried the TLCX or TLDX reporting marks but were decorated for the customer leasing the railcar. The Harmon Grain and Pillsbury covered hoppers in this Athearn series carry the TLDX marks and have their company name largely painted on the car's side panels.
Pullman-Standard again changed their reporting marks to the Pullman Transport Leasing Company (PLTX) in 1970 and the Pullman Leasing Company (PLWX) in 1981 when Pullman-Standard deserted the manufacturing business. The Pullman lease fleet is currently controlled by GE Capital Rail Services.
Private owner cars have a reporting mark that ends with 'X'. A Shell Chemical Plastics car would have the reporting marks of SCPX.
The Model
The ready-to-run boxcar comes packaged in a clear plastic jewel case with a slip-off cover and a very thin two-piece plastic cradle to support the model. The model information is clearly labeled on the end of the case for ease to locate when in storage. A thin plastic sleeve was wrapped around the car to protect the print job from scuffmarks. The packaging is poor for this quality model. The jewel case felt rather brittle and the two-piece plastic cushion inside the case was very flimsy. I was rather unimpressed with the model's storage container.
The paint job is clean and even along the entire injection molded plastic model. The Harmon Grain covered hopper is painted warm grey with black ends and end rails. All letters and numbers are also black in color. Lettering is "razor" sharp and clear, even when some magnification is needed for the smaller printing. All characters are neat and legible. Although I was not able to locate a Harmon Grain prototype image, the placement and size of printing is very similar to that found on other PS-4427 grain hoppers from that era.
Clean Razor Sharp Printing
One neat feature found on this model is the inclusion of a KarTrak Automatic Car Identification (ACI) tag on the hopper's side panel.
KarTrak ACI Tag Represented (under the 'A') - Note 1967 Date
The KarTrak ACI tag was a color-coded 13 horizontal bar label that was designed to help identify rolling stock and locomotives with optical scanners located trackside. This assisted with pinpointing the exact location of equipment and shipper's cargo. These six-inch wide labels used series of red, blue, black and white patterns with a vertical gap between each line. Each line provided unique information to identify each engine or railcar - the lines were read bottom to top:
| | |
| --- | --- |
| Line 13 | Check Digit |
| Line 12 | Stop Line |
| Lines 6 thru 11 | Car Number |
| Lines 3 thru 5 | Reporting Mark |
| Line 2 | Equipment Code |
| Line 1 | Start Line |
In 1967 the Association of American Railroads (AAR) required all pieces of rail equipment to have the KarTrak tags installed - by 1975 over 90% of all stock were labeled. During the initial years of implementation, the KarTrack system experienced a 10% failure to read or error in reading rate. Dirt accumulation and physical damage to the labels were the primary reasons for these errors. Without full compliance of proper label maintenance by all equipment owners, the failure rate continued to grow and the KarTrak system was left to abandonment in 1977.
Athearn may have taken a few liberties with the color choices (too many different shades of blue and red look green and purple) - but a welcoming nostalgic look at a forgotten technological venture.
The sides also feature the correct 'high-side' 13-post configuration, the distinctive diagonally sloped end panels for easy unloading of product, stirrup steps and platform ladders. All lettering is amazingly sharp and crisp which makes it all highly readable - even without magnification.
Both ends feature a full height ladder and support rails for the 45-degree rapid discharge sloped bay contours. A low mounted Ajax pressed steel handbrake is located on one end; although lower mounts are more common, a high mounted brake wheel was utilized based on customer specifications. There is extra fine detail with separately applied etched metal crossing platforms on both ends. Again the lettering is neat and in proper arrangement with the road marker & road number at the top right corner of each end.
Ajax Brake Wheel End Details
Metal Etched Crossing Platform and McHenry Couplers
The top of the hopper has highly-detailed see-through metal etched running boards, a center loading trough with the proper four separate panel hatches composition and grab irons on each car end. Clear lettering warns the crew: CAUTION - No Side Ladder.
Trough-Style Grain Loading with See-Through Running Boards and Correct Four-Panel Seal
The underframe has an elaborate three-outlet gate arrangement with sharp printing and the cover plate / crank unloading system. The cubic feet capacity numbers transcribed on each bay outlet (1274, 1579 & 1574) add-up to the proper total of 4427. The boxcar rides along roller bearing trucks with 36" machined metal wheels. While I do appreciate the inclusion of metal wheels, they are much too shiny and silver. This is probably the biggest negative I see in this otherwise stellar model. Finally the model is equipped with screw body-mounted McHenry operating scale knuckle couplers.
Grain Unloading Outlet Gates - Shiny Metal Wheels
The car is 3 3/4 inches in length and weighs about 1.1 ounces, which is perfect according to the National Model Railroad Association (NMRA) recommendations (which are 1.1 - 1.2 ounces for this size car). Athearn Trains added weight to this car for optimal performance. The model had a nice heavy, solid-built feeling in hand. I found it a great runner while testing the car on Kato Unitrack with no issues around curves or through turnouts at slow and medium speeds.
Conclusions
This is an excellent release by Athearn Trains - a highly detailed model that is true to the prototype. The incorporation of metal etched parts and the incredible print job makes this model first rate. It's also a decent runner that needed no adjustments to perform smoothly (maybe just weathering or swapping-out those shiny silver wheels). I would highly recommend the investment in a few of these supreme models. Hitching several of these together would make a spectacular scene with no anticipated performance concerns.
To see a list of all cars in this series,
Click Here.