Micro-Trains Line 50' Plug Door Boxcar
Published: 2021-10-01 - By: CNW400
Last updated on: 2021-09-17
visibility: Public - Headline

In April of 2021, Micro-Trains Line (MTL) added two Union Pacific 50-foot boxcars into their extensive N scale collection. If you are looking for a nice, shiny piece of Union Pacific rolling stock for your layout – Micro-Trains has the car for you. Looking for a prototypical correct model – not so much.
Boxcar Numbers and Pricing
The April release included two insulated Union Pacific (UP) boxcars:
MTL 181-00-141 Union Pacific #499090
MTL 181-00-142 Union Pacific #499194
Each boxcar is available individually with a suggested retail price of $29.95.
Prototype History
The story of the Union Pacific Rail Road begins on July 1, 1862. As a partner of the First Transcontinental Railroad (known as the Overland Route) with the Central Pacific and later the Western Pacific, Union Pacific helped to pioneer expansion west of the Missouri River laying 1,085 miles of track from Council Bluffs, Iowa westward to Promontory Summit, Utah – culminating on May 10, 1869, with the driving of The Last Spike (Golden Spike) joining the Union Pacific's tracks with the Central Pacific Railroad rails that started in Sacramento, California. The last stretch from Sacramento to San Francisco was completed six months later, resulting in rail transport of goods and passengers from coast-to-coast.
The Union Pacific 50-foot standard plug door boxcar was part of the series of BI-50-1 and BI-50-2 cars built at the UP Omaha shops in 1955 and 1957 (BI = Box Insulated). Both versions are almost identical and include series numbers 499000 thru 499099 (BI-50-1) and 499100 thru 499299 (BI-50-2).
The insulated boxcars were first used in the early 1950's coinciding with advancements in fiberglass and foam insulation. Most of these railcars were 50-foot long with plug doors that opened on tracks and formed a tight seal when slid back into place. These boxcars kept precooled cargo within a few degrees of temperature over many days. The insulated cars were popular with lading that needed protection from extreme cold or heat – such as canned foods and other perishables.
The Armour Yellow and Leaf Brown diesel paint scheme was introduced by Union Pacific in 1934. Officials believed the bright color would reduce grade crossing incidents. Harbor Mist Grey highlights across the roof line and Signal Red color lines were added to diesel fleets in August of 1940. Freight cars during this era (1936-1961) were generally painted Mineral Red with yellow and white lettering. In 1962 Union Pacific freight cars began to be painted Armour Yellow with aluminum color roof, ends and underframe.
In 1936, the UP began the marketing campaign of adding slogans to the sides of freight cars. During the years 1934 thru 1949, cars were stenciled with 'Road of the Streamliners' on the designated right side of the car and 'Serves All the West' on the left in white and yellow characters.
The year of 1949 saw the slogan 'Be Specific – ship Union Pacific' replace 'Serves All the West' until 1962. During that year of 1962, Union Pacific introduced the Armour Yellow boxcar and the 'automated rail way – cushion ride' map logo. The 'We Can Handle It. The Union Pacific railroad people' slogan was put into use in 1972 until the early 1980's. The current 'Building America' tagline originated in 2002.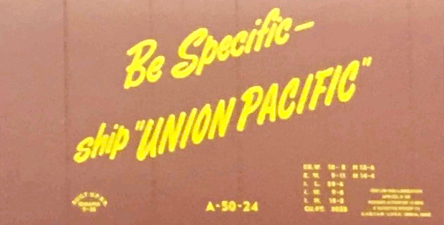 The Micro-Trains Line boxcar prototype was serviced and repainted in 1975 was the large, bold red 'We Can Handle It...' scheme.
An oddity amongst Union Pacific rolling stock is the large red dot plastered on the doors of some railcars during the late-1960's. The red dots were in correlation with Union Pacific's Complete Operating INformation System (COIN). With the assistance of IBM computer systems, this was UP's attempt to track the movement of cars, record receipt and delivery of lading, schedule cars in need of maintenance and place cars where needed for the customer. The cars with red dots were selected to test this system, which appears to have only lasted a few years and abandoned in 1969.
Lastly, the Union Pacific shield also has a long and storied history.
The original shield from 1868 to 1886 was Victorian style with a mountain elk logo. After a few failed modifications, Union Pacific vice-president T.J. Potter requested a more patriotic symbol, and a new shield was introduced in 1888. What was proposed is similar to today's shield – a red, white, and blue color motif with 13 stripes. One difference was 'The Overland Route' banner splayed across the stripes in a diagonal fashion. With only a few minor tweaks and addition of some wording from time-to-time... the Union Pacific shield stayed relatively the same with the 'Overland Route' banner until then UP president W.M. Jeffers dropped the 'Overland Route' bend and annulet in 1942.
In more modern times, the Union Pacific shield had the word 'RAILROAD' added in the blue space in 1950. In 1962, General Advertising Manager, C.H. Mertens, proposed dropping the shield to compete with other railroads that updated their logos. This idea led to the infamous 'Campbell Soup' creation – a square design with a red top half with white letters and white bottom section with plum color lettering. The entire logo was bordered in a thick black line. The 'Campbell Soup' label design was never fully adopted. Union Pacific President Arthur E. Stoddard ordered the return of the 1950 Shield design after only ten months of this failed experiment. In 1969, the Union Pacific dropped the word 'RAILROAD' for the shield, citing that one design would be used to identify the corporation and its subsidiaries, and eliminating 'RAILROAD' abolished all confusion. Other than a few updates to modern font, the shield used today is similar to the 1969 design.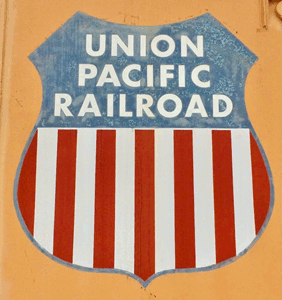 1950 Shield Design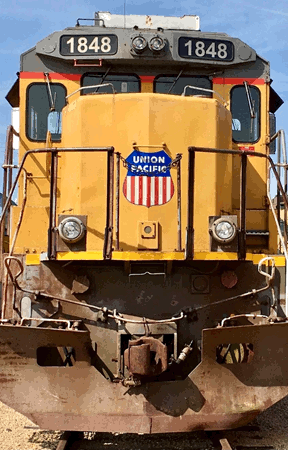 1969 Shield Design
The Model
The ready-to-run boxcar is packaged in a transparent plastic jewel case with a slip-off cover and a one-piece plastic cradle to cushion the model. A thick plastic insert protects the surface from any scuffmarks. The model information is labeled on the end of the case and a brief description of the prototype is found on the bottom panel. My complaint is that this printed information is much too tiny to be clearly read... Sometimes less is best.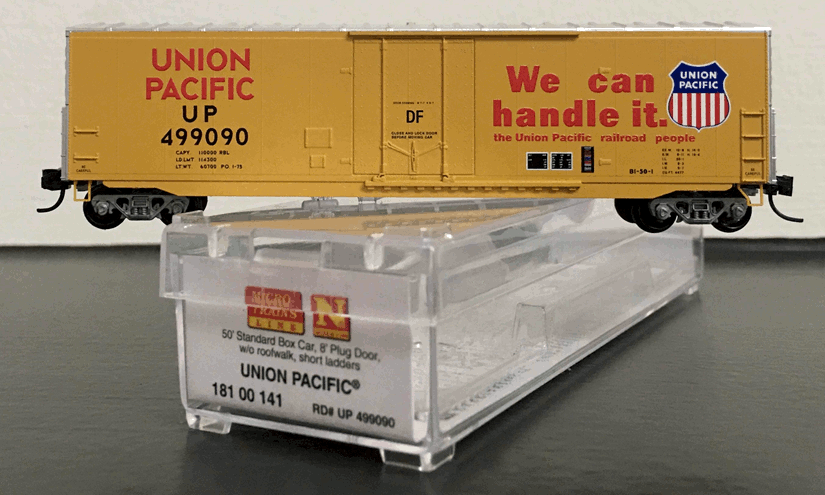 The vibrant Armour Yellow boxcar and glistening aluminum ends & roof are painted clean and even along the entire injection molded plastic model. All lettering is sharp and neat. The railcar proudly declares 'We can handle it' in era correct red characters. The road marker and road number are printed in prototypical black. The 'Be Careful' remarks, started by UP in 1953, are printed in all lower corners. One neat feature found on this model is the inclusion of a KarTrak Automatic Car Identification (ACI) tag on the boxcar's side panel. The KarTrak ACI tag was a color-coded 13 horizontal bar label that was designed to help identify rolling stock and locomotives with optical scanners located trackside. The proper 1969 UP Shield is neatly applied and in the correct location. The color, placement and size of all other printing is almost identical to that found on the prototype image (RRPictureArchives.net) with the only glaring error of the class identification stencil (BI-50-1) in the wrong location (should be left of the data panels).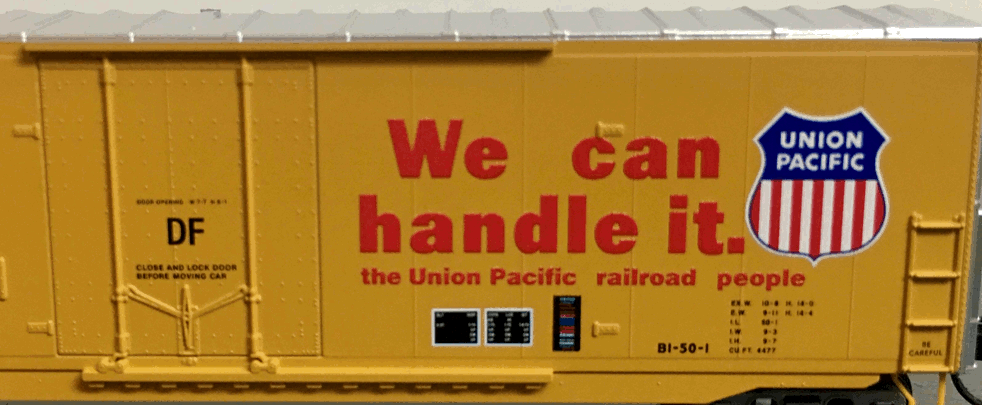 Here is when Micro-Trains Line falls into trouble with the true prototype model railroader – MTL uses a generic 50-foot body mold to represent these two Union Pacific insulated boxcars. First, the 'real' UP #499090 has an 8 x 8 riveted side panel configuration, a full ladder at the far corner and a straight bottom sill that runs along the entire car length. The Micro-Trains model has a 6x6 side panel pattern, a short ladder, and the incorrect side sill variation with a diagonal notch on each end to allow access to the trucks. The molded grab irons are located in the correct area but are rather flat looking and not realistic in appearance.
But Micro-Trains does exhibit the prototype correct 8-foot plug-door with V-shaped locking mechanism, stirrup step & placard board configurations, a nicely detailed door tracks and 'DF' designation. A boxcar with 'DF' or 'Damage-Free' stenciling signifies the use of Evans Products loading restraints that prevent shifting of loads during transport. The use and design of this logo differed between railroads.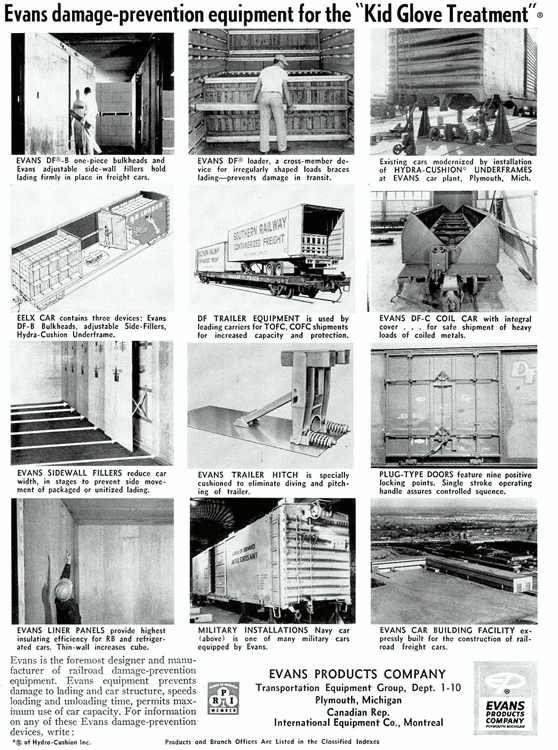 Both lustrous aluminum ends of the Micro-Trains Line model feature two short ladders, a mid-level tack board and 5/4 Dreadnaught ends. Additionally, a low mounted 8-spoke Ajax pressed steel handbrake and brake line piping is located on one end. Most of these features are wrong according to prototype images.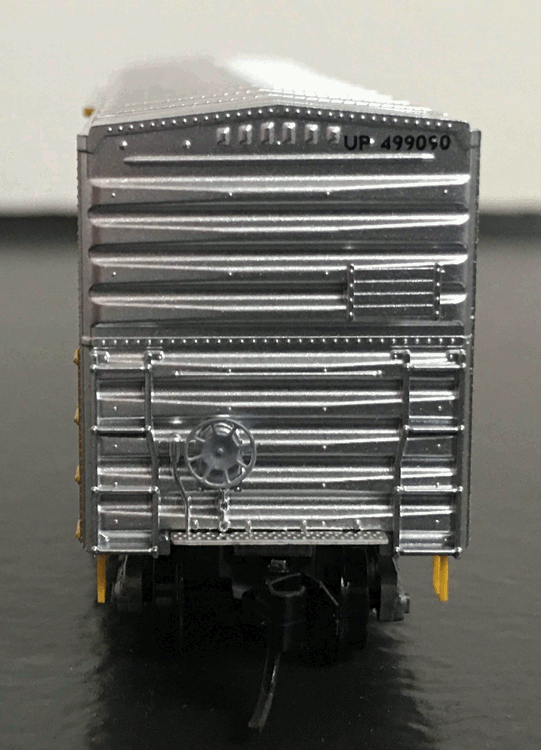 Generic Production Mold with Prototype Inaccurate Features
The 'real UP #499090 has one full-length ladder, a low placard board and 4/4 Improved Dreadnaught ends. The brake-end is equipped with a high mounted Ajax hand wheel.
Again, the lettering on the ends is neat and in proper arrangement with the road marker & road number at the top right corner. The Micro-Trains model features an etched metal crossing platform on each car end. The Micro-Trains model features an aluminum color Pullman-Standard 15 panel 'bow-tie' roof panel with no running boards or corner grab irons. The prototype boxcar appears to be fitted with a diagonal panel roof and corner grab irons at the top of each full-length ladder. The real UP #499090 also does not have a roof walk - running boards were not mandatory on new equipment built after 1966 with a target date of 1974 to have running boards removed from all rolling stock. The deadline was extended to 1983 to allow removal during normal maintenance cycles.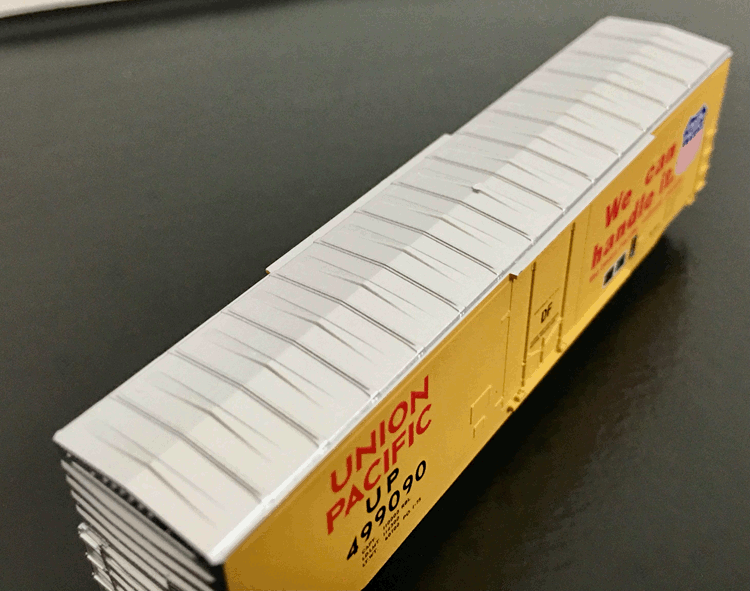 Lastly, the model features a sprue mark right smack in the middle of the roof – a bit of an annoyance but I suppose a product of manufactures using old production molds that featured roof walks – thus the sprue marks would have been hidden.
The underframe is sprayed the prototypical correct aluminum color and has an elaborate pipe arrangement with highly detailed features such as the brake cylinder, braking system components, rods, stringers, and cross bearers. The boxcar is fitted with Micro-Trains Magne-Matic knuckle couplers and injection molded black plastic wheels. Both body-mounted couplers were aligned to the proper height. The use of plastic wheels is disappointing, and I will be upgrading to metal wheels in the future for better performance.

Generic Production Mold with Prototype Inaccurate Features
The car measures 3 7/8 inches in length and weighs exactly one ounce which is perfect according to the National Model Railroad Association (NMRA) recommendations (which is 1.0 -1.1 for a car of this length). I found it an excellent runner while testing on Kato Unitrack with no issues around curves or through turnouts at slow and medium speeds.
Conclusions
In the end, you get just what you expect from Micro-Trains – a slick looking model, that is well constructed and runs great with one of the best coupling systems on the market. But you also get an old, generic production mold that is not prototypical and plastic wheelsets. I personally like Micro-Trains rolling stock for their superior print jobs, solid construction and Magne-Matic knuckle couplers...but maybe it is time to retire and/or retool some molds and catch-up to the times like some of their competitors.
To see a list of all cars in this series,
CLICK HERE
.