NARC Pullman Boxcar
Published: 2021-12-01 - By: CNW400
Last updated on: 2021-11-18
visibility: Public - Headline

In June of 2021, North American Railcar Corporation (NARC) introduced the Pullman Standard 5077 cubic foot 50-foot Single Door Boxcar. Initially announced in 2017, this highly detailed and thoroughly researched model freight car is available in both HO and N scales.
Road Names and Pricing
The 1st production release includes sixteen different paint schemes. The road names represented in this collection include:
Burlington Northern
Canadian Pacific
Chessie System (B&O)
Chicago & North Western
Conrail
CSX
Montana Rail Link
Penn Central
Railbox (Early Version)
Railbox (Late Version)
Santa Fe
Seaboard Systems (ex. Railbox)
Southern (ex. Railbox)
St. Lawrence Railroad
Union Pacific
Wisconsin Central
Individual cars are available with a suggested retail price of $29.98. Two sets of 3 cars (all unique road numbers) are also available for each road name with a price tag of $89.98 per set. My review includes observations of St. Lawrence Railroad NSL #101600 (NARC stock number 11-13006001-01).
Prototype History
The early 1970's found the American railroad with a unique predicament – a shortage of general service boxcars to handle rail traffic demand... and a great deal of boxcars that were available were deemed out-of-date. One of the contributing factors to this problem was the low per diem rate (the daily fee a railroad paid the car owner when online). The Interstate Commerce Commission (ICC) hoped to incentivize the construction of new rolling stock with the approval of a higher per diem rate making ownership of a boxcar more financial appealing – thus the formation of the Incentive-Per-Diem (IPD) boxcar.
Investment firms saw this as an opportunity to abuse the system and generate a high return on investment. These companies purchased large fleets of newly built boxcars and operated them on short lines, earning a daily fee for the investment group. Furthermore, to make certain their 'investment' stayed on the rails, the IPD boxcars were allocated as free-runners --- rolling stock not assigned to a specific service and can be loaded 'with anything – by anyone – going anywhere.'
The outcome of this program was the American short lines amassing 30,000 boxcars from 1974 thru 1980 by investment groups that comprised of National Railway Utilization Corporation (NRUC), Itel (SSI), Brae, Emons and Trans Union. As the United States entered the 1980's, the economic conditions of the country worsened as much of the world fell into a great recession from the early start of 1980 until the spring of 1983. This attributed to the end of the IPD program as 'more than 250,000 cars or approximately 20% of the total fleet of rolling stock were sitting idle by February 1983' (Sloss – Center for Transportation Studies, MIT).
The boxcars manufactured during the IPD era had a basic 50-foot, external-post design with 10-foot sliding doors, 70-ton capacity and Plate B or Plate C clearance. Plate markings indicate if a railcar outside dimensions falls within a standard cross-section. Freight cars are assigned Plates B, C, E or F – the plate size of a car is stenciled on the side panel. The Plate B designation, first used in 1948, has the smallest basic dimensions (maximum exterior height 15'-1" and width 10'8") and can run anywhere in North America without road clearance authorization for tunnels and bridges. Plate C cars are slightly taller with a maximum height of 15'-6" and can run safely on about 95% of North American routes.
Railroad equipment manufacturers such as Pullman Standard, Berwick, Evans, Food Machinery Corporation (FMC) and Pacific Car & Foundry built some of the most iconic and colorful boxcars of the 1970's. Amongst them was the Pullman Standard 5,277cf 'waffle-car' with its protruding exterior posts with Railbox as the primary customer. Also, one of the most produced boxcars during the IPD program was the Plate C - 5,344cf car with its earmark non-terminating ends and flat roof.
The subject of this review, the 50-foot Pullman Standard 5,077cf boxcar, was introduced during the IPD years with over 4,300 units built between October 1972 and August 1979. These Plate B boxcars with sliding doors were originally sold to the Chicago & Illinois Midland, Chicago & North Western, Pearl River Valley, Penn Central, Railbox, St. Johnsbury & Lamoille County, and St. Lawrence Railroad. Pullman Standard also supplied 300 superstructure kits (bodies and doors) to the National Railway Utilization Corporation (NRUC) for assembly and use on the Pickens Railway (PICK – South Carolina) and St. Lawrence Railroad (NSL – New York state) short lines.
Incorporated in 1968, the National Railway Utilization Corporation (NRUC) was a company that supplied and managed freight boxcars and rose to great prominence during the IPD. Their initial business plan was the construction and repair of boxcars in Pickens, South Carolina and managing operations of the Pickens Railroad (9.3 miles of track from Pickens, S.C. to Easley, S.C.). Then in 1973, NRUC began to purchase, assemble, and lease boxcars to meet the demand of general freight service rail traffic that was in short supply of rolling stock in some regions of America.
The St. Lawrence Railroad (SLRR & NSL) is a short line located in Northern New York state with a long history of name changes. The railroad originated back in 1850 with the Northern Railroad connecting Norwood, New York to Ogdensburg, New York with 39.9 miles of track. The line later became part of the Ogdensburg& Lake Champlain Railroad until it was purchased by the Rutland Railroad in 1901.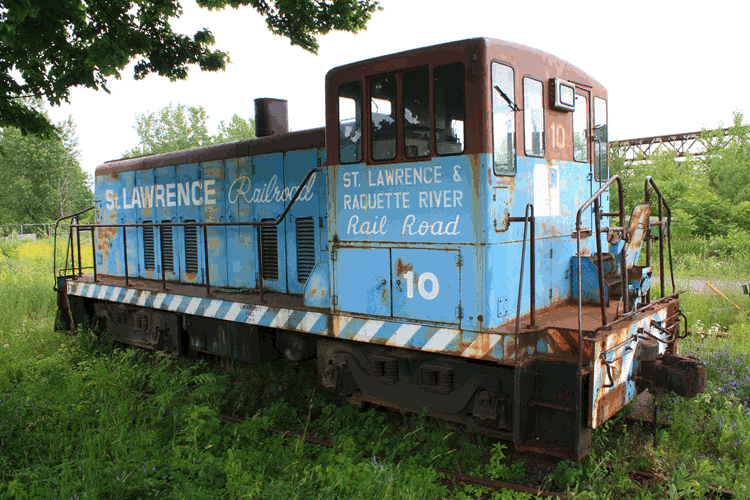 St. Lawrence and Raquette River Railroad GE 70 ton III-B3 engine (Wikimedia Commons.org)
The Rutland Railroad ceased operations in 1963 with part of the existing line falling into control of the Vermont Railway. Then in 1965, the Ogdensburg Bridge & Port Authority purchased a segment of abandoned Rutland line and operated as the Ogdensburg & Norwood Railway until 1977 when it reorganized as the St. Lawrence Railroad and then as the St. Lawrence & Raquette River Railroad in 1990. The line's main customers included the salt, lumber, paper, ore, kaolin (clay) and lubricating oil industries. The St. Lawrence & Raquette River Railroad has since been acquired by CSX Transportation which now operates it as a subdivision.
The Model
The ready-to-run boxcar comes packaged in a clear plastic jewel case with a slip-off cover and a clear two-piece plastic cradle to support the model. A thin plastic sleeve was wrapped around the car to protect the print job from scuffmarks. The model information is clearly labeled on the end of the case for ease to locate when in storage – I must admit that the NARC 12-digit stock number system is much too confusing for the average modeler/collector. No additional parts were found inside the case.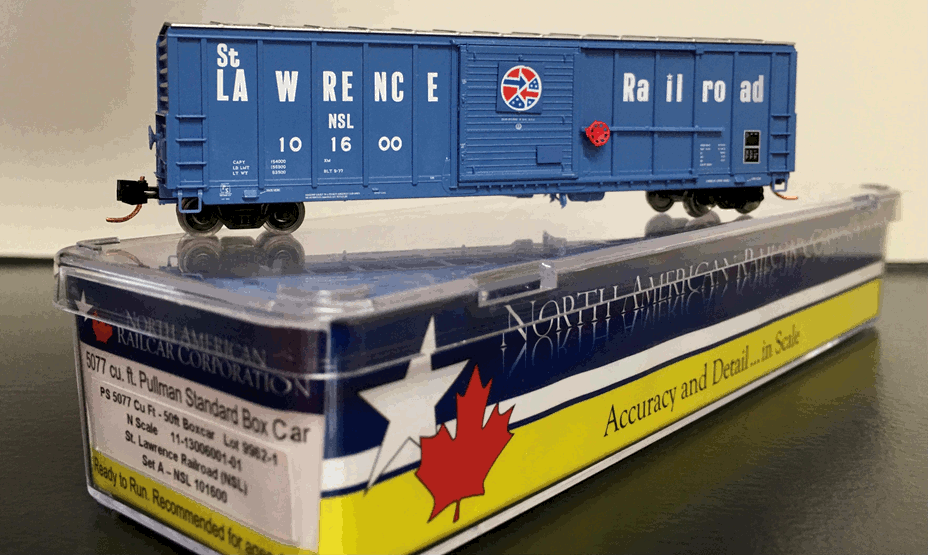 Model with acrylic box
First, an insane amount of research and detail work went into this Pullman Standard release. North American Railcar Corporation (NARC) offered 35 different versions of this release with multiple combinations of components offered by Pullman Standard during the production phase. Unfortunately, I have read about and experienced some quality control issues concerning the initial release of these boxcars.
The St. Lawrence Railroad boxcar is painted an attractive powder blue color along the entire injection molded plastic model. Right out of the case I noticed scuffmarks between the posts on both sides of the railcar. I can ignore them and just consider the marks as weathering, but some modelers may find issue with the imperfections. Lettering is extremely neat and clear, even when magnification is needed for the smaller printing. The size, font and placement of characters are correct when compared to prototype images. The boxcar is stenciled with the proper road marker (NSL – Norwood & St. Lawrence) and is decorated with the National Railway Utilization Corporation (NRUC) logo placard on each door panel. The NRUC managed and operated both the St. Lawrence and Pickens Railroads during the IDP era.
NARC offers the Pullman Standard 5077cf in two different body styles. A ten-side post version with hat-section channels and a twelve-post variant with a Z-post in the first position and hat-section channels on the rest of the boxcar.
Furthermore, eight distinctive boxcar doors have been equipped to match delivery batches and modifications preformed for each individual railroad. Pullman Standard built most of the cars with their own 10-foot configuration with four raised corrugations per panel (one corrugation shorter than the others). St. Lawrence Railroad and Chicago & North Western both selected a Youngstown corrugated 5-6-6 pattern with a marginal difference in details.

Ten Post Body Design with Youngstown 5-6-6 Corrugated Sliding Door
The remaining doors provided by NARC include: a Youngstown corrugated panel and Youngstown exterior-post plug door, EZ-Roll seven panel, Railcar Specialties six panel and Prime Railway Services eight panel for extended height paper service cars. The Canadian Pacific model has been converted to a Plate C pulp and paper service boxcar with taller doors, air vents and 100-ton (three spring) trucks. Other side details consist of three different door opening wheels and three unique stirrup steps with differing shapes and angles. Furthermore, five version of side sills are represented with various diagonal contours, depths, and access to trucks.
The St. Lawrence Railroad version is correctly molded in the ten-post version (five exterior posts on each side of the door), proper angled stirrup step with three grab irons at each end, appropriate side sill and distinctive corrugated pattern door with placard board. But now back to some questionable quality issues – although mounted in the correct location, the St. Lawrence model I am reviewing is equipped with two different style and color door wheels (brown and red) with excess flashing. I have not been able to view any prototype images with mismatching equipment. Furthermore, the logo placard is affixed crooked on the 'red' side and the door opening rails appear a little uneven.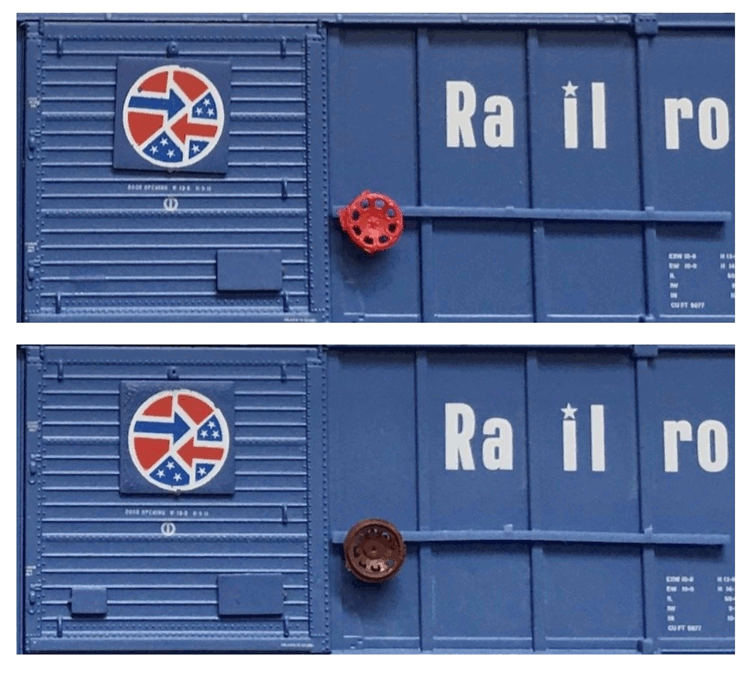 Mismatched door opening wheels and crooked detail parts
NARC continues to add variety with four different car end configurations and three hand brake types. The welded seam, corrugated end assortments include the Pullman Standard N4-5 (narrow top band), Pullman Standard 5-5 with narrow top band & air vents and Pullman Standard 5-5 with equal sized corrugations and no vents. The Canadian Pacific modified paper car is fitted with 5-5 corrugated ends and reinforcement plates to protect against load damage. Moreover, the style of hand brakes exhibited are Ajax, Ellcon-National and Universal brands.
The St. Lawrence ends resemble the prototype image 5-5 corrugated ends, two rail grab irons on both sides, low mounted placard board, Ellcon-National brake wheel and etched-metal crossover platforms. A difference between the model and real-life NSL 101600 have the prototype road marker and road number printed on the top corrugated rib – the model is printed on the top right corner panel. Also, the metal platform is silver in prototype images, not the blue color represented on the model.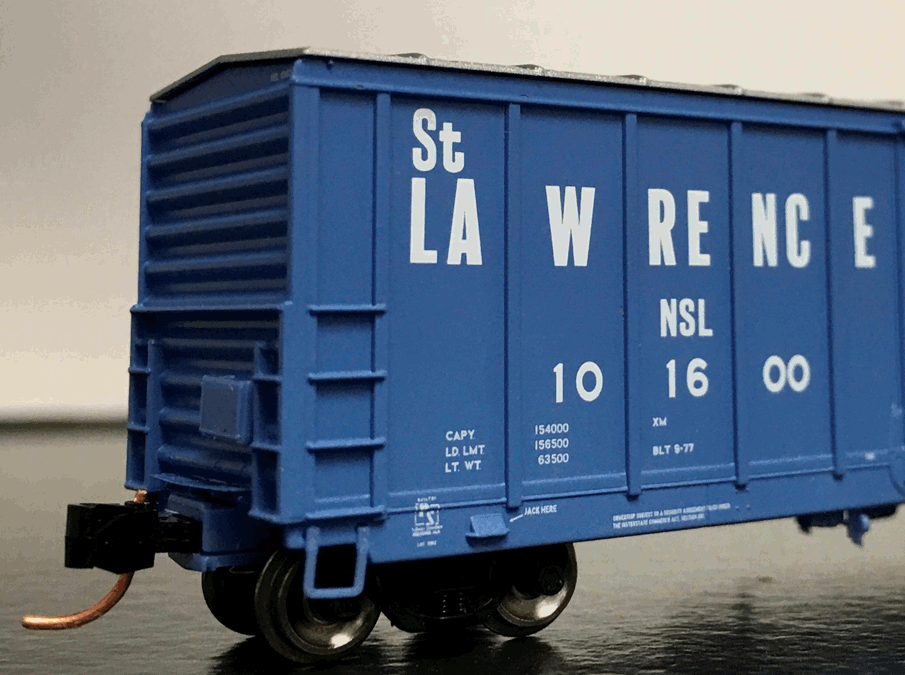 5-5 Corrugated End with Etched Metal Platform. Sharp and Neat Printing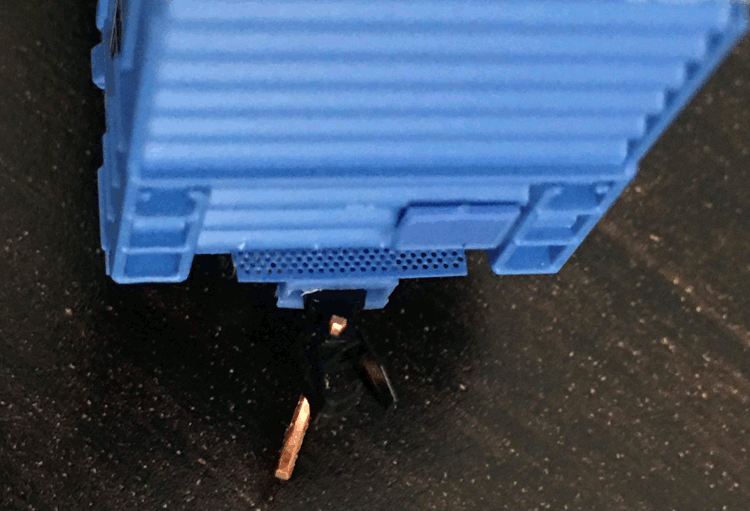 'Jack Here' Notes Where to Lift Boxcar During Rerail or Repair
North American Railcar furnishes most of their Pullman Standard 5077cf line with a 15-panel 'bow-tie' pattern roof except for the St. Lawrence (NSL) boxcar which is fitted with a silver Stanray 15-panel diagonal pattern roof. No running boards are present on any of the road names. These features are prototype correct.

Stanray Steel Diagonal Pattern Roof
The rigid blue underframe has an elaborate pipe arrangement with highly detailed separately applied AB brake system with the brake cylinder, reservoir, AB valve, stringers, and cross bearers. The brake rigging is visible while riding along the tracks when viewed from the side – same as the prototype model - adding a sense of realism. The boxcar is fitted with low friction 70-ton (two springs) ASF Ride Control trucks with blackened 33" metal wheels. Finally, the model is equipped with proper height body mounted Micro-Trains Magne-Matic couplers.

Exquisite Underbody Details
The car is 3 7/8 inches in length and weighs about 0.7 ounces, which is light according to the National Model Railroad Association (NMRA) recommendations (which are 1.1 - 1.2 ounces for this size car). Although the weight is not ideal, I find it an excellent runner while testing the car on Kato Unitrack with no issues around curves or through turnouts at slow and medium speeds.
What we have here is the making of an excellent model with a lack of quality control. The about of research and attention to detail is commendable – especially when many manufacturers today use the same outdated molds and pass-off several assorted styles of railcars with the same body frame. Nearly every detail piece is separately applied to the NARC model. But maybe too much concentration went to trivial details that only a small sample of discerning N scale modelers would notice such as: minute printing on trucks and hand brakes that need high magnification and multitude production variations that I did not even mention (five different door stops, three different door tracks and two different coupler pockets, braking systems & cut bars).
The potential for a stunning model is otherwise marred with some assembly issues – scuffed paint, mismatched parts, crooked applications and being underweight. Sometimes too much IS too much – a five-hundred-page book is not automatically superior to a hundred-page book...perfect the content and tidy-up the errors.
To see a list of all cars in this series,
CLICK HERE
.