An Interview with Fay Chin, T-TRAK Model Train Talent
Published: 2017-03-29 - By: Jenna
Last updated on: 2021-07-23
visibility: Public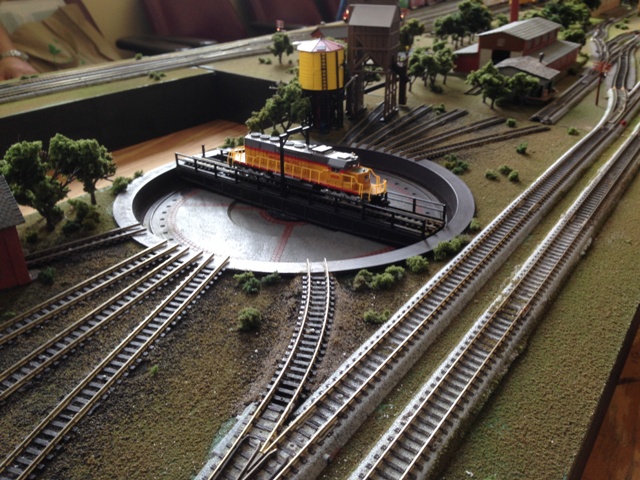 Heljan turntable re-geared to run slower on a double
T-TRAK module, by Fay Chin, a champion of the T-TRAK Model Railroad community.
Last week's blog
What Does a T-Trak Train Module Look Like?
mentioned Fay Chin, a true talent in the world of n-scale model railroading.
Mr. Chin has wholeheartedly embraced mini modules or
T-TRAK modules,
which use a work space only a bit bigger than a sheet of loose leaf paper. (A 'standard' single, straight T-TRAK module measures 12-1/8" long X 8-1/4" deep / wide.)
You can see his modules at local train shows in New England throughout the year. And I caught up with Mr. Chin at the
Greenberg Great Train & Toy Show
this weekend, and he was kind enough to chat with me about model railroading and T-TRAK.
TroveStar:
How long have you been modeling trains?
Fay Chin:
I have been modeling trains since the late 60s when N-Scale trains came out. I still have some of my Arnold Rapido engines, switches and tracks.
TS:
How did you get involved in this hobby?
Chin:
As a child, I knew I wanted to be an engineer in the technical field. I was always building something. Model trains is the perfect hobby.
TS:
What attracted you to T-TRAK?
Chin:
I have been exhibiting and promoting trains at shows since the mid 70s.
About 30 years ago in 1986 at the NMRA National convention in Boston, I had the pleasure of meeting Lee Monaco-FitzGerald, the woman who was instrumental in popularizing
T-TRAK
(which was developed in Japan) in the U.S.
And then, when I went down to Florida on a long-term work assignment in 2000, T-TRAK was the ideal format to have a complete layout for shows. The T-TRAK was designed for tables without the need for layout legs, modules clamps, wiring, track connectors, or track cutting. The T-TRAK modules are light weight, easily stored, and transportable (back to Massachusetts in 2014).
Here is the train display Mr. Chin exhibited
in February 2017 at the Scottish Rite Museum.
Mr. Chin shared this photo, which
illustrates just how easy it is to transport T-TRAK modules.
This cart has close to two dozen modules on it!
TS:
What advice would you give to anyone getting started in T-TRAK?
Chin:
I encourage people to get involved and participate in a T-TRAK layout show, including N-TRAK.
TS:
Do you belong to a model train club devoted to T-TRAK?
Chin:
I am promoting the T-TRAK concept as a subgroup of the
Northeast NTRAK club.
A good web community is:
T-Trak Model Railroading: Scenery Modules and the People Who Build Them.
which lists clubs globally.
TS:
How long have you been with Northeast NTRAK?
Chin:
In 1976, I posted a flyer in a local hobby store looking for members to start a model train club. Many people contacted me with great enthusiasm. After several discussions, we decided N-TRAK was the most appealing. At one meeting, I proposed the Northeast N-Trak club name, which was adopted.
TS:
Where do you see T-TRAK in the future?
Chin:
The T-TRAK table top modular layout concept will continue to grow. The T-TRAK concept now has expanded to Z, HO. and O scale.
TS:
When is your next show?
Chin:
You can see my modules and those of the NE N-TRAK club at the
Hooksett Lions Club Train Show,
Hooksett, NH, April 23, 2017.