Specific Item Information: This engine with this paint scheme was in service between 1979 and 1996
Model Information
: This model was released in 2016 by Rapido Trains. Several numbers available for each paint scheme. The full manual for this train may be found:
by clicking here
The model features: Correct details for both delivery groups; Separate grab irons; Road-number and era-specific details applied at the factory; Correct fuel and water tanks and cooling coils; full underframe details; Operational headlight and back-up lights; full cab interior; will operate smoothly on DC and DCC layouts; Rapido's proven 5-pole, skew-wound motor and silky-smooth drive system; Micro-Trains couplers mounted at the correct height.
DCC Information: This engine comes in two forms: DCC-Ready with Coupon and DCC-With-Sound. The sound-equipped DCC model comes with an ESU LokSound sound decoder or dual-mode DC/DCC silent model with authentic sounds including Hancock air whistle (where appropriate).

Important Note! The DCC-Ready versions of this train come with a mail-in coupon for a FREE dual-mode DCC drop-in decoder.
Prototype History
: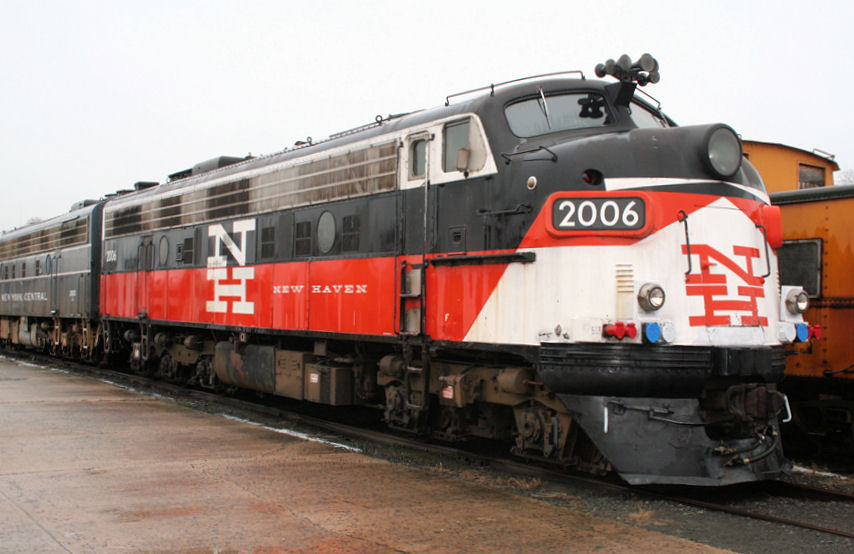 The EMD FL9 has secured a rightful place in North American railroad history. These dual-power locomotives were designed to operate on both diesel-electric and on pure electric power so that they could haul the New Haven Railroad?s passenger trains in and out of New York City's Grand Central Terminal without the need for an engine change. Built between 1955 and 1960, many of the fleet continued in regular revenue service for nearly fifty years on both long haul and commuter trains. While the last revenue commuter run occurred in 2009, two units remain in regular revenue service today on the Maine Eastern between Brunswick and Rockland Maine. Several others have been preserved and are in use on tourist railroads in both the US and Canada.
This engine can be viewed as a modified FP9. It was built to carry a larger steam generator than the FP9 and hence is longer and heavier. To support the extra weight, the rear truck sports 3 axles in place of the FP9's double-axle configuration. The result is a relatively uncommon 5-axle design (2 in front and 3 in the back) with 10 wheels.
Road Name History
: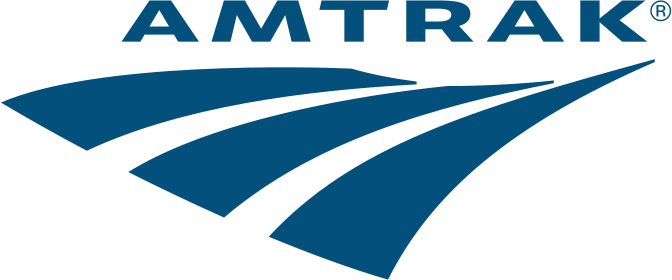 The National Railroad Passenger Corporation, doing business as Amtrak, is a passenger railroad service that provides medium- and long-distance intercity service in the contiguous United States. Founded in 1971 through the government-sponsored consolidation of most of the remaining U.S. passenger rail companies, it is partially government-funded yet operated and managed as a for-profit corporation.
Amtrak operates more than 300 trains each day on 21,300 miles (34,000 km) of track with select segments having civil operating speeds of 150 mph (240 km/h) and connecting more than 500 destinations in 46 states in addition to three Canadian provinces. In fiscal year 2015, Amtrak served 30.8 million passengers and had $2.185 billion in revenue, while employing more than 20,000 people. Nearly two-thirds of passengers come from the 10 largest metropolitan areas; 83% of passengers travel on routes shorter than 400 miles. Its headquarters is at Union Station in Washington, D.C.
The name "Amtrak" is a portmanteau of the words "America" and "trak", the latter itself a sensational spelling of "track".
Read more on
Wikipedia
.
Paint Scheme
:
Phase III, introduced in 1976, is still used on some equipment. On both passenger cars and locomotives, the outer white pinstripes were removed while the inner stripe was widened, resulting in red, white, and blue stripes of equal width. Turboliners and the LRC test train were painted in white, with the stripes at the bottom of the train. This scheme was introduced "for safety, graphic aid and saving money", as the white band was highly reflective and provided a place for car information, and the standard widths made better use of raw material.
Several types of locomotives that were acquired later were given variations on Phase III. AEM-7 locomotives had the blue stripe expanded to cover the entire lower part of the body. On Dash 8-32BWH locomotives, a deeper blue and red was used; the stripes had additional pinstripes and angled upward across the middle of the body. The similarity to the Pepsi logo led to the units being nicknamed "Pepsi Cans". Genesis locomotives had a lighter roof and narrower white stripe; the stripes angled downward on the sloped nose, and faded towards the rear. That variant was created by industrial designer Cesar Vergara, who also designed the angular bodies of the locomotives.
In October 2013, Amtrak introduced a new variant of Phase III with the production of the new Viewliner II cars, the first of which entered service in 2015. The Viewliner cars have some changes from previous Phase III passenger cars, including a red reflective stripe at the bottom and a newer ("Travelmark") logo. In January 2016, Amtrak revealed a P32AC-DM that was repainted into Phase III, similar to that of the heritage units Nos. 145 and 822, but featuring modern logos and "Empire Service" emblems on the sides. All P32AC-DMs will eventually be repainted into this scheme, with costs shared between Amtrak and the state of New York.
Brand/Importer Information
:

Rapido Trains Inc. is a high-end manufacturer of model trains and accessories in HO, OO and N (North American 1:160 and British 1:148) scales. The firm's mission is to recreate the entire rail travel experience, from fully-detailed interiors and under-frames on models to fully-wired telephone poles for model railroads.
The name RAPIDO was introduced by Canadian National in 1965 to headline the railway's high-speed intercity passenger services. Until the mid-1980s, RAPIDO stood for fast schedules, frequent trains, and superb service.
Today, Rapido Trains continues the RAPIDO concept with state-of-the-art models and attention to fine detail. This company is
not
related to the venerable (and now defunct) German manufacturer Arnold Rapido, nor the present-day Arnold (which is owned by the United Kingdom's Hornby), Canadian based Rapido Trains was founded in 2003.
Item created by:
gdm
on 2016-06-28 06:13:11. Last edited by
gdm
on 2018-02-05 08:26:11
If you see errors or missing data in this entry, please feel free to
log in
and edit it. Anyone with a Gmail account can log in instantly.