Model Information
: Powered by a standard 12 Volt DC power source, or an appropriate stationery accessory DCC decoder such as an AUXBOX or a Digitrax DS64, this factory assembled structure has a motorized and sound-synchronized fill spout.
Sound equipped with spout movement squeak, water hatch squeal and clang, water filling, and talking engineer effects, this plastic model is packaged with a push button actuator.
See a
video of this tower in operation on the TroveStar Trains You Tube Channel
Prototype Description
: A water stop or water station on a railroad is a place where trains stop to replenish water. The stopping of the train itself is also referred to as a "water stop". The term originates from the times of steam engines when large amounts of water were essential. Also known as wood and water stops or coal and water stops, since it was reasonable to replenish engines with fuel as well when adding water to the boiler.
During the very early days of steam locomotives, water stops were necessary every 7–10 miles (11-16 km) and consumed much travel time. With the introduction of tenders (a special car containing water and fuel), trains could run 100–150 miles (160–240 km) without a refill. To accumulate the water, water stops employed water tanks, water towers and tank ponds. The water was initially pumped by windmills, watermills, or by hand pumps often by the train crew themselves. Later, small steam and gasoline engines were used.
As the U.S. railroad system expanded, large numbers of tank ponds were built by damming various small creeks that intersected the tracks in order to provide water for water stops. Largemouth bass were often stocked in tank ponds. Many water stops along new railways evolved into new settlements. When a train stopped for water and was positioned by a water tower, the boilerman swung out the spigot arm over the water tender and "jerked" the chain to begin watering. This gave rise to a 19th-century slang term "Jerkwater town" for towns too insignificant to have a regular train station. Some water stops grew into established settlements: for example, the town of Coalinga, California, formerly, Coaling Station A, gets its name from the original coal stop at this location. On the other hand, with the replacement of steam engines by diesel locomotives many of the then obsolete water stops, especially in deserted areas, became ghost towns.
Isolated water stops were among favorite ambush places for train robbers.
From Wikipedia
Road Name History
: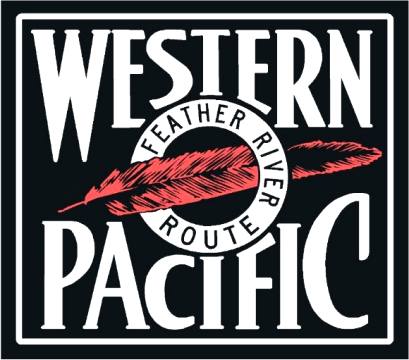 The Western Pacific Railroad (reporting mark WP) was a Class I railroad in the United States. It was formed in 1903 as an attempt to break the near-monopoly the Southern Pacific Railroad had on rail service into northern California. WP's Feather River Route directly competed with SP's portion of the Overland Route for rail traffic between Salt Lake City/Ogden, Utah and Oakland, California for nearly 80 years. In 1983 the Western Pacific was acquired by the Union Pacific Railroad. The Western Pacific was one of the original operators of the California Zephyr.
The original Western Pacific Railroad was established in 1865 to build the westernmost portion of the Transcontinental Railroad between San Jose, California (later Oakland, California), and Sacramento, California. This company was absorbed into the Central Pacific Railroad in 1870.
The second company to use the name Western Pacific Railroad was founded in 1903. Under the direction of George Jay Gould I, the Western Pacific was founded to provide a standard gauge track connection to the Pacific Coast for his aspiring Gould transcontinental system. The construction was financed by the Denver and Rio Grande Western Railroad, a company in the Gould system, which lost access to California due to the attempted acquisition of the Southern Pacific Railroad by the Rio Grande's main rival, the Union Pacific Railroad. The Western Pacific Railroad acquired the Alameda and San Joaquin Railroad and began construction on what would become the Feather River Route. In 1909 it became the last major railroad completed into California. It used 85-lb rail on untreated ties, with no tie plates except on curves over one degree; in 1935 more than half of the main line still had its original rail, most of it having carried 150 million gross tons.
The Western Pacific was acquired in 1983 by Union Pacific Corporation, which in 1996 would purchase its long-time rival, the Southern Pacific Railroad. In July 2005 Union Pacific unveiled a brand new EMD SD70ACe locomotive, Union Pacific 1983, painted as an homage to the Western Pacific.
Brand/Importer Information
: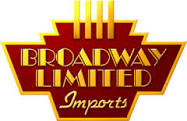 Broadway Limited Imports, LLC
defines itself as "
the world's foremost producer of top-quality HO and N scale model trains
".
The company was founded in 2002 and introduced its first N scale model in 2009.
Broadway Limited Imports is composed of a team of 15 fun loving individuals who are dedicated to creating the most realistic model railroading experience possible, with the best customer service possible.
The Broadway Limited Imports headquarters is located in Ormond Beach, Florida at 9 East Tower Circle. It's just under an hour's drive from Disney World.
About Broadway Limited Imports.
Item created by:
nscalemodeler160
on 2016-07-06 12:53:08. Last edited by
nscalemodeler160
on 2016-07-06 15:53:08
If you see errors or missing data in this entry, please feel free to
log in
and edit it. Anyone with a Gmail account can log in instantly.