Model Information: Features: Paragon2 Sound and Control System Integral DCC Decoder with Back EMF for Industry Best Slow Speed Operation in DC and DCC Precision Drive Mechanism engineered for continuous heavy load towing and smooth slow speed operation Motor Type: 5-Pole Can with Skewed Armature and Dual Fly Wheels Premium Caliber Painting with Authentic Paint Schemes Prototypical Light Operation with Golden White LED Headlight Beautifully Detailed, Accurately Modeled Locomotive Separately Applied Details such as grab irons, steps, and ladders Operating Sprung Diaphragms Constant Intensity Directional Lighting Traction Tire-Equipped for Maximum Traction Locomotive Composition: ABS with Die Cast Chassis A-Unit Length: 5.1" B-Unit Length: 4.9" A-Unit Weight (Powered): 4 oz Couplers: (2) Micro Trains #1015 Recommended Minimum Radius: 9.75"

Industry-Leading SOUND Features: Operates in DC and DCC (use DCMaster for DC Sound) Record and Play Operation - Records and plays back sounds and movements once or repeatedly for automatic operation 16-bit Sample Rate for exceptional high frequency sound clarity Playback Whistle for multiple whistle lengths and patterns Choice of 3 selectable Whistles/Horns Alternate Whistle/Horn where applicable for locomotive with air horn and steam whistle - both the main whistle and alternate can be easily played Adjustable bell ringing interval for faster or slower bell Numerous user-mappable functions with available keys Johnson Bar Sound at Direction Change (Steam Only) Passenger Station Ambient Sounds - Controlled with Function Key Freight Yard related radio chatter - Controlled with Function Key Lumber Yard Ambient Sounds - Controlled with Function Key Farm related radio chatter - Controlled with Function Key Crew Radio Communications - Controlled with Function Key Maintenance Yard related radio chatter - Controlled with Function Key Demo Mode for display and demonstrations Grade Crossing Automatic Signal 8 Diesel Motor Revs (Diesel Only) Simple Programming with Integral DCC Decoder Automatic Forward/Reverse Signal - When activated, stopping triggers a stop horn toot. When moving forward from a stopped position, toots twice. When moving in reverse, toots three times. Engine sound intensity varies with load Individually adjustable sound volumes for each effect EZ Reset Button for quick return to factory default settings

Prototype Information: The American Locomotive Company introduced the PA1 locomotive in 1946 to compete with EMD's successful "E" Series passenger diesels. The first PA1 celebrated Alco's 75,000th loco to roll out of the erecting shop. This attractive 2000HP loco was their high-speed passenger diesel. Having more horsepower than their leading competitor, Alco felt that they had a fleet-ready competitive product. PA1's were sleek, stylish, powerful, and were very well suited for America's passenger and fast freight trains. Additionally, their 65' 8" bodies became excellent billboard advertising for the railroads that they served with pride.
Prototype History
: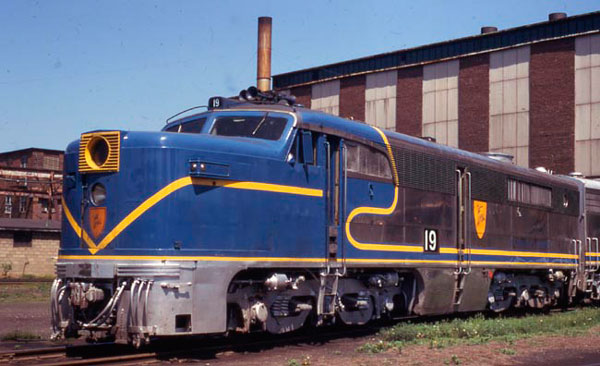 ALCO PA (DL-304/DL-305) refers to a family of A1A-A1A diesel locomotives built to haul passenger trains that were built in Schenectady, New York, in the United States by a partnership of the American Locomotive Company (ALCO) and General Electric (GE) between June, 1946 and December, 1953. They were of a cab unit design, and both cab-equipped lead A unit PA and cabless booster B unit PB models were built. ALCO's beautiful PA-1 is one of America's most famous locomotives. It was ALCO's entry into the passenger train diesel craze, competing directly with the E-Units from EMD.
The PAs, as well as their cousins, the ALCO FAs, were born as a result of Alco's development of a new diesel engine design, the Model 244. In early 1944, development started on the new design. In 1946, this new locomotive made its debut on the Texas and New Orleans Railroad. Southern Pacific PA's #6055 and 6056 were later put into service on the SP's coastal division, pulling trains such as the Morning Daylight.
The PA-1/PB-1 were rated 2,000 hp (1,490 kW) and the PA-2/PB-2 2,250 hp (1,680 kW). A total of 297 PA/PB have been built between 1946 and 1953.
ALCO locomotives were also used in service with the famous "California Zephyr" passenger train, adopting a number of paint schemes, the most famous of which was perhaps the "Prospector" paint scheme. This paint scheme was a striking two-tone silver and gold arrangement, highlited by a series of four black stripes going down the side of the body.
Read more on
Wikipedia
and on
American-Rails.com
Road Name History
: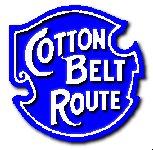 The St. Louis Southwestern Railway (reporting mark SSW), known by its nickname of "The Cotton Belt Route" or simply Cotton Belt, is a former US Class I railroad which operated between St. Louis, Missouri, and various points in the states of Arkansas and Texas from 1891 to 1992.
The Cotton Belt was one of the lines comprising the railroad empire acquired by financier Jay Gould in the last quarter of the 19th century; according to the Handbook of Texas,
By 1890 Gould owned the Missouri Pacific, the Texas and Pacific, the St. Louis Southwestern, and the International-Great Northern, one-half of the mileage in the Southwest.
The railroad was organized on January 15, 1891, although it had its origins in a series of short lines founded in Tyler, Texas, in 1870 that connected northeastern Texas to Arkansas and southeastern Missouri. Construction of the original Tyler Tap Railroad began in the summer of 1875.
On October 18, 1903, the Cotton Belt gained trackage rights via the Thebes Bridge and the Missouri Pacific Railroad along the eastern shore of the Mississippi River to reach East St. Louis, Illinois, and then used Terminal Railroad Association trackage rights into St. Louis. The Cotton Belt also operated a yard and a locomotive servicing facility in East St. Louis, just east of Valley Junction, and south of Alton and Southern Railroad's Gateway Yard, and north of Kansas City Southern's East St. Louis Yard. They also had a freight station in downtown St. Louis. Union Pacific Railroad now operates the yard (still named "Cotton Belt Yard"), but the engine servicing facilities have been demolished.
The Cotton Belt and subsidiary St. Louis Southwestern Railway of Texas together operated 1,607 miles of road in 1945; 1,555 miles in 1965; and 2,115 miles in 1981 after taking over the Rock Island's Golden State Route. In 1925 SSW and SSW of Texas reported a total of 1474 million net ton-miles of revenue freight and 75 million passenger-miles; in 1970 it carried 8650 million ton-miles and no passengers.
The Southern Pacific Company gained Interstate Commerce Commission approval to control the Cotton Belt system on April 14, 1932, but continued to operate it as a separate company until 1992, when the SP consolidated the Cotton Belt's operations into the parent company. Cotton Belt diesel locomotives from 1959 on were painted in Southern Pacific's "bloody nose" scheme - dark gray locomotive body with a red "winged" nose. "Cotton Belt" was painted on the sides and in later years the letters "SSW" were painted on the nose.
In 1996 the Union Pacific Railroad finished the acquisition that was effectively begun almost a century before with the purchase of the Southern Pacific by UP in 1901, until divestiture was ordered in 1913. The merged company retains the name "Union Pacific" for all railroad operations. Many former SSW locomotives are used by Union Pacific today, although few still sport unmodified "Cotton Belt" paint. Most of the remaining units have been repainted into the UP scheme, while others wear patched SSW paint with a UP shield logo and new numbers applied over the SSW number.
From Wikipedia
Paint Scheme
:
In 1937 the lightweight, streamlined Daylight went into service between Los Angeles and San Francisco. The cars were red and orange with a black roof. This became known as the Daylight color scheme and lasted officially until 1958 but in fact until about 1965-66. In the same time frame the joint SP-UP-C&NW streamliner City of San Francisco began running on the SP Overland Route painted in the UP yellow and leaf brown. A few Daylight-style chair cars painted dark green also went into service on the Overland and Golden State Routes.
Brand/Importer Information
: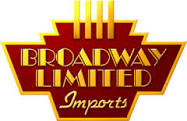 Broadway Limited Imports, LLC
defines itself as "
the world's foremost producer of top-quality HO and N scale model trains
".
Broadway Limited Imports is composed of a team of 15 fun loving individuals who are dedicated to creating the most realistic model railroading experience possible, with the best customer service possible.
The Broadway Limited Imports headquarters is located in Ormond Beach, Florida at 9 East Tower Circle. It's just under an hour's drive from Disney World.
About Broadway Limited Imports.
Item created by:
gdm
on 2016-08-03 04:46:57. Last edited by
Alain LM
on 2020-03-31 09:33:47
If you see errors or missing data in this entry, please feel free to
log in
and edit it. Anyone with a Gmail account can log in instantly.