Specific Item Information: Actually DL-107. Southern purchased two of these locomotives in 1941 together with their cabless B-units DL-108 (not available from Life-Like/Walthers).
Southern also purchased in 1942 a DL-109/DL-110 pair.
Model Information: Life-Like first released in this model in 2005 as part of their 'Proto N' brand. Seven years later, Walthers followed up with a second release in 2012. The second release featured new road numbers for paint schemes from the 2005 release as well as entirely new paint schemes. This N Scale model of the Alco DL-109 locomotive captures the slender lines of this 1940s prototype in a powerful, smooth-running N Scale model. Features include a heavy, split-frame chassis, five-pole motor with dual flywheels, eight-wheel drive, all-wheel electrical pickup and directional LED headlight. Between the finely detailed body (right down to the thin rivet strip around the cab windows) and authentic paint schemes, these units will look perfect on your passenger trains.

The coupler on the nose is an operating "dummy", while the rear coupler is a magnetic knuckle body-mounted coupler, AccuMate for the 2005 Life-Like Proto N release and Micro-Trains for the 2012 Walthers N release. As there are only negligible visual differences between DL-105, DL-107 and DL-109, Life-Like/Walthers produced only one model as DL-109 to stand in for all three types. The DL-109 was the by far the largest run of the series with a total of 62 built.
Prototype History
: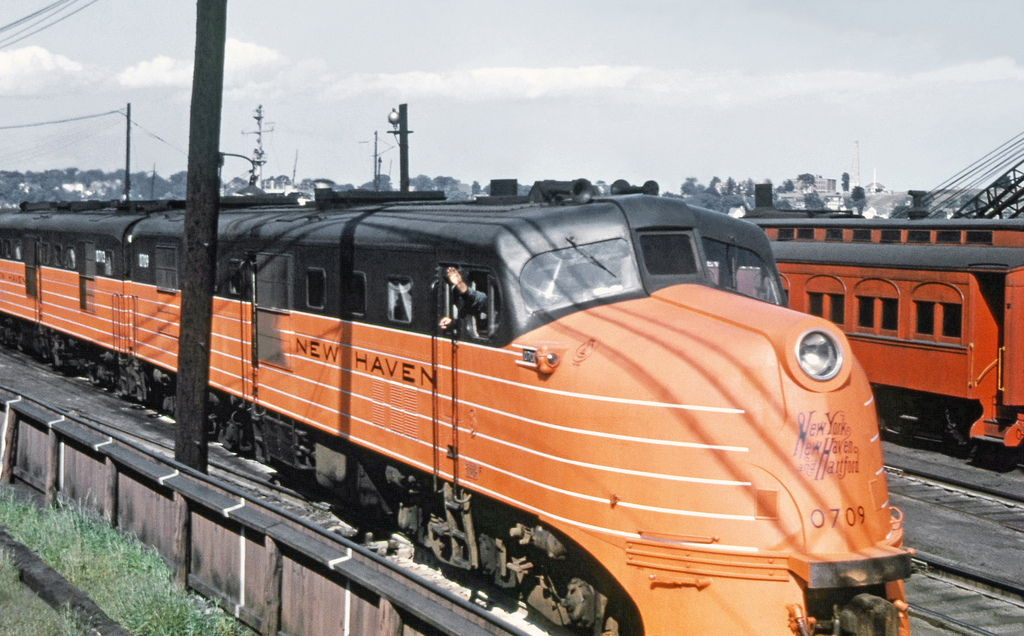 The ALCO DL-109 is one of six models of A1A-A1A Diesel locomotives built to haul passenger trains by the American Locomotive Company (ALCO) between December, 1939 and April, 1945 ("DL" stands for Diesel Locomotive). They were of a cab unit design, and both cab-equipped lead A units DL-103b, DL-105, DL-107, DL-109 and cabless booster B units DL-108, DL-110 models were built. The units were styled by noted industrial designer Otto Kuhler, who incorporated into his characteristic cab (US Patent D121,219) the trademark three-piece windshield design. A total of 74 cab units and four cabless booster units were built.
Alco's DL-109 marks their early entry into the passenger diesel market in 1940. With its sleek lines, knife-edged nose and long wheelbase, it was ideally suited for high-speed service, and with 2,000 horsepower under the hood, it could handle passengers or high-speed freight with ease. Because of its dual-service capabilities, Alco was allowed to construct the DL-109 in the face of wartime restrictions on passenger-only locos, and the units performed admirably round the clock, handling passengers during the day and freight trains at night. Using lessons learned with the DL-109, it was succeeded by the PA-1 in 1946. Full data sheet on
The Diesel Workshop
.
Read more on
Wikipedia
.
Road Name History
:

The Southern Railway (reporting mark SOU) (also known as Southern Railway Company) was a US class 1 railroad that was based in the Southern United States. It was the product of nearly 150 predecessor lines that were combined, reorganized and recombined beginning in the 1830s, formally becoming the Southern Railway in 1894.
At the end of 1970 Southern operated 6,026 miles (9,698 km) of railroad, not including its Class I subsidiaries AGS (528 miles or 850 km) CofG (1729 miles) S&A (167 miles) CNOTP (415 miles) GS&F (454 miles) and twelve Class II subsidiaries. That year Southern itself reported 26111 million net ton-miles of revenue freight and 110 million passenger-miles; AGS reported 3854 and 11, CofG 3595 and 17, S&A 140 and 0, CNO&TP 4906 and 0.3, and GS&F 1431 and 0.3
The railroad joined forces with the Norfolk and Western Railway (N&W) in 1982 to form the Norfolk Southern Corporation. The Norfolk Southern Corporation was created in response to the creation of the CSX Corporation (its rail system was later transformed to CSX Transportation in 1986). The Southern Railway was renamed Norfolk Southern Railway in 1990 and continued under that name ever since. Seven years later in 1997 the railroad absorbed the Norfolk and Western Railway, ending the Norfolk and Western's existence as an independent railroad.
Brand/Importer Information
:

Wm. K. Walthers, Inc., was founded in Milwaukee in 1932 -- but really, it started years earlier, when seven-year-old Bill Walthers got his first taste of the hobby with a small, wind-up toy train for Christmas. He continued with the hobby and eventually had an attic layout comprised primarily of his own scratch-built creations. After he wrote a series of articles on building train control and signaling systems, he got so many letters from other modelers that he began manufacturing them. The first ad (in the May issue of The Model Maker) offered a 24-page, 15c catalog that listed rail, couplers, and electrical supplies. Sales were over $500.00 for the first year, and the fledgling company was off to a strong start.
Within five years, Walthers had grown so much that larger quarters were needed. Space was found on Erie Street, where everything -- from milled wood parts to metal castings to decals -- was made in-house. 1937 also saw a new line in HO Scale, featured in its own catalog. Bill brought operating layouts to the 1939 World's Fair, which gave the hobby a big boost. Soon, though, the growing possibility of war overshadowed these successes, and supplies were becoming increasingly difficult to obtain.
During the war, model manufacturers were ordered to stop production in order to conserve critical metal supplies. Walthers produced what it could from nonessential materials. A series of ads in 1943 saw Bill literally scraping the bottom of a barrel! The postwar boom meant rapid growth for the hobby; however, small homes and new families left no room for O scale layouts, and many modelers moved to HO Scale.
The next twenty years brought great change. In 1958, Bill retired and his son Bruce took over. Just as full-size railroads were being hard-hit by new technology, so too were model railroads. Leisure time was spent in front of the TV set, not the train set. In 1960, Walthers became a full-line distributor of other manufacturers' products while continuing expansion of the Walthers lines. By the start of the 1970's, business was booming again, and Bruce's son Phil joined the company.
Expansion and diversification continue under Phil's tenure. The establishment of the Walthers Importing Division added several international lines. The manufacturing plant was modernized. Code 83 track was introduced in 1985, giving layouts more realistic proportions. In 1990, the Cornerstone Series buildings were unveiled. Combining a freight car with a related industry, the Cornerstone Series makes it possible for modelers to duplicate authentic operations, enhancing layout realism. The Train Line Deluxe Sets and locomotives debuted in 1994. These sets feature the detailing of serious models and an affordable price -- allowing newcomers to get started, and then build-on to their first set, rather than replacing it.
In 2005, Walthers purchased Life-Like from Lifoam Industries. With this purchase Walthers acquired the Proto Lines that have become the backbone of their locomotive and rolling stock segments.
Today, Walthers continues to expand, improve and develop a wide range of products. Their latest selection can be found throughout
Walthers.com
and their printed catalogs, along with items from over 300 other manufacturers.
In December 2017,
Lowell Smith announced
the 'purchase of tooling' of the Walthers line of N Scale passenger cars (sleeper, coach and baggage cars), and in June 2018,
Atlas announced
that it will purchase all N scale locomotive and rolling stock tooling owned by Walthers, including the Walthers N tooling as well as former Life-Like tooling. This divestment puts an end to Walthers involvement as a manufacturer of N scale rolling-stock, though it will continue its range of N scale structures.
Item created by:
Alain LM
on 2016-08-08 04:16:57. Last edited by
gdm
on 2018-05-31 18:26:39
If you see errors or missing data in this entry, please feel free to
log in
and edit it. Anyone with a Gmail account can log in instantly.