Road Name History
: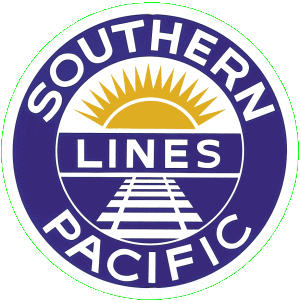 The Southern Pacific Transportation Company (reporting mark SP), earlier Southern Pacific Railroad and Southern Pacific Company, and usually called the Southern Pacific or (from the railroad's initials) Espee, was an American Class I railroad. It was absorbed in 1988 by the company that controlled the Denver and Rio Grande Western Railroad and eight years later became part of the Union Pacific Railroad.
The railroad was founded as a land holding company in 1865, later acquiring the Central Pacific Railroad by lease. By 1900 the Southern Pacific Company was a major railroad system incorporating many smaller companies, such as the Texas and New Orleans Railroad and Morgan's Louisiana and Texas Railroad. It extended from New Orleans through Texas to El Paso, across New Mexico and through Tucson, to Los Angeles, through most of California, including San Francisco and Sacramento. Central Pacific lines extended east across Nevada to Ogden, Utah, and reached north through Oregon to Portland. Other subsidiaries eventually included the St. Louis Southwestern Railway (Cotton Belt), the Northwestern Pacific Railroad at 328 miles (528 km), the 1,331 miles (2,142 km) Southern Pacific Railroad of Mexico, and a variety of 3 ft (914 mm) narrow gauge routes.
In 1929 SP/T&NO operated 13848 route-miles not including Cotton Belt, whose purchase of the Golden State Route circa 1980 nearly doubled its size to 3,085 miles (4,965 km), bringing total SP/SSW mileage to around 13,508 miles (21,739 km).
By the 1980s route mileage had dropped to 10,423 miles (16,774 km), mainly due to the pruning of branch lines. In 1988 the Southern Pacific was taken over by D&RGW parent Rio Grande Industries. The combined railroad kept the Southern Pacific name due to its brand recognition in the railroad industry and with customers of both constituent railroads. Along with the addition of the SPCSL Corporation route from Chicago to St. Louis, the total length of the D&RGW/SP/SSW system was 15,959 miles (25,684 km).
By 1996 years of financial problems had dropped SP's mileage to 13,715 miles (22,072 km), and it was taken over by the Union Pacific Railroad.
Read more on
Wikipedia
.
Brand/Importer Information
: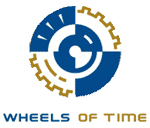 Wheels of Time was founded by Matthew Young in the fall of 1995. From an early age, Matthew has had a passion for trains, both in full-size and in miniature. His family frequently went out of their way so he could ride the train, or simply watch the action on the tracks. "On one occasion mom took us to San Francisco along the waterfront. Spotting a State Belt ALCo S-2 locomotive switching the wharves, I persuading my mom to follow it. I watched in wonder as I saw and heard the hit-cup sputtering of the ALCo engine as it revved-up to move railroad cars on and off the car float at Pier 43." Other early family experiences included watching Southern Pacific freight and Amtrak's San Joaquin Amfleet trains roll by as his family waited to be seated at Spenger's in Berkeley, which sat happily right next to the tracks. "My brother and I would shoot pictures of the trains with our Instantmatic 110 cameras, sometimes only getting the wheels or worse yet ... getting a real good close up of my big thumb."
Matthew and his brother built models of all kinds, but their model train career began in elementary school when they started making 3-D cardboard miniature trains from pictures found in the pages of Trains Magazine and Model Railroader Magazine. On a visit, many years later, with the late Richard Buike of Trackside Trains in Burlingame, California, the conversation turned to the lack of N-Scale passenger trains and how the few that existed didn't look right. "I told him right then and there that I was going to produce high quality, historically accurate passenger railroad cars. Even I was a little surprised when I said this." The first product was a 1950 Pullman-Standard "10-6" sleeping car made of brass. Wheels of Time became one of the first makers of historically accurate and realisticly detailed passenger train cars. At Wheels of Time, we research original equipment and recreate it with CAD software for production. We're lovers of history and sticklers for detail. On our line of Transit Motor Coaches (a fancy way of saying "buses"), even the destination *roll* signs are historically accurate. Be sure to check out all our beautiful and accurate products. We hope you'll come to share our passion for trains, here recreated in miniature. At Wheels of Time, you get to take home a piece of a fascinating history.
Wheels of Time manufactures historically accurate model trains, vehicles, and model railroad accessories with a real *wow* factor. Our obsession with detail and historical accuracy is reflected in our exceptional design and production: hold a Wheels of Time model in your hand and you'll be tempted to say, 'It's the real thing!'
Item created by:
gdm
on 2016-08-23 19:07:26. Last edited by
Alain LM
on 2020-11-01 10:20:47
If you see errors or missing data in this entry, please feel free to
log in
and edit it. Anyone with a Gmail account can log in instantly.