Specific Item Information: N RTR 57 foot Mechanical Reefer, ARR #11509
Model Information: This tooling was created by MDC and later acquired by Athearn in 2004. The models are based on the Pacific Fruit Express R-70-20 to R-70-24 class of reefers. The MDC versions were usually sold in kit form, though more recent releases were in RTR format. The MDC releases included Rapido couplers and blackened metal wheels.

The most recent releases from Athearn have the following features: Razor sharp printing and painting; Weighted for optimum performance; Body mounted McHenry scale knuckle spring couplers installed; Machined 33" metal wheels; Window packaging for easy viewing; Interior plastic blister safely holds the model for convenient storage; Minimum radius: 10".
Prototype History
: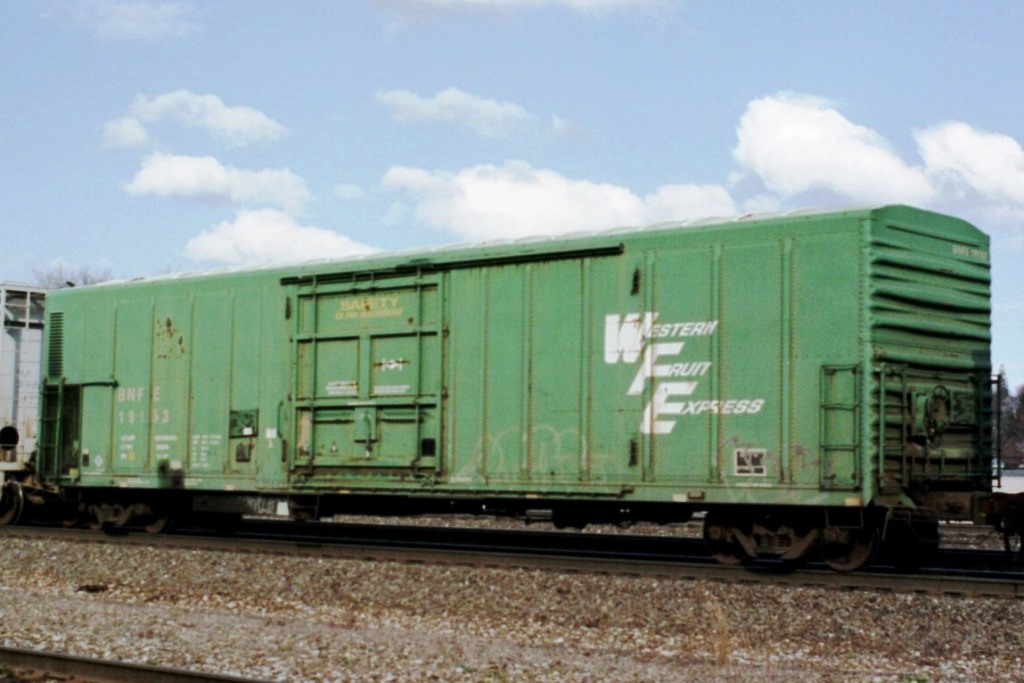 Pacific Car and Foundry responded to the railroad's migration from ice stored in bunkers as a primary cooling system to the diesel mechanical systems. The mechanical reefers could keep a more regular temperature, often times colder then what the ice bunker cars could at the time. Initially mechanical reefers were used primarily in frozen food service. This would soon change as mechanical refrigeration began to replace ice-based systems. Soon after, mechanical refrigeration units replaced the "armies" of personnel required to re-ice the cars. Several different deliveries of the PC&F 57' mechanical to many different railroads in the mid to late 1960s. Many have been rebuilt and are still in service today.
These 50'-10" mechanical refrigerator cars were built by PC&F in 1969-70 and featured 4269 ft3 capacity and a 10'-6" door opening. Note that this body style is sometimes referred to as 57', however, the mechanical refrigeration eqipment takes up space on one end of the car thus leaving a nominal 50' usable inside length for loading. Bangor and Aroostook often leased it's reefer fleet to Pacific Fruit Express in the off season for the railroad. This turned out to be a peak season for PFE in California. Green Bay and Western purchased several classes of 57' Mechanicals from the BAR. Many were hastily patched and put into service. The GB&W cars were often seen on the North Western Pacific in California carrying butter from the Humbolt Bay to eastern markets.
Road Name History
: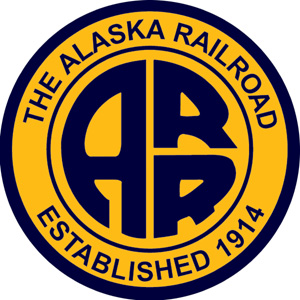 Born in 1923 with the consolidation and connection of the Tanana Valley and Alaska Northern railroads, the line was owned by the Federal Government (under the Department of the Interior) from the outset, later becoming the responsibility of the Department of Transportation in 1967. In the mid-80s it was sold to the State of Alaska.
The Alaska Railroad links Anchorage with the port of Whittier and Seward to the south, and Fairbanks and environs to the north. Total mileage is about 525 putting it between Bangor & Aroostook and New York Ontario & Western in relative size. Alaska does run its own passenger service over the length of the railroad. Although the Alaska Railroad is disconnected from the rest of the North American rail network, they do interchange with other railroads. A trio of sea-going barges ferry rail cars from the port of Whittier to Prince Rupert, British Columbia, and Seattle, Washington. ARR had collected a fleet of Alco RS-1s (and a few RSD-1's) with cowls, effectively making them cab units unique to this line. These were later replaced by second generation EMD power. The big power on the line is a fleet of 28 SD70MACs. A dozen of these are equipped with HEP for use in passenger service.
The port of Whittier is hemmed in by the ocean on one side and mountains on the other. A 2.5 mile single track tunnel is the only way out of the port. The line through the tunnel is paved like street trackage so that highway traffic can use the tunnel. It is a single lane so highway traffic going south enters from the top of the hour until quarter after. Northbound traffic enters from the bottom of the hour until 45 after the hour. Trains get priority and proceed as soon as traffic has cleared.
Brand/Importer Information
: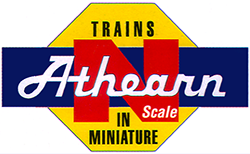 Athearn
's history began in 1938, when its founder-to-be, Irvin Athearn, started an elaborate O scale layout in his mother's house. After placing an ad selling the layout, and receiving much response to it, Irv decided that selling model railroads would be a good living. He sold train products out of his mother's house through most of the 1940s. After becoming a full-time retailer in 1946, Irv opened a separate facility in Hawthorne, California in 1948, and that same year he branched into HO scale models for the first time.
Athearn acquired the Globe Models product line and improved upon it, introducing a comprehensive array of locomotive, passenger and freight car models. Improvements included all-wheel drive and electrical contact. One innovation was the "Hi-Fi" drive mechanism, employing small rubber bands to transfer motion from the motor spindle to the axles. Another was the double-ended ring magnet motor, which permitted easy connection to all-wheel-drive assemblies. Athearn was also able to incorporate flywheels into double-ended drives.
The company produced a model of the Boston & Maine P4 class Pacific steam locomotive which incorporated a cast zinc alloy base and thermoplastic resin superstructure. It had a worm drive and all power pickup was through the bipolar trucks that carried the tender. This item was discontinued after the Wilson motor was no longer available, and was not redesigned for a more technologically advanced motor.
Athearn's car fleet included shorter-than-scale interpretations of passenger cars of Southern Pacific and Atchison, Topeka & Santa Fe Railroad prototypes. The company also offered a variety of scale-length freight cars with sprung and equalized trucks. The cars could be obtained in simple kit form, or ready-to-run in windowed display boxes. The comprehensive scope of the product line contributed to the popularity of HO as a model railroad scale, due to the ready availability of items and their low cost.
Irv Athearn died in 1991. New owners took control in 1994, but continued to follow Athearn's commitment to high-quality products at reasonable prices. Athearn was bought in 2004 by Horizon Hobby. Athearn was then moved from its facility in Compton to a new facility in Carson, California. In mid-2009, all remaining US production was moved to China and warehousing moved to parent Horizon Hobby. Sales and product development was relocated to a smaller facility in Long Beach, California.
Read more on
Wikipedia
and
Athearn website
.
Item created by:
Chance
on 2016-09-19 09:08:07. Last edited by
Lethe
on 2020-06-01 00:00:00
If you see errors or missing data in this entry, please feel free to
log in
and edit it. Anyone with a Gmail account can log in instantly.