Model Information
: BLMA first released this model in October of 2009. This was the first appearance of this prototype in N Scale. This model is an excellent example of the company's willingness to push the boundaries of N Scale rolling stock. The brake detail, metal roofwalk and body-mount couplers along with the metal wheels helped set a new standard for N Scale when this model came out. The early BLMA releases feature MTL body-mount couplers whereas the Atlas releases use Accumate couplers. See a video of this model
here on YouTube
.
Features: Injection-molded plastic body; Fine-scale detail; Checmically etched roof walk and brake platform; Prototypical ride height; Accurately painted and printed; BLMA 100-ton trucks; BLMA 36" metal wheels; Brown knuckle couplers (MTL or Accumate - depending on Brand).
Prototype History
: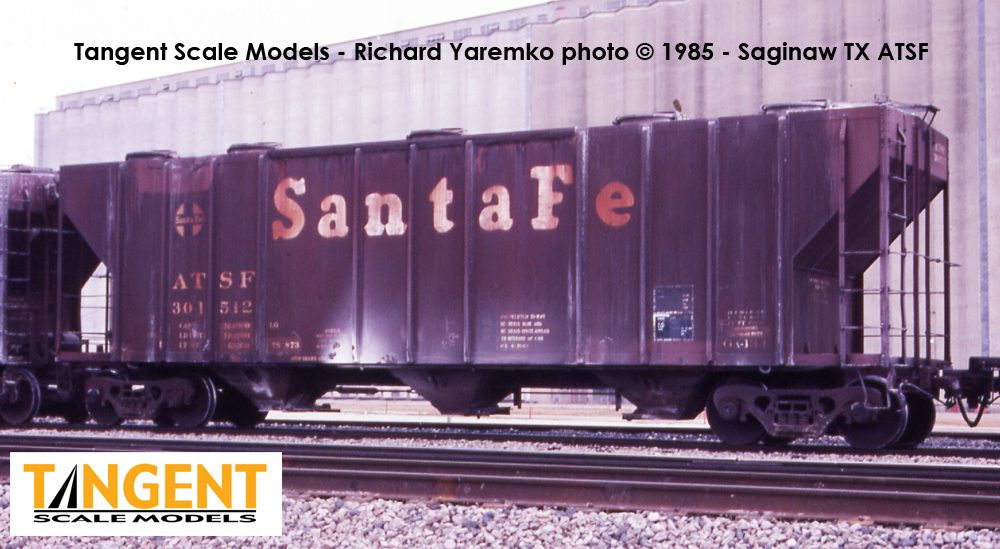 The PS-2CD 4000 cubic foot covered hopper was produced by Pullman-Standard between 1962 and 1964 in the company's Butler PA shops. These cars led a very long service life, with some remaining in revenue service throughout the US, Canada, and Mexico until the early 2000s. One of the most distinctive Pullman covered hoppers, this common 90/100-ton car was mostly used in grain, malt, fertilizer, and similar bulk services. Here is a Pullman builder photo of a B&O PS4000.
These cars were built during a transitional period for covered hopper design. It was a time when customers were regularly using 40-foot boxcars for bulk commodity movements, and the inefficiencies of hand-loading and unloading boxcars were becoming issues for customers and railroads alike. Customers wanted faster loading and unloading processes, and railroads wanted the cars back sooner. The PS4000 was one of the first successful bulk commodity designs. The most common production version of these cars featured distinctive round hatches on the roof of the car.
Road Name History
: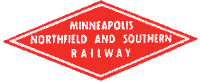 MN&S launched in 1918 to take over the former Dan Patch Lines that had fallen into bankruptcy two years before. MN&S inherited the Dan Patch nickname (named after a race horse.) The line was 87 miles long, running from Minneapolis south to Northfield, Minnesota. The new owners promoted the line as a bypass around the Twin City's terminals. MN&S connected with the original Soo Line at Crystal, Minneapolis & St. Louis, and Great Northern at Glenwood, the Omaha Road at Savage, and Chicago Great Western, Milwaukee Road, and Rock Island at Northfield. Passenger service was provided with gas-electric cars into the 1940s. In addition to transferring blocks of cars between the Twin City's various Class One railroads, the MN&S also had a significant number of on line customers.
The early diesel years brought Fairbanks Morse and Baldwin engines to the property. These included one each of H12-44, H10-44, VO1000 and a pair of VO660 switcher. To handle MN&S's heavy transfer trains, they used Baldwin's massive 6 axel center cab units, a single RT-624 and five DT6-6-2000's. They also had a single Baldwin road switcher, a DRS6-6-1500. As the Baldwins wore out, they were replaced with six SW1200's, two SW1500's and a pair of SD39's.
In 1982, Soo Line bought the MN&S. They were planning on acquiring the Milwaukee Road (which was in bankruptcy at the time) and needed the MN&S to connect their own line at Crystal with the MILW at Northfield. MN&S was operated separately until 1986 when it was merged into Soo Line.
Brand/Importer Information
: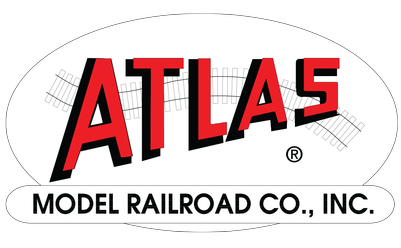 In 1924 Stephan Schaffan, Sr. founded the Atlas Tool Company in Newark, New Jersey. In 1933 his son, Stephan Schaffan, Jr., came to work for his father at the age of sixteen. Steve Jr. built model airplanes as a hobby and frequented a local hobby shop. Being an enterprising young man, he would often ask the owner if there was anything he could do to earn some extra spending money. Tired of listening to his requests, the hobby-store owner threw some model railroad track parts his way and said, "Here, see if you can improve on this".
In those days, railroad modelers had to assemble and build everything from scratch. Steve Jr. created a "switch kit" which sold so well, that the entire family worked on them in the basement at night, while doing business as usual in the machine shop during the day.
Subsequently, Steve Jr. engineered the stapling of rail to fiber track, along with inventing the first practical rail joiner and pre-assembled turnouts and flexible track. All of these products, and more, helped to popularize model railroading and assisted in the creation of a mass-market hobby. The budding entrepreneur quickly outgrew the limitations of a basement and small garage operation. Realizing they could actually make a living selling track and related products, Steve and his father had the first factory built in Hillside, New Jersey at 413 Florence Avenue in 1947. On September 30, 1949, the Atlas Tool Company was officially incorporated as a New Jersey company.
In 1985, Steve was honored posthumously for his inventions by the Model Railroad Industry Association and was inducted into the Model Railroad Industry Hall of Fame in Baltimore, Maryland. In addition, Steve was nominated and entered into the National Model Railroad Association Pioneers of Model Railroading in 1995.
In the early 1990s, the Atlas Tool Company changed its name to
Atlas Model Railroad Company, Inc.
Item created by:
gdm
on 2016-10-05 13:38:44. Last edited by
gdm
on 2020-05-30 12:02:08
If you see errors or missing data in this entry, please feel free to
log in
and edit it. Anyone with a Gmail account can log in instantly.