Specific Item Information
: Early Version: Standard Nose w/ Ratchet Brake - Dynamic Brake
This model has been
re-released in September 2016
as part of Kato USA's "30 years - 30 Days" Anniversary Special.
Model Information
: This is a 3rd generation locomotive which Kato introduced in 2000. It feature a split-frame single-lightboard design with flywheels and directional lighting. In 2007, Kato added a Mid-Production model version with some upgraded features including ditch lights. It is one of the earlier models with a full set of 3rd generation features.
Directional Golden White LED headlights.
Mid Production: Lighted ditch lights and illuminated preprinted numberboards.
Mid Production: Shock absorber construction for reliable performance.
DCC Information
: Models produced since 2006 accept the following plug-in decoders:
-
Digitrax DN163K1C
: 1 Amp N Scale Mobile Decoder for Kato N scale SD40-2 locos made from year 2006 onward.
-
TCS K1D4-NC
: For Mid-Production version - BEMF decoder designed to fit the Kato N-Scale EMD SD70ACe, EMD SD70M, EMD SD40-2, and GG1
-
TCS K1D4
: For Early version - BEMF decoder is designed to fit the Kato N-Scale EMD SD40, EMD SD70MAC, EMD SD70/75M, GE C44-9W, GE AC4400W, Athearn F45 and many other locomotives.
-
MRC 1806
: N Scale Drop in DCC Sound Decoder for Kato SD40-2 Locomotive
Prototype History
: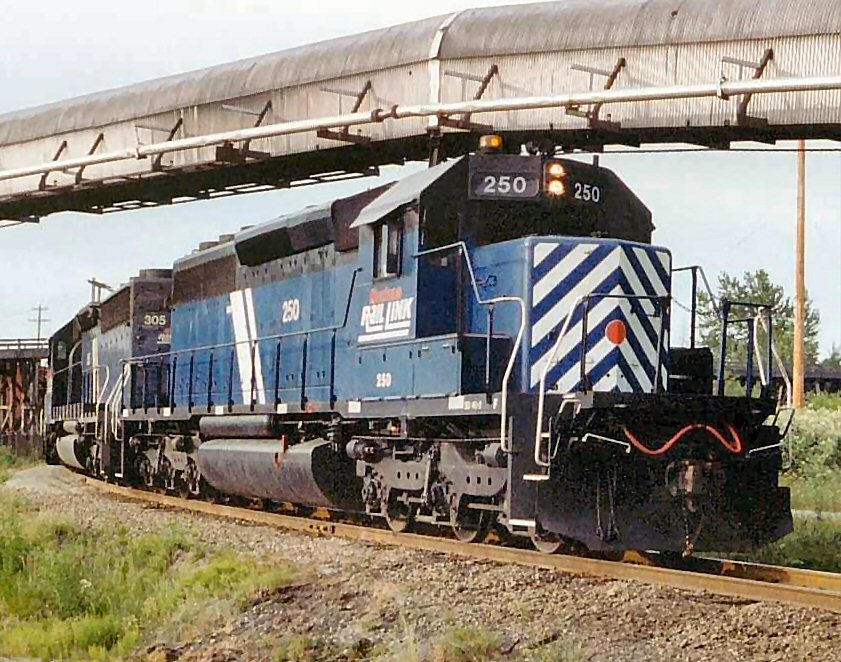 The EMD SD40-2 is a 3,000-horsepower (2,200 kW) C-C diesel-electric locomotive built by EMD from 1972 to 1989. The SD40-2 was introduced in January 1972 as part of EMD's Dash 2 series, competing against the GE U30C and the ALCO Century 630. Although higher-horsepower locomotives were available, including EMD's own SD45-2, the reliability and versatility of the 3,000-horsepower (2,200 kW) SD40-2 made it the best-selling model in EMD's history and the standard of the industry for several decades after its introduction. The SD40-2 was an improvement over the SD40, with modular electronic control systems similar to those of the experimental DDA40X.
Peak production of the SD40-2 was in the mid-1970s. Sales of the SD40-2 began to diminish after 1981 due to the oil crisis, increased competition from GE's Dash-7 series and the introduction of the EMD SD50, which was available concurrently to late SD40-2 production. The last SD40-2 delivered to a United States railroad was built in July 1984, with production continuing for railroads in Canada until 1988, Mexico until February 1986, and Brazil until October 1989. As of 2013, nearly all built still remain in service.
The GMD SD40-2W is a Canadian-market version of the SD40-2 diesel-electric locomotive, built for the Canadian National Railway by the Diesel Division of General Motors of Canada Ltd. (formerly General Motors Diesel) of London, Ontario; 123 were constructed between May 1975 and December 1980. The major difference between the SD40-2W and a regular SD40-2 is the fitment of a wide-nose Canadian comfort cab, commonly denoted by adding a 'W' in the model name (although the GMD designation on the builders plates remained 'SD40-2').
The SD40-2 has seen service in Canada, Mexico, Brazil and Guinea. To suit export country specifications, General Motors designed the JT26CW-SS (British Rail Class 59) for Great Britain, the GT26CW-2 for Yugoslavia, South Korea, Iran, Morocco, Peru and Pakistan, while the GT26CU-2 went to Zimbabwe and Brazil. Various customizations led Algeria to receive their version of a SD40-2, known as GT26HCW-2.
SD40-2s are still quite usable nearly fifty years after the first SD40 was made, and many SD40s and locomotives from the pre-Dash-2 series (GP/SD 40s, 39s and 38s, and even some SD45s) have been updated to Dash-2 specifications, possibly including downgrading from 20-645E to 16-645E engines, including, certainly, Dash-2 electrical controls, although the pre-Dash-2 frames cannot accommodate the somewhat similar HT-C truck in the space allocated to the Flexicoil C truck (the frame is not long enough). Most SD40-2s which remain in service have by now been rebuilt "in-kind" for another 30 to 40 years of service, although a few (under 30) have been rebuilt to incorporate a 12-cylinder EFI-equipped 710G engine.
From Wikipedia
Read more on
American-Rails.com
Road Name History
: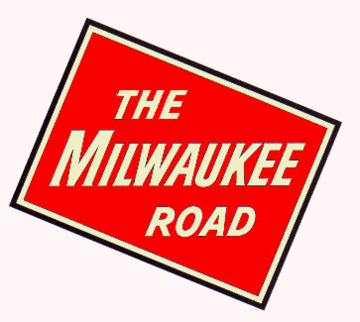 First of all, Milwaukee Road has only ever been a popular nickname. The real name from 1874 was Chicago Milwaukee & St. Paul. For the next 36 years, the CM&StP linked Chicago with Milwaukee, Green Bay, Madison, Wausau, the Twin Cities, Duluth, Kansas City and Omaha with a dense network of branches in Wisconsin, Iowa, southern Minnesota and eastern South Dakota. Essentially, the lines ended at the Missouri River.
With a dearth of friendly western connections, CM&StP decided to build their own line to the Pacific. The original target was the bustling megalopolis of Eureka, California. However, they built toward Seattle instead. In 1909 the line opened. Along the way, they served Miles City, Lewiston, Great Falls, Harlowton and Butte, Montana; Avery, Idaho; and Spokane, Seattle and Tacoma, Washington. In 1912, they began to electrify two long segments, Harlowton, Montana to Avery, Idaho and Othello, Washington to Tacoma.
In 1921, they leased the Chicago Terre Haute & Southeastern and a bit later the Chicago Milwaukee & Gary to reach the coal fields of southern Indiana. Both roads were in trouble and dragged the CM&StP into receivership. In 1928, they emerged with a small name change. It was now the Chicago Milwaukee St. Paul & Pacific. Right after that, the nickname "Milwaukee Road" began to catch on.
The three Class One's that already served the Pacific Northwest, Northern Pacific, Great Northern (along with their jointly owned minion Spokane Portland & Seattle) and Union Pacific were not pleased with their new neighbor and avoided building interchanges with them unless absolutely necessary. This left Milwaukee to haul whatever traffic they could originate or terminate on their own line or via a hand full of shortlines with which they interchanged. This is why when you see photos of Milwaukee Road trains west of the Dakotas, an exceptionally large majority of cars are lettered for Milwaukee Road.
Milwaukee's steam fleet is generally quite handsome beginning with the period after WWI. Many locomotives were built in their own shops. The steam era came to an end on the Milwaukee in 1957.
The electrified lines were ruled by boxcabs and Bi-Polars for decades. In the 1950's, Little Joe's diverted from the Soviet Union arrived on the Milwaukee (and the South Shore.) By the late 60's diesels began to regularly invade the electrified lines. Little Joes and diesels were MU'ed. The aging catenary could only handle so many electrics at a time so diesels filled the horsepower gap. By 1972, falling traffic, a declining fleet of serviceable electrics and the deteriorating catenary caused Milwaukee Road to de-energize the western lines lines with Avery to Harlowton lines following two years later.
Meanwhile on the east end, as a condition of the 1971 merger of Monon into L&N, Milwaukee Road received trackage rights from Chicago to Louisville. This gave Southern a friendly connection to Chicago it was losing with Monon.
In 1977, Milwaukee Road entered receivership again. This time, radical restructuring was needed. In 1980, everything west of Miles City, Montana was abandoned. Some lines were picked up by connections or spawned new shortlines but nearly 1,000 miles of track was pulled up. In 1982, Miles City to Ortonville, Minnesota was abandoned. Milwaukee was concentrating on their pre-1909 routes plus the new line to Louisville.
In an attempt to win back middle distance TOFC traffic, Milwaukee began running fast and short piggyback trains, usually behind a single SD40-2 and with a dozen or so 89' flats. Unit coal trains added to the bottom line. By the mid-80s, the streamlined Milwaukee Road was up for sale and Grand Trunk Western, Chicago & North Western and Soo Line got into a bidding war. GTW had diverted 40,000 cars onto Milwaukee Road between Chicago and Duluth to help them turn a profit in 1983. Ironically, the ICC (which controlled mergers at the time) pushed GTW out of the contest leaving just C&NW and Soo. Furious, GTW diverted their 40,000 carloads off the Milwaukee. C&NW outbid Soo, but the ICC chose Soo Line anyway. Milwaukee Road merged into Soo Line in 1985. Almost immediately, Soo shops began painting big black rectangles over MILWAUKEE ROAD on the diesels, giving birth to the "bandit" paint scheme.
Brand/Importer Information
:

KATO U.S.A. was established in 1986, with the first U.S. locomotive model (the GP38-2, in N-Scale) released in 1987. Since that time, KATO has come to be known as one of the leading manufacturers of precision railroad products for the modeling community. KATO's parent company, Sekisui Kinzoku Co., Ltd., is headquartered in Tokyo, Japan.
In addition to producing ready-to-run HO and N scale models that are universally hailed for their high level of detail, craftsmanship and operation, KATO also manufactures UNITRACK. UNITRACK is the finest rail & roadbed modular track system available to modelers today. With the track and roadbed integrated into a single piece, UNITRACK features a nickel-silver rail and a realistic-looking roadbed. Patented UNIJOINERS allow sections to be snapped together quickly and securely, time after time if necessary.
The Kato U.S.A. office and warehouse facility is located in Schaumburg, Illinois, approximately 30 miles northwest of Chicago. All research & development of new North American products is performed here, in addition to the sales and distribution of merchandise to a vast network of wholesale representatives and retail dealers. Models requiring service sent in by hobbyists are usually attended to at this location as well. The manufacturing of all KATO products is performed in Japan.
Supporters of KATO should note that there is currently no showroom or operating exhibit of models at the Schaumburg facility. Furthermore, model parts are the only merchandise sold directly to consumers. (Please view the Parts Catalog of this website for more specific information.)
Item created by:
Alain LM
on 2016-10-16 14:09:40. Last edited by
gdm
on 2020-07-24 07:28:53
If you see errors or missing data in this entry, please feel free to
log in
and edit it. Anyone with a Gmail account can log in instantly.