Model Information: This model was introduced in 1989 and has been regularly re-run since then. It features trucks with metal wheelsets. Initially equipped with Rapido couplers, it was subsequently offered with Con-Cor dummy knuckle couplers, and then with Micro-Trains knuckle couplers.
This model is based on Amtrak MHC-1 design of 1986. It has been available in Amtrak phase III, IV and V paint schemes, and as well in REA Express car paint scheme.
The only prototypically correct models are the Amtrak 1400-series of the MHC-1. Amtrak 1500-series are MHC-2; Amtrak 70000- and 71000-series are standard boxcars; Amtrak 74000-series 'ExpressTrak' are reefers.
Prototype History
: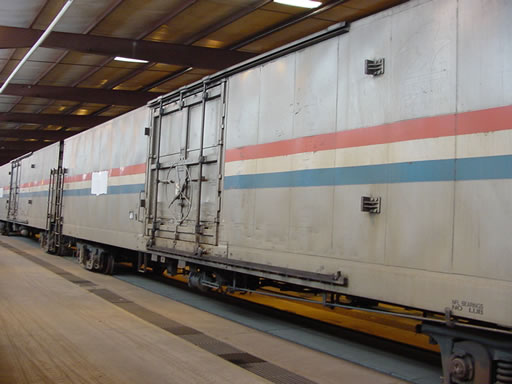 Late in the 1980's, Amtrak's California Zephyr trains began to run new box cars called "material handling cars" The original 1400-series MHC-1 cars were built by Thrall in 1986 utilizing rebuilt trucks from former REA express cars with a short wheelbase.The MHC cars had pass-through cabling for HEP and usually operated on the head end of the train. The Southwest Chief usually had four or five daily. The MHCs were used primarily for handling bulk mail.
In 1989 Amtrak began receiving a second version of the MHC, the MHC-2, which carry road numbers in the 1500-series. These cars differed in some notable ways. The trucks were a new design that had a longer wheelbase than the earlier cars. Further, there was a body snubber anchor mounted on the sides of the car above each truck. These two details are the most obvious differences between the two car series, however the body and roof are entirely different from the earlier cars.
Unfortunately, the express-freight business indeed turned out to be a loser, particularly because Amtrak could not manage to complete the network expansion that it announced when it started handling the traffic. That resulted in the conventional boxcars, and later the ExpressTrak reefers, being parked in 2003.
Read more on
UtahRails.com
.
Road Name History
: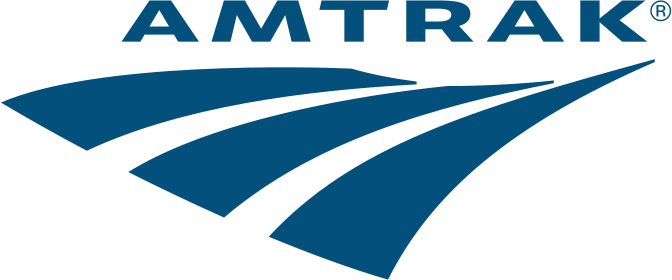 The National Railroad Passenger Corporation, doing business as Amtrak, is a passenger railroad service that provides medium- and long-distance intercity service in the contiguous United States. Founded in 1971 through the government-sponsored consolidation of most of the remaining U.S. passenger rail companies, it is partially government-funded yet operated and managed as a for-profit corporation.
Amtrak operates more than 300 trains each day on 21,300 miles (34,000 km) of track with select segments having civil operating speeds of 150 mph (240 km/h) and connecting more than 500 destinations in 46 states in addition to three Canadian provinces. In fiscal year 2015, Amtrak served 30.8 million passengers and had $2.185 billion in revenue, while employing more than 20,000 people. Nearly two-thirds of passengers come from the 10 largest metropolitan areas; 83% of passengers travel on routes shorter than 400 miles. Its headquarters is at Union Station in Washington, D.C.
The name "Amtrak" is a portmanteau of the words "America" and "trak", the latter itself a sensational spelling of "track".
Read more on
Wikipedia
.
Paint Scheme
:
Phase III, introduced in 1976, is still used on some equipment. On both passenger cars and locomotives, the outer white pinstripes were removed while the inner stripe was widened, resulting in red, white, and blue stripes of equal width. Turboliners and the LRC test train were painted in white, with the stripes at the bottom of the train. This scheme was introduced "for safety, graphic aid and saving money", as the white band was highly reflective and provided a place for car information, and the standard widths made better use of raw material.
Several types of locomotives that were acquired later were given variations on Phase III. AEM-7 locomotives had the blue stripe expanded to cover the entire lower part of the body. On Dash 8-32BWH locomotives, a deeper blue and red was used; the stripes had additional pinstripes and angled upward across the middle of the body. The similarity to the Pepsi logo led to the units being nicknamed "Pepsi Cans". Genesis locomotives had a lighter roof and narrower white stripe; the stripes angled downward on the sloped nose, and faded towards the rear. That variant was created by industrial designer Cesar Vergara, who also designed the angular bodies of the locomotives.
In October 2013, Amtrak introduced a new variant of Phase III with the production of the new Viewliner II cars, the first of which entered service in 2015. The Viewliner cars have some changes from previous Phase III passenger cars, including a red reflective stripe at the bottom and a newer ("Travelmark") logo. In January 2016, Amtrak revealed a P32AC-DM that was repainted into Phase III, similar to that of the heritage units Nos. 145 and 822, but featuring modern logos and "Empire Service" emblems on the sides. All P32AC-DMs will eventually be repainted into this scheme, with costs shared between Amtrak and the state of New York.
Brand/Importer Information
:

Con-Cor
has been in business since 1962. Many things have changed over time as originally they were a complete manufacturing operation in the USA and at one time had upwards of 45 employees. They not only designed the models,but they also built their own molds, did injection molding, painting, printing and packaging on their models.
Currently, most of their manufacturing has been moved overseas and now they import 90% of their products as totally finished goods, or in finished components. They only do some incidental manufacturing today within the USA.
Important Note: The Con-Cor product numbering can be very confusing. Please see here in the article how to properly enter Con-Cor stock numbers in the TroveStar database.
Item created by:
Chance
on 2016-10-22 16:48:42. Last edited by
Alain LM
on 2020-08-26 12:15:09
If you see errors or missing data in this entry, please feel free to
log in
and edit it. Anyone with a Gmail account can log in instantly.