Model Information: This model was originally produced by V-Line. Deluxe Innovations later acquired the tooling. The deLuxe models of these common cars are weighted with the same copper slugs used in their box cars for superior tracking and immunity to magnetism.

Most releases feature more than one paint scheme variation within a road name. For instance, the Missouri Pacific set features cars delivered with MP reporting marks and painted "corrosion resistant gray" that is actually a tan color, and cars lettered for MoPac subsidiaries Missouri-Illinois and St. Louis Brownsville & Mexico (both carrying the traditional buzz saw logo) that are painted in a more traditional gray color. Some of the more modern paint schemes including Delaware & Hudson and National Bureau of Standards have the four-color ACI tags. ACI stands for Automated Car Identification and worked like a grocery store bar code reader using a color TV camera instead of a laser. Unfortunately, the tags couldn't be read if they were dirty and the system fell out of favor by the early 1980's. This aspect of 70's railroading is rarely modeled but we include it on appropriate cars.
Prototype History
: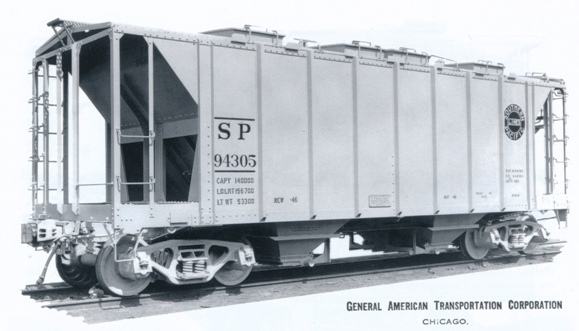 This design had a life span that is truly enormous. The last cars of this design were built in the 1960's -- three decades after the first cars were built for Santa Fe. Quite a few of these cars are still in service. Because you have to stand on the roof in order to open the hatches, these cars were immune from the "No Roof Walk" rule of 1964, but a number would be scrapped when friction bearing trucks were outlawed. Amazingly, some cars are now being retired because they have hit the Federal Railroad Administration's 50 year rule!
Originally designed at the height of the Great Depression, the first ten cars of this design were delivered to Santa Fe in an austere black paint scheme. Covered hoppers have always been used for any bulk cargo that had to be protected from the elements. Some have the impression that covered hoppers are used mostly for grain. Nothing can be further from the truth. In fact, moving grain in covered hoppers has only been commonplace since the 1960's. Before that period, most grain moved in 40' box cars with grain doors temporarily nailed over the doorways. In the steam era, covered hoppers were used for cement, sand, clay, talc, and other powders. The cargo was loaded through eight square hatches in the roof. To empty the car, the hatches at the bottom are opened and the load spills out. At this point, some low man on the company ladder would have to climb into the car with a broom and sweep out the corners and the center sill. The American Car & Foundry covered hopper design was such a success that it became a defacto standard for years. Even Pullman Standard (ACF's arch enemy) built cars to the same design. The distinctive open triangles in the sides make these cars easily distinguishable even from a distance. ACF would also develop a version without the open triangles which was not as prolific as the version presented here. Amazingly, many of these cars are still in use today, in MOW and lineside service. Many have been rebuilt as ballast hoppers, including for SP, CSX, Amtrak, and Santa Fe.
Road Name History
: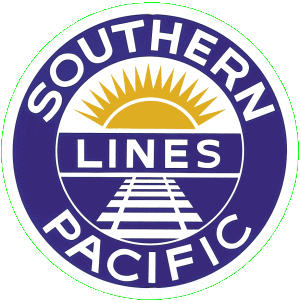 The Southern Pacific Transportation Company (reporting mark SP), earlier Southern Pacific Railroad and Southern Pacific Company, and usually called the Southern Pacific or (from the railroad's initials) Espee, was an American Class I railroad. It was absorbed in 1988 by the company that controlled the Denver and Rio Grande Western Railroad and eight years later became part of the Union Pacific Railroad.
The railroad was founded as a land holding company in 1865, later acquiring the Central Pacific Railroad by lease. By 1900 the Southern Pacific Company was a major railroad system incorporating many smaller companies, such as the Texas and New Orleans Railroad and Morgan's Louisiana and Texas Railroad. It extended from New Orleans through Texas to El Paso, across New Mexico and through Tucson, to Los Angeles, through most of California, including San Francisco and Sacramento. Central Pacific lines extended east across Nevada to Ogden, Utah, and reached north through Oregon to Portland. Other subsidiaries eventually included the St. Louis Southwestern Railway (Cotton Belt), the Northwestern Pacific Railroad at 328 miles (528 km), the 1,331 miles (2,142 km) Southern Pacific Railroad of Mexico, and a variety of 3 ft (914 mm) narrow gauge routes.
In 1929 SP/T&NO operated 13848 route-miles not including Cotton Belt, whose purchase of the Golden State Route circa 1980 nearly doubled its size to 3,085 miles (4,965 km), bringing total SP/SSW mileage to around 13,508 miles (21,739 km).
By the 1980s route mileage had dropped to 10,423 miles (16,774 km), mainly due to the pruning of branch lines. In 1988 the Southern Pacific was taken over by D&RGW parent Rio Grande Industries. The combined railroad kept the Southern Pacific name due to its brand recognition in the railroad industry and with customers of both constituent railroads. Along with the addition of the SPCSL Corporation route from Chicago to St. Louis, the total length of the D&RGW/SP/SSW system was 15,959 miles (25,684 km).
By 1996 years of financial problems had dropped SP's mileage to 13,715 miles (22,072 km), and it was taken over by the Union Pacific Railroad.
Read more on
Wikipedia
.
Item created by:
gdm
on 2016-10-30 17:10:27
If you see errors or missing data in this entry, please feel free to
log in
and edit it. Anyone with a Gmail account can log in instantly.