Model Information: Model Power introduced this model in 2002 in standard version. Additional versions have been introduced subsequently: semi-streamlined version in 2004, Vandy tender version in 2005, a revised semi-streamlined version in 2010, and lastly a revised MRC version in 2015. There has been several runs with different road numbers, but using the same stock number.

They are manufactured in Korea and feature die-cast bodies. This makes them fairly solid. Unlike many steam engines they also are very DCC-Friendly. The fall short of being fully DCC-Ready because they do not support drop-in decoders and instead require some manipulation of wiring. They run very well and can pull a lot of cars. The shell details are excellent. They were delivered in a jewelry-like plastic chest.

Unfortunately, the design is not great for running and parts of the lower shell can get mangled when they hit rough patches of track (especially turnouts). This can effectively put one of these out of commission. For this reason we advise buying these from a certified dealer because if you have to return them for repairs you will need the documentation.
DCC Information: It is pretty easy to add DCC to this engine. However, it is not DCC-Ready as you need to splice in a decoder inside the tender. Not a lot of work, but not as nice as a drop-in decoder swap.
Prototype History
:

Under the Whyte notation for the classification of steam locomotives, 4-6-2 represents the wheel arrangement of four leading wheels on two axles, six powered and coupled driving wheels on three axles and two trailing wheels on one axle. The 4-6-2 locomotive became almost globally known as a Pacific type. The type is well-suited to high speed running. The world speed record for steam traction of 126 miles per hour (203 kilometres per hour) has been held by a British Pacific locomotive, the Mallard, since 3 July 1938.
The introduction of the 4-6-2 design in 1901 has been described as "a veritable milestone in locomotive progress". On many railways worldwide, Pacific steam locomotives provided the motive power for express passenger trains throughout much of the early to mid-20th century, before either being superseded by larger types in the late 1940s and 1950s, or replaced by electric or diesel-electric locomotives during the 1950s and 1960s. Nevertheless, new Pacific designs continued to be built until the mid-1950s.
The type is generally considered to be an enlargement of the 4-4-2 Atlantic type, although its prototype had a direct relationship to the 4-6-0 Ten-wheeler and 2-6-2 Prairie, effectively being a combination of the two types. The success of the type can be attributed to a combination of its four-wheel leading truck which provided better stability at speed than a 2-6-2 Prairie, the six driving wheels which allowed for a larger boiler and the application of more tractive effort than the earlier 4-4-2 Atlantic, and the two-wheel trailing truck, first used on the New Zealand 2-6-2 Prairie of 1885. This permitted the firebox to be located behind the high driving wheels and thereby allowed it to be both wide and deep, unlike the 4-6-0 Ten-wheeler which had either a narrow and deep firebox between the driving wheels or a wide and shallow one above.
From Wikipedia
Road Name History
: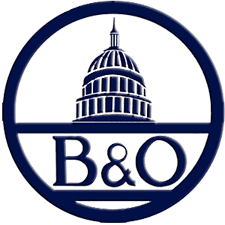 The Baltimore and Ohio Railroad (reporting marks B&O, BO) is one of the oldest railroads in the United States and the first common carrier railroad. It came into being mostly because the city of Baltimore wanted to compete with the newly constructed Erie Canal (which served New York City) and another canal being proposed by Pennsylvania, which would have connected Philadelphia and Pittsburgh. At first this railroad was located entirely in the state of Maryland with an original line from the port of Baltimore west to Sandy Hook. At this point to continue westward, it had to cross into Virginia (now West Virginia) over the Potomac River, adjacent to the confluence of the Potomac and Shenandoah rivers. From there it passed through Virginia from Harpers Ferry to a point just west of the junction of Patterson Creek and the North Branch Potomac River where it crossed back into Maryland to reach Cumberland. From there it was extended to the Ohio River at Wheeling and a few years later also to Parkersburg, West Virginia.
It is now part of the CSX Transportation (CSX) network, and includes the oldest operational railroad bridge in the USA. The B&O also included the Leiper Railroad, the first permanent horse-drawn railroad in the U.S. In later years, B&O advertising carried the motto: "Linking 13 Great States with the Nation." Part of the B&O Railroad's immortality has come from being one of the four featured railroads on the U.S. version of the board game Monopoly, but it is the only railroad on the board which did not serve Atlantic City, New Jersey, directly.
When CSX established the B&O Railroad Museum as a separate entity from the corporation, some of the former B&O Mount Clare Shops in Baltimore, including the Mt. Clare roundhouse, were donated to the museum while the rest of the property was sold. The B&O Warehouse at the Camden Yards rail junction in Baltimore now dominates the view over the right-field wall at the Baltimore Orioles' current home, Oriole Park at Camden Yards.
At the end of 1970 B&O operated 5552 miles of road and 10449 miles of track, not including the Staten Island Rapid Transit (SIRT) or the Reading and its subsidiaries.
Read more on
Wikipedia
.
Brand/Importer Information
:

Founded in the late 1960's by Michael Tager, the 3rd generation business specializes in quality hobby products serving the toy and hobby markets worldwide. During its 50 years of operation, Model Power has developed a full line of model railroading products, die-cast metal aircraft, and die-cast metal cars and trucks.
In early 2014, Model Power ceased its business operations. Its extensive portfolio of intellectual property and physical assets are now exclusively produced, marketed, sold, and distributed by
MRC
(Model Power, MetalTrain and Mantua) and by
Daron
(Postage Stamp Airplanes and Airliner Collection).
Item created by:
gdm
on 2016-12-10 18:09:42. Last edited by
Alain LM
on 2021-06-13 04:05:29
If you see errors or missing data in this entry, please feel free to
log in
and edit it. Anyone with a Gmail account can log in instantly.