Model Information: The MDC Truss-Rod underframe 36' Reefer and 36' Boxcar are very similar models. They were introduced in 1997 for the former and 1998 for the latter. The easiest way to tell the difference is that the reefers have plug doors and the boxcars have sliding doors. Athearn acquired this tooling along with the rest of MDC's assets in 2004 and has since produced these models in RTR form with magnetically operated couplers.
Prototype History
:

During the mid-19th century, attempts were made to ship agricultural products by rail. As early as 1842, the Western Railroad of Massachusetts was reported in the June 15 edition of the Boston Traveler to be experimenting with innovative freight car designs capable of carrying all types of perishable goods without spoilage. The first refrigerated boxcar entered service in June 1851, on the Northern Railroad (New York) (or NRNY, which later became part of the Rutland Railroad). This "icebox on wheels" was a limited success since it was only functional in cold weather. That same year, the Ogdensburg and Lake Champlain Railroad (O&LC) began shipping butter to Boston in purpose-built freight cars, utilizing ice for cooling.
The first consignment of dressed beef left the Chicago stock yards in 1857 in ordinary boxcars retrofitted with bins filled with ice. Placing meat directly against ice resulted in discoloration and affected the taste, proving to be impractical. During the same period Swift experimented by moving cut meat using a string of ten boxcars with their doors removed, and made a few test shipments to New York during the winter months over the Grand Trunk Railway (GTR). The method proved too limited to be practical.
The use of ice to refrigerate and preserve food dates back to prehistoric times. Through the ages, the seasonal harvesting of snow and ice was a regular practice of many cultures. China, Greece, and Rome stored ice and snow in caves, dugouts or ice houses lined with straw or other insulating materials. Rationing of the ice allowed the preservation of foods during hot periods, a practice that was successfully employed for centuries. For most of the 19th century, natural ice (harvested from ponds and lakes) was used to supply refrigerator cars. At high altitudes or northern latitudes, one foot tanks were often filled with water and allowed to freeze. Ice was typically cut into blocks during the winter and stored in insulated warehouses for later use, with sawdust and hay packed around the ice blocks to provide additional insulation. A late-19th century wood-bodied reefer required re-icing every 250 miles (400 km) to 400 miles (640 km).
From Wikipedia
Road Name History
: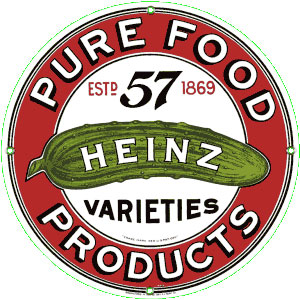 The H. J. Heinz Company, or Heinz, is an American food processing company with world headquarters in Pittsburgh, Pennsylvania. It was founded by Henry John Heinz in 1869. The H. J. Heinz Company manufactures thousands of food products in plants on six continents, and markets these products in more than 200 countries and territories. The company claims to have 150 number-one or number-two brands worldwide. Heinz ranked first in ketchup in the US with a market share in excess of 50%; Ore-Ida label held 46% of the frozen potato sector in 2003.
Since 1896, the company has used its "57 Varieties" slogan; it was inspired by a sign advertising 21 styles of shoes, and Henry Heinz chose the number 57 even though the company manufactured more than 60 products at the time.
On February 14, 2013, Heinz agreed to be purchased by Berkshire Hathaway and 3G Capital for $23 billion. On March 25, 2015, Kraft announced its merger with Heinz, arranged by Berkshire Hathaway and 3G Capital. The resulting Kraft Heinz Company is the fifth largest food company in the world. Berkshire Hathaway became a majority owner of Heinz on June 18, 2015. After exercising a warrant to acquire 46,195,652 shares of common stock for a total price of $461,956.52, Berkshire increased its stake to 52.5%. The companies completed the merger on July 2, 2015.
From Wikipedia
Brand/Importer Information
:

MDC Roundhouse was founded in California in 1938 and relocated in 1993 to Carson City, Nevada due to statewide restrictions on painting. MDC Roundhouse was a producer of both RTR (Ready-to-Run) and kit versions of N Scale rolling stock as well as RTR locomotives. They entered the N scale market in 1979 with a Thrall Hi-Side Gondola and a Hi-Cube Single Door Box Car. MDC Roundhouse was purchased by Horizon Hobbies in June of 2004, when its owner since 1938 C. H. Menteer retired, and merged into their Athearn line.
Unlike many of their contemporaries which contracted with European firms to produce their products, MDC made their own toolings. They made several popular body styles and produced them for road names that many other vendors (even Micro-Trains) wouldn't touch. This made them popular with modelers. Also, their un-assembled "kits" permitted a lower price point so they were popular with "runners" as well as "modelers".
Of particular interest was the attention given to modern 50 foot steel boxcars. They made some attempt to accurately mold the differences into distinct models to represent each of the major prototype manufacturers products. They have distinct toolings not only for the different products from FMC, BFF and PS, but also multiple models for each of these manufacturers including "standard" vs "Youngstown" doors and "waffle" vs. "rib" sides. In total they produced 13 different versions of the 50 foot steel boxcar.
Item created by:
gdm
on 2016-12-13 06:44:37. Last edited by
Alain LM
on 2022-05-15 04:53:29
If you see errors or missing data in this entry, please feel free to
log in
and edit it. Anyone with a Gmail account can log in instantly.