Model Information: This MDC Roundhouse body style models a 50 Foot FMC Boxcar with a combo door, rib sides and no roofwalk. This body style was acquired by Athearn from MDC Roundhouse in June of 2004.
Prototype History
: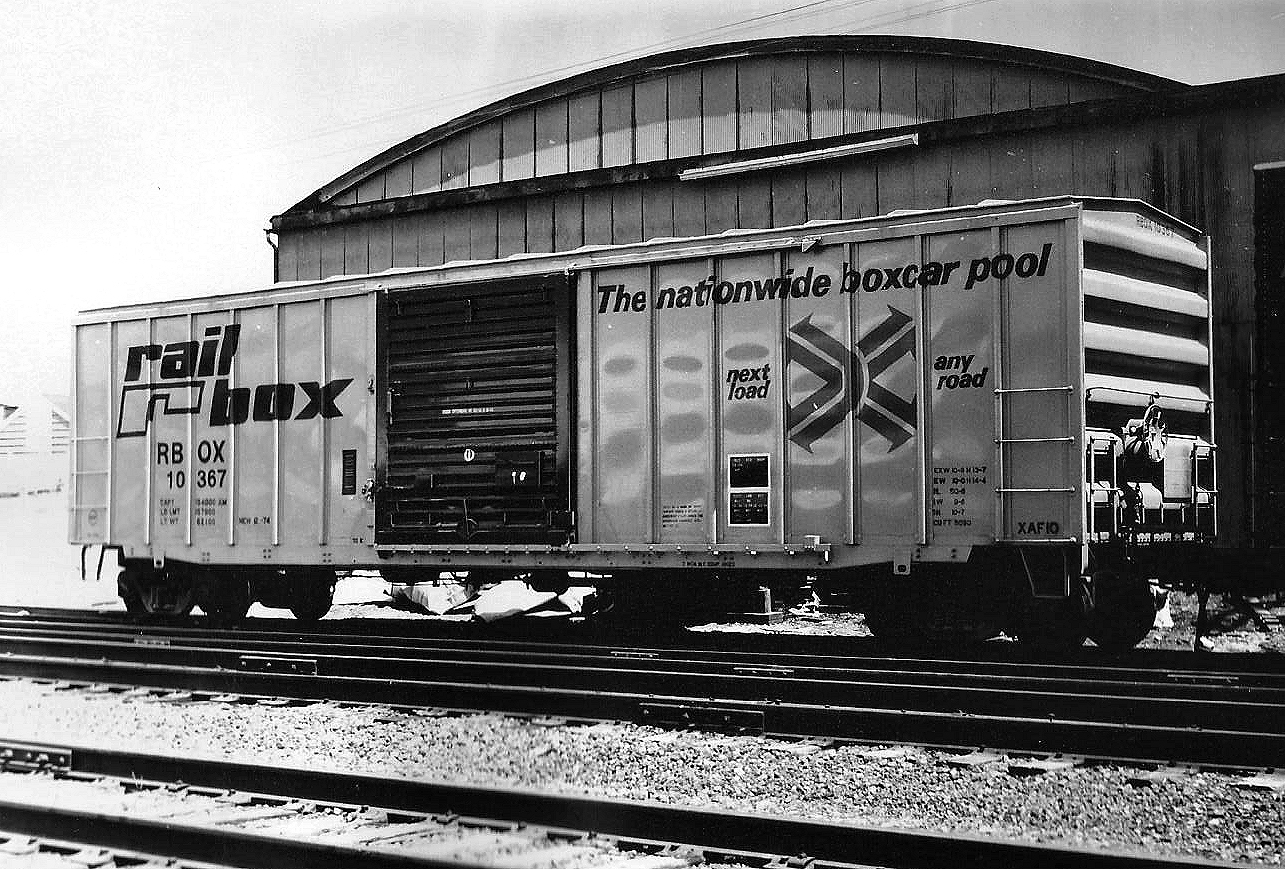 In the 1970's with the growth of the Per Diem business model, FMC produced a series of 50 foot box cars in different configurations. The single-sliding-door configuration is one of the best known and used widely by many different railroads. These cars were produced using the Gunderson metal works which FMC had acquired in 1965. In late 1975, FMC began producing a 5,077-cubic-foot Plate B box car for IPD and Railbox service. FMC's 5077s have seven panels to either side of the 10-foot door, an X-panel roof, and non-terminating ends that are slightly different from those used on FMC's earlier cars. Note how the sidesill is notched all the way back to the bolsters, a key feature of FMC's mature design.
The main difference between the 5077 cu. ft cars built by FMC vs the 5277-5347 cu. ft cars built by the same manufacturers is the overall height of the car, the smaller 5077 cars were Plate B while the larger 5277-5347 cars were Plate C. Over 4,300 cars were produced from 1975-1979 by FMC's Portland, Oregon plant. The cars were delivered in numerous colorful shortline paint schemes, as well as the nationwide car pool fleet of Railbox. Many secondhand cars were later seen in Class 1 railroads and large leasing company fleets under additional shortline reporting marks.
Road Name History
:

BC Rail (reporting mark BCOL, BCIT), known as the British Columbia Railway between 1972 and 1984 and as the Pacific Great Eastern Railway (PGE) before 1972, was a railway that operated in the Canadian province of British Columbia between 1912 and 2004. It was a class II regional railway and the third-largest in Canada, operating 2,320 km (1,440 mi) of mainline track. Its operations were owned by the public as a crown corporation from 1918 until 2004, when the provincial government leased operations for 999 years to CN. The track and other assets, including a marine division and stevedoring subsidiary as well as large tracts of real estate, remain under public ownership. 40 km of track serving the Roberts Bank Superport that were scheduled to be sold to OmniTRAX remain under BC Rail management due to that sale being cancelled because of the transaction being tainted by an influence-peddling and bribery scandal resulting in convictions in 2010. The provincial government, which promised when originally elected to never sell the railway, has announced that the crown corporation and its remaining operations and assets would be "wound down" and taken over by various departments of the Ministry of Transportation The details of the sale/lease to CN, which are related to the OmniTRAX affair, have become the subject of protracted public inquiry as part of the proceedings of the trial surrounding a scandal known as the British Columbia Legislature Raids Affair, or "Railgate". Government leaders and civil servants involved with the arrangements to CN have refused to comment on the deal because the matter "is before the courts".
Chartered in 1912, the railway was acquired by the provincial government in 1918 after running into financial difficulties. A railway that ran "from nowhere, to nowhere" for over 30 years, neither passing through any major city nor interchanging with any other railway, its southern terminus was at Squamish and its northern terminus at Quesnel during that period. It expanded significantly between 1949 and 1984. Primarily a freight railway, it also offered passenger service, as well as some excursion services, most notably the Royal Hudson excursion train. The railway's operations only reached profitability in 1980, due to large capital and operating debts, which were intended as subsidies to develop and sustain mining and timber economies and employment in the regions it accessed, though during the 1980s it regularly posted significant profits, contributing to the public treasury significantly, and maintained a lower operating debt than any of the continent's other major railways. The railway's operations and management, as one of the province's largest crown corporations, have necessarily been at the centre of public debate since its takeover. Notably, as example, the Social Credit governments of WAC Bennett and his son Bill Bennett forgave the railways' capital debts in 1954 and 1979, respectively, with bookkeeping matters related to that bringing much criticism. The current provincial government has been accused of fabricating falsehoods about the state of its debts and viability in order to justify the deal with CN, claiming the railway was in disarray. Other participants in the bidding process withdrew their bids, saying that CN had unfair access to confidential information about their own operations, provided by the government, and at least one bidder (Canadian Pacific) privately stated in since-released communications that the bid was "rigged". Controversy over CN's management of the line has focused on layoffs, toxic spills and other safety concerns, and cuts in service to some regions. The line has generated profits for CN in the range of $25 million per year since its takeover of the railway's operations.
Brand/Importer Information
:

MDC Roundhouse was founded in California in 1938 and relocated in 1993 to Carson City, Nevada due to statewide restrictions on painting. MDC Roundhouse was a producer of both RTR (Ready-to-Run) and kit versions of N Scale rolling stock as well as RTR locomotives. They entered the N scale market in 1979 with a Thrall Hi-Side Gondola and a Hi-Cube Single Door Box Car. MDC Roundhouse was purchased by Horizon Hobbies in June of 2004, when its owner since 1938 C. H. Menteer retired, and merged into their Athearn line.
Unlike many of their contemporaries which contracted with European firms to produce their products, MDC made their own toolings. They made several popular body styles and produced them for road names that many other vendors (even Micro-Trains) wouldn't touch. This made them popular with modelers. Also, their un-assembled "kits" permitted a lower price point so they were popular with "runners" as well as "modelers".
Of particular interest was the attention given to modern 50 foot steel boxcars. They made some attempt to accurately mold the differences into distinct models to represent each of the major prototype manufacturers products. They have distinct toolings not only for the different products from FMC, BFF and PS, but also multiple models for each of these manufacturers including "standard" vs "Youngstown" doors and "waffle" vs. "rib" sides. In total they produced 13 different versions of the 50 foot steel boxcar.
Item created by:
gdm
on 2016-12-13 14:32:51. Last edited by
baggedbird
on 2023-05-30 21:26:39
If you see errors or missing data in this entry, please feel free to
log in
and edit it. Anyone with a Gmail account can log in instantly.