Model Information: This 2015 Fox Valley tooling models the Pennsylvania railroad's H30 covered hopper of 1944. Fox Valley Models captured the distinguishing features of this car. The running board, which features a raised diamond pattern, is integral with the roof (the pattern should also be on the brake wheel platform, but was omitted). The slope sheets and diagonal braces are both accurately at 48-degree angles. The locking mechanisms for the hatch covers follows the correct 3-2 pattern. The ready-to-run injection-molded plastic model features a one-piece body; separately applied discharge gates, roof, center sill, brake wheel, and slope sheet bracing.

This tooling features crisp detail throughout including fine end ladders, hopper gates, separate brake detail, and hatches. Fox Valley's usual high standard paint and lettering is applied and the car is finished with body mounted knuckle couplers and FVM metal wheels. The car weighs .8 ounce, which is .1 ounce too light per National Model Railroad Association recommended practice 20.1. The metal wheelsets are correctly gauged. The couplers are at the correct height.
Prototype Description: The PRR started building 70-ton H30 class covered hoppers in 1944. This number grew to 1325 by 1952, with an additional 250 H30A class cars appearing by the end of 1953. The H30 had cast bolsters, whereas the H30a had welded bolsters, except for some low-numbered H30a's which hadcast bolsters (probably parts left over from building the H30's). The 1951-built cars had a 5-ton greater capacity than the earlier cars,as well as slightly different roof rivet positions and hatch details. During the '60's, the capacity of the remaining cars was increased to 77tons from 70, probably by changing trucks. These cars were 37' long, 10' 5" wide and 11' 3" high (the H30a's were 11' 6-3/8" high).
Road Name History
: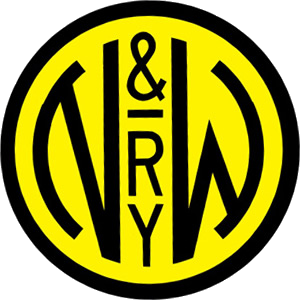 The Norfolk and Western Railway (reporting mark NW), was a US class I railroad, formed by more than 200 railroad mergers between 1838 and 1982. It was headquartered in Roanoke, Virginia, for most of its 150-year existence. Its motto was "Precision Transportation"; it had a variety of nicknames, including "King Coal" and "British Railway of America" even though the N&W had mostly articulated steam on its roster. During the Civil War, the N&W was the biggest railroad in the south and moved most of the products with their steam locomotives to help the South the best way they could.
NW was famous for manufacturing its own steam locomotives, which were produced at the Roanoke Shops, as well as its own hopper cars. Around 1960, NW became the last major American railroad to convert from steam locomotives to diesel motive power but didn't retire its last remaining Y class locomotives until 1964 and 1965. By 1965, steam on class I railroads was gone but steam wasn't gone on class II railroads until 1974 and class III and mining railroads retired their steam locomotives from their active roster until 1983. By 1983, steam in America on class I, II, III, and mining railroads had finally closed the chapter on America's 150 years of steam from 1830 - 1983.
In December 1959, NW merged with the Virginian Railway (reporting mark VGN), a longtime rival in the Pocahontas coal region. By 1970, other mergers with the Nickel Plate Road and Wabash formed a system that operated 7,595 miles (12,223 km) of road on 14,881 miles (23,949 km) of track from North Carolina to New York and from Virginia to Iowa.
In 1980, NW teamed up with the Southern Railway, another profitable carrier and created the Norfolk Southern Corporation holding company by merging its business operations with the business operations of the Southern Railway. The NW and the Southern Railway continued as separate railroads now under one holding company.
On December 31, 1990, the Southern Railway was renamed "Norfolk Southern Railway" to reflect the Norfolk Southern Corporation and on the same day, the renamed Norfolk Southern Railway gained full control of the Norfolk and Western Railway with the Norfolk and Western being transferred from the holding company to the renamed Norfolk Southern Railway, this began the final years of Norfolk and Western which was absorbed into the renamed Norfolk Southern Railway seven years later in 1997 (1990 to 1997 the Norfolk and Western continued operating by using paper operations).
In 1997 during the Conrail battle with CSX, Norfolk Southern Corporation's principal railroad, the renamed Norfolk Southern Railway, absorbed the Norfolk and Western Railway into their rail system, ending the existence of the Norfolk and Western Railway and having the renamed Norfolk Southern Railway becoming the only railroad in the entire Norfolk Southern system after that.
Brand/Importer Information
: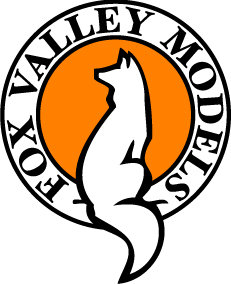 Fox Valley Models is a small supplier of model railroad and related products. FVM started by finding solutions to different challenges that model railroaders were faced with. Our first products resulted from a need to equip custom built passenger cars with tinted windows made of an ideal material; thin, flexible, easy to cut, simple to install, available in multiple colors and be affordable. We met those needs and even included a frosted version for the car's lavatory windows.
Other challenges inspired additional products including wooden grade crossings, trestles and different lineside structures. As our product line expands, input and requests from friends and customers help shape the product selection further.
Future products, under development, include more parts, structures, details and rolling stock. We strive to offer a good quality product at an affordable price.
Item created by:
gdm
on 2017-02-19 07:24:14
If you see errors or missing data in this entry, please feel free to
log in
and edit it. Anyone with a Gmail account can log in instantly.