Model Information: These cars were made for Atlas by Roco in Austria in 1967. They resemble the later PS-1 model released in 1976 but the two toolings are sufficiently different, that we choose to categorize them separately. They were marketed in the early Atlas catalogs as "Box Cars". 6 different road names were introduced in 1967, and a 7th, Vermont Railways (MPN 2207) appeared in the 1971 catalog but was never released.

These cars were *also* imported by AHM as 'PS-1 40 Ft. Boxcars". For this reason and the fact that Atlas clearly markets their 1976-vintage replacement model (which looks VERY similar to this one), we have assigned the PS-1 prototype to this model.
Prototype History
: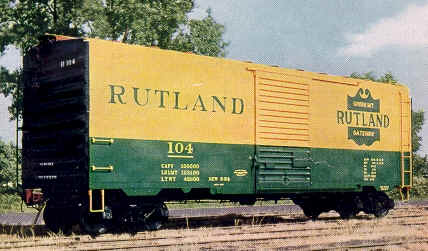 The 40' Boxcar is widely known as one of the most popular freight cars used by railroads as they transitioned from steam to diesel. In particular the Pullman Standard or PS-1 design was one of the most popular and was widely used by North American railroads. These boxcars were built beginning in 1947 and share the same basic design, with certain elements such as door size, door style or roof type varying among the different railroads and production years. When production of these cars ceased in 1963, over 100,000 had been produced.
So just what is a PS-1? Well the simple answer is it is any boxcar built by Pullman Standard from 1947 on. The design changed over the years – sometimes subtly, sometimes for customer request, and sometimes in a larger way. In general, most PS-1's built from 1947 to 1961 share the same dimensions and basic construction techniques. These cars all had a length of 40′, a height of 10'5″ or 10'6″, welded sides and ends and roof of Pullman's own design. The greatest variation was in the size and style of doors used. Pullman Standard also offered 50′ and later 60′ boxcars – also with the PS-1 designation.
Road Name History
: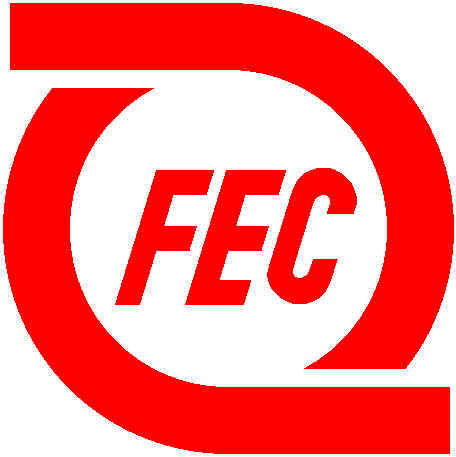 The Florida East Coast Railway (reporting mark FEC) is a Class II railroad operating in the U.S. state of Florida and since 2007 has been a subsidiary of Railroad Acquisition Holdings, LLC, itself a subsidiary of Fortress Investment Group, LLC.
The FEC was historically a Class I railroad owned by Florida East Coast Industries (FECI) from 2000-2006, FOXX Holdings from 1983-2000, and the St. Joseph Paper Company prior to 1983.
Built primarily in the last quarter of the 19th century and the first decade of the 20th century, the FEC was a project of Standard Oil principal Henry Morrison Flagler. Flagler originally visited Florida to aid with the health issues faced by his first wife, Mary. A key strategist who worked closely with John D. Rockefeller building the Standard Oil Trust, Henry Flagler noted both a lack of services and great potential during his stay at St. Augustine. He subsequently began what amounted to his second career developing resorts, industries, and communities all along Florida's shores abutting the Atlantic Ocean.
The FEC is possibly best known for building the railroad to Key West, completed in 1912. When the FEC's line from the mainland to Key West was heavily damaged by the Labor Day Hurricane of 1935, the State of Florida purchased the remaining right-of-way and bridges south of Dade County, and they were rebuilt into road bridges for vehicle traffic and became known as the Overseas Highway. However, a greater and lasting Flagler legacy was the developments along Florida's eastern coast.
During the Great Depression, control was purchased by heirs of the du Pont family. After 30 years of fragile financial condition, the FEC, under leadership of a new president, Ed Ball, took on the labor unions. Ball claimed the company could not afford the same costs as larger Class 1 railroads and needed to invest saved funds in its infrastructure, fast becoming a safety issue. Using replacement workers, the company and some of its employees engaged in one of the longest and more violent labor conflicts of the 20th century from 1963 until 1977. Ultimately, federal authorities had to intervene to stop the violence, which included bombings, shootings and vandalism. However, the courts ruled in the FEC's favor with regard to the right to employ strikebreakers. During this time, Ball invested heavily in numerous steps to improve its physical plant, installed various forms of automation,was the first US Railroad to operate two man train crews, eliminate cabooses and end all of its passenger services (which were unprofitable) by 1968.
In modern times, the company's primary rail revenues come from its intermodal and rock trains. Since 2007, it has been owned by Fortress Investment Group,[citation needed] which acquired it for over US$3 billion (including non-rail assets). Fortress previously owned conglomerate short line railroad operator RailAmerica, which for a time operated FEC but the two companies never merged; Fortress no longer owns RailAmerica and RailAmerica no longer operates FEC. A former CSX official, James Hertwig, was named as President and Chief Executive Officer of the company effective July 1, 2010.
From Wikipedia
Brand/Importer Information
: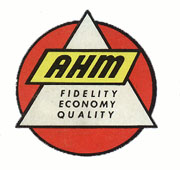 AHM is the initials for Associated Hobby Manufacturers, Inc. The company was founded in 1959 as a reseller of other companies' model railroad components. Initially an HO company, they entered into N Scale in the early 1970's as an importer of products made by Roco in Austria. For N Scale products, AHM apparently contracted to use the exact same molds as were used by Roco to produce early Atlas models. They also contracted with Rivarossi to make locomotives.
When AHM went out of business IHC picked up some of their line. Also, at least one body style was taken over by Eastern Seaboard models.
Manufacturer Information
: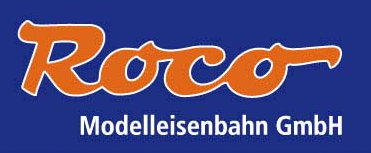 The company was founded in 1960 by Ing. Heinz Rössler and started with a plastic Minitanks series of military vehicles. After export to the USA became successful, the model line was expanded with model trains in HO scale and the smaller N scale. TT scale was also subsequently added to the product line. The model rail product line covers many European countries including Germany, Belgium, Luxembourg, France, Spain, Austria, Italy, Switzerland, Sweden and the Netherlands, and also the USA.
On July 15, 2005 ROCO Modellspielwaren GmbH was declared bankrupt. From July 25 the company continues as Modelleisenbahn GmbH, but still uses the Roco brand and associated logo. On October 1, 2007, distribution of the 'Minitank' product series was assigned to the German model car manufacturer Herpa.
Since February 2008 Modelleisenbahn also owns Fleischmann, which like Roco had gone bankrupt. The two companies continue as separate brands under Modelleisenbahn GmbH, while benefiting from economies of scale through joined development projects, marketing and procurement.
From Wikipedia
Item created by:
gdm
on 2017-03-01 12:47:28. Last edited by
CNW400
on 2020-05-23 08:38:22
If you see errors or missing data in this entry, please feel free to
log in
and edit it. Anyone with a Gmail account can log in instantly.