Specific Item Information: Painted by Darren J Cohen. Imported through Con-Cor.
Model Information
: This body style is for the Con-Cor versions with Rivarossi, Kato or Con-Cor mechanisms.
This model was first produced by
Rivarossi for Atlas
in 1971. The trucks are marked '
Made in Italy
' with a
Rivarossi
logo and an
Atlas
logo. The motor is visible from below on the powered cow. On the dummy calf, a large hollow can be seen from the bottom of the model, corresponding to the missing motor.
After Atlas stopped ordering them ca. 1977, Rivarossi continued selling them with its own brand and reference (#91xx) and released one additional paint scheme (SP Black Widow) in 1980. Con-Cor also began importing the Rivarossi model. On this model, the trucks are marked '
Made in Italy
' with a
Rivarossi
logo only.
The Rivarossi/Con-Cor version was available powered or unpowered, for both the cow and the calf. The Con-Cor stock numbers are in the form 5001 or 5002 (powered cow), 5011 or 5012 (unpowered cow), 5021 or 5022 (powered calf), 5031 or 5032 (unpowered calf), followed by a letter assigned for each road name.
The boxes can also be labeled with a Rivarossi stock number on one end and a Con-Cor stock number on the other end, sometimes printed on a Rivarossi label.
Models not in Rivarossi catalog, so only sold by Con-Cor, may still show a Rivarossi stock number, corresponding to the type of chassis - #9288 (dummy calf) or #9289 (dummy cow) or #9290 (powered cow) - on one side and a Con-Cor stock number on the other side. The Con-Cor number was on a sticker which tended to detach with age, leaving only the printed Rivarossi number. Hence many classifieds are using the non-distinctive Rivarossi number 9288 or 9289 or 9890.
At a certain point ca. 1985, apparently dissatisfied with the mechanisms made by Rivarossi, Con-Cor had Kato design a new, more reliable, mechanism but continued use of the Rivarossi shell. This new Kato/Rivarossi hybrid was produced until 1989. The change of mechanism only applied to the 'cow' powered unit; the 'calf' dummy unit continued to be fully made by Rivarossi. On the powered cow, the trucks are marked '
17712/Made in Japan
' with
Kato
logo and the fuel tank is marked '
Con-Cor
' on the bottom.
In 1996, Arnold/Rivarossi re-released the same model with yet another new mechanism and a few improvements of the shell (thinner handrails and tank details). On this model, the fuel tank is marked '
Arnold/Made in Germany'
. The couplers are truck-mounted.
In 1997, Con-Cor released a new version of the model this time using a Chinese manufactured mechanism, but with the shell still more or less the same. These Chinese versions were marketed as SW-1200s. The bottom of the trucks is marked '
17712/Made in China
', without logo. The 'calf' dummy unit still continued to be fully made by Rivarossi
Con-Cor stopped making their version during the downsizing in 2005 and Arnold stopped producing theirs in 2006 with the bankruptcy.
Adding to the confusion, Con-Cor decided to re-use for the 1997 SW-1200 cow version, the same stock number range that was used for the previous Kato version sets (cow/calf). So any stock number from 0001-005000 to 0001-005023 can refer to one or the other.
The model was designed from early EMD drawings for the SW1500 prototype, that were quite similar to the SW1200 drawings. Eventually the final SW1500 prototype was released with significant changes to the early drawing. So though the model is sold as a SW1500, it is actually closer to a SW1200 than to a SW1500. Moreover, if a cow-calf version of the SW1200 (TR12) was offered in the catalog, it was actually never purchased. No cow-calf version of the SW1500 was ever envisaged.
DCC Information: No provision for DCC, except on the Arnold version.
Prototype History
: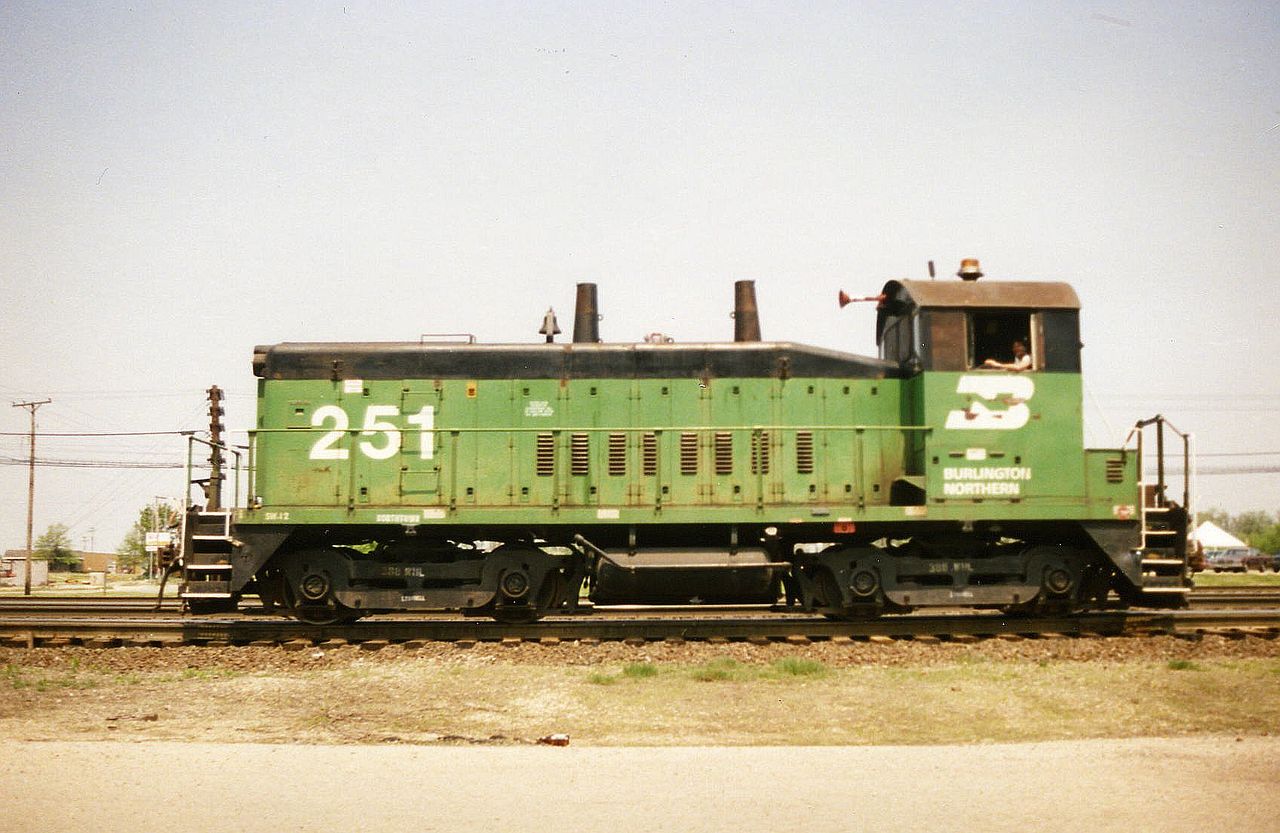 An EMD SW1200 is a diesel switcher locomotive built by General Motors Electro-Motive Division between January 1954 and May 1966. Power was provided by an EMD 567C 12-cylinder engine which generated 1,200 hp (895 kW). Late SW1200s built in 1966 were built with the 567E 12-cylinder engine. Additional SW1200 production was completed by General Motors Diesel in Ontario Canada between September 1955 and June 1964.
737 examples of this locomotive model were built for American railroads, 287 were built for Canadian railroads 4 were built for Brazilian Railroads, 25 were built for a Chilean Industrial firm, and 3 were built for the Panama Canal Railway. A cow-calf variation, the TR12, was cataloged, but none were built. A few units were built with dynamic brakes, featuring large square box with a fan on top of the hood, right in front of the cab.
An SW1200RS is a variation of the standard SW1200 that featured large front and rear (on some units) numberboard housings, EMD Flexicoil B-B trucks, and larger fuel tanks for roadswitcher service. The majority of the Canadian National and Canadian Pacific SW1200 fleets were purchased as SW1200RS units. The Sandersville Railroad Company EMD SW1200 road number SAN 1200 formerly SAN 200 was originally built with the V-12 EMD 567C Prime Mover but it was replaced with a V-12 EMD 645 Prime Mover, the two both produce 1,200 Horsepower, even though the same motor in the EMD SW1500 produces 1,500 Horsepower. The SAN 1200 also has EMD Flexcoil trucks instead of the standard switcher trucks found on other EMD SW1200s.
From Wikipedia
Road Name History
: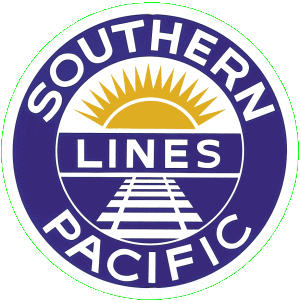 The Southern Pacific Transportation Company (reporting mark SP), earlier Southern Pacific Railroad and Southern Pacific Company, and usually called the Southern Pacific or (from the railroad's initials) Espee, was an American Class I railroad. It was absorbed in 1988 by the company that controlled the Denver and Rio Grande Western Railroad and eight years later became part of the Union Pacific Railroad.
The railroad was founded as a land holding company in 1865, later acquiring the Central Pacific Railroad by lease. By 1900 the Southern Pacific Company was a major railroad system incorporating many smaller companies, such as the Texas and New Orleans Railroad and Morgan's Louisiana and Texas Railroad. It extended from New Orleans through Texas to El Paso, across New Mexico and through Tucson, to Los Angeles, through most of California, including San Francisco and Sacramento. Central Pacific lines extended east across Nevada to Ogden, Utah, and reached north through Oregon to Portland. Other subsidiaries eventually included the St. Louis Southwestern Railway (Cotton Belt), the Northwestern Pacific Railroad at 328 miles (528 km), the 1,331 miles (2,142 km) Southern Pacific Railroad of Mexico, and a variety of 3 ft (914 mm) narrow gauge routes.
In 1929 SP/T&NO operated 13848 route-miles not including Cotton Belt, whose purchase of the Golden State Route circa 1980 nearly doubled its size to 3,085 miles (4,965 km), bringing total SP/SSW mileage to around 13,508 miles (21,739 km).
By the 1980s route mileage had dropped to 10,423 miles (16,774 km), mainly due to the pruning of branch lines. In 1988 the Southern Pacific was taken over by D&RGW parent Rio Grande Industries. The combined railroad kept the Southern Pacific name due to its brand recognition in the railroad industry and with customers of both constituent railroads. Along with the addition of the SPCSL Corporation route from Chicago to St. Louis, the total length of the D&RGW/SP/SSW system was 15,959 miles (25,684 km).
By 1996 years of financial problems had dropped SP's mileage to 13,715 miles (22,072 km), and it was taken over by the Union Pacific Railroad.
Read more on
Wikipedia
.
Brand/Importer Information
:

Dream Designs was owned and operated by Darren J. Cohen, as part of The Freight Yard. Darren is now operating
North Valley Trains
.
Here is what they said about themselves on their former website:
Dream Designs are custom painted and decaled engines, passenger cars and freight cars that we produce. If a decal is available or can be readily produced, we can model nearly every railroad and private owner of engines or passenger cars. Freight cars of many types including such items as Burlington Northern fuel tankers and the many of the wood reefers that existed from the early 1900's to date can be made to order.
Item created by:
gdm
on 2017-03-07 19:31:47. Last edited by
Alain LM
on 2022-01-18 12:37:55
If you see errors or missing data in this entry, please feel free to
log in
and edit it. Anyone with a Gmail account can log in instantly.