Model Information: In N Scale, modern fifty-three foot refrigerated containers were the most requested pieces of Intermodal equipment.

Produced in the early 2000s and still commonly used today, the ScaleTrains.com model is a replica of a CIMC (China International Marine Containers) reefer container, which is virtually identical to the Hyundai version. so paint schemes are available for both manufacturers.
This model features:
-Separately applied nose-mounted Thermo-King refrigeration unit and fuel tank
-Highly detailed molded end cage
-12 different road numbers available
-Stackable with our 53' Corrugated Dry Container as well as most other brands and types of containers
-Compatible with 53' Container Chassis
-Fits the bottom well of most currently available 53' Well Cars
-Four painted door rods
-Factory assembled
-Color matched to Tru-Color Paint off-the-shelf colors whenever possible

Era: 2000s+

Designed to fit the bottom wells of most of the fifty-three foot well cars that are presently on the market, these models are also compatible with similarly sized container chassis. A ScaleTrains.com "Operator" model with fewer factory-applied parts and simplified printing; designed from builder's drawings and photographs, these products are built for modelers who enjoy running high-quality, realistic trains at an affordable price.
Prototype History
: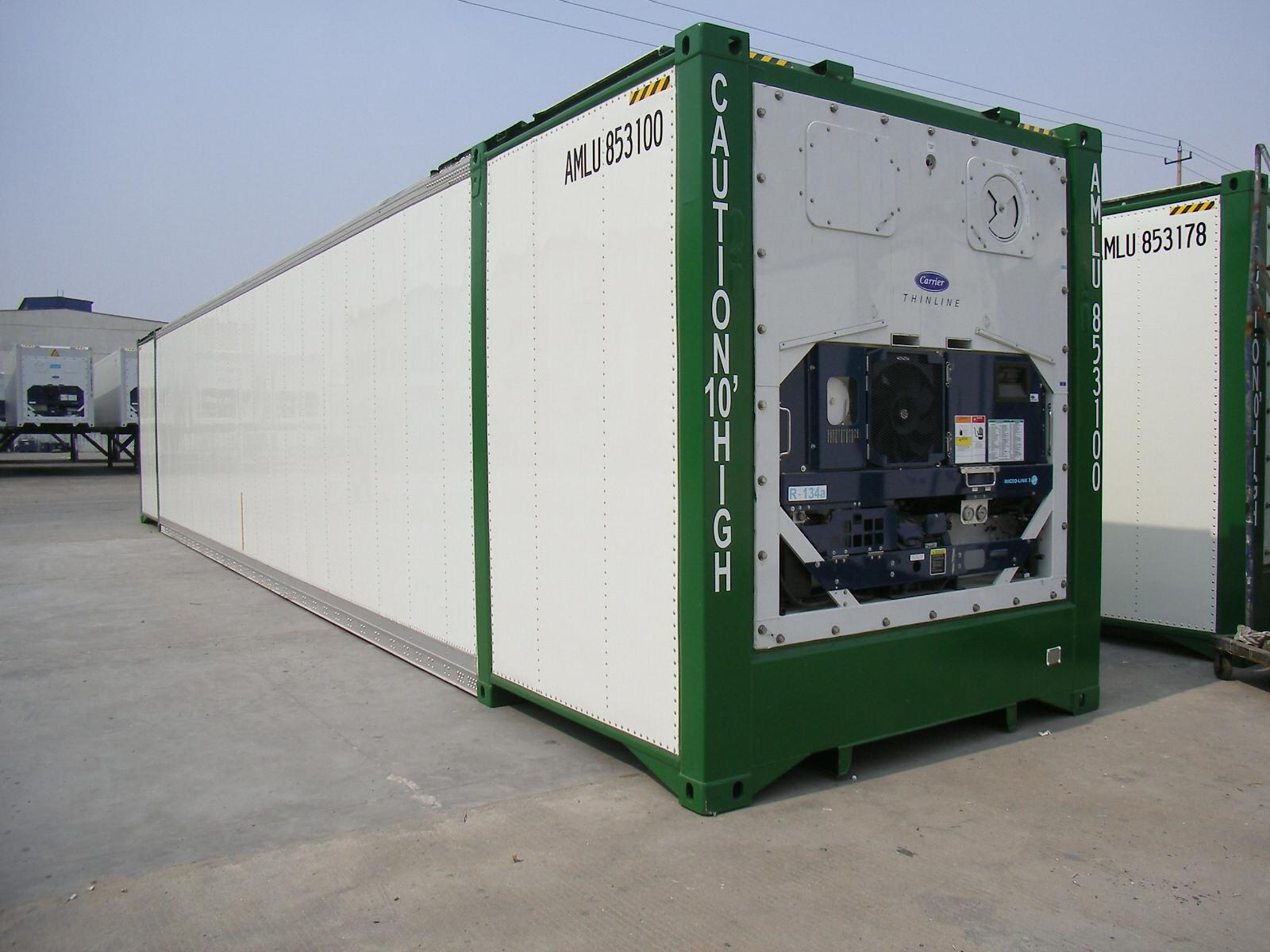 An intermodal container is a large standardized shipping container, designed and built for intermodal freight transport, meaning these containers can be used across different modes of transport – from ship to rail to truck – without unloading and reloading their cargo. Intermodal containers are primarily used to store and transport materials and products efficiently and securely in the global containerized intermodal freight transport system, but smaller numbers are in regional use as well. These containers are known under a number of names, such as simply container, cargo or freight container, ISO container, shipping, sea or ocean container, container van or (Conex) box, sea or c can.
53' Containers are generally used only in North American domestic transportation and hence not usually seen on container ships. They are, however, extremely popular in North America due to the increased capacity and efficiency when compared to their 40 foot, ocean-going cousins. Also, since they are not typically used on ships, they have reduced bracing and structural integrity making them cheaper to produce. As result, in 2013, APL, a major logisitics firm, officially ceased support of ocean going transport of these units for simple lack of demand combined with specialized facilities for loading and storage of these units.
Special refrigerated containers, commonly called reefers, can control temperatures, allowing everything from meat, fruit, vegetables and dairy products, to chemicals and pharmaceuticals to travel across the world. Cryogenics may sound like a science of the future but reefer containers get pretty close today. Special super-freeze reefers can keep goods frozen at temperatures as low as -60 degrees C. But other reefers can preserve goods at warmer temperatures if that is necessary. De-humidification systems are able to ensure optimal humidity inside reefer containers. Some reefers also allow the atmosphere in the container to be controlled so for example, bananas can be shipped between continents without turning brown. Even fresh flowers can remain fresh in reefer containers while they are travelling many miles over several days. It is because of reefer containers, that grocery stores are able to stock and sell all kinds of fresh produce all year round.
Some of this text is from Wikipedia
Brand/Importer Information
:

ScaleTrains.com, Inc. is an upstart HO and N Scale model manufacturer that was founded by a team with more than 125 years of accumulated experience in the model railroad hobby and industry.
ScaleTrains is specifically focused on the tiny details in the printing and quality of the construction. The four friends who founded the company are all avid modelers themselves. Their factory is located in Tennessee. Unlike most other companies, they offer a range of different levels of complexity in their offerings so as to be able to provide products for both the budget-conscious collector as well as the detail-focused model enthusiast without compromising on quality for either.
They range covers the following, by increasing level of detailing:
Operator™ trains are built for modelers who enjoy running high-quality, realistic trains at an affordable price. Designed from builder's drawings and photographs, Operator models have fewer factory-applied parts and simplified printing. For added versatility, super-detail parts are available separately.
The Rivet Counter™ line strives to create the most accurately detailed models imaginable. The real-world counterpart is meticulously researched to ensure prototype fidelity. Each model features numerous factory applied parts including roadname and road number specific details whenever possible.
Museum Quality™ models are historically accurate replicas of the most famous locomotives in North American railroading history. Exhaustive research and a commitment to perfection combine to create the ultimate scale model. Museum Quality trains establish new standards which make them just as legendary as the original.
Item created by:
gdm
on 2017-03-18 12:30:08. Last edited by
gdm
on 2017-03-18 12:31:44
If you see errors or missing data in this entry, please feel free to
log in
and edit it. Anyone with a Gmail account can log in instantly.