Model Information: This car was first produced by Mehano in the late 1960s or early 1970s. It is essentially a knock-off of the Atlas/Roco 3-dome model from 1967. It was imported by MRC, Model Power and Life-Like. Life-Like later produced a Chinese knock-off of this car. Hence the Life-Like model is a knock-off of a knock-off. Meta-knockoff?
Prototype History
: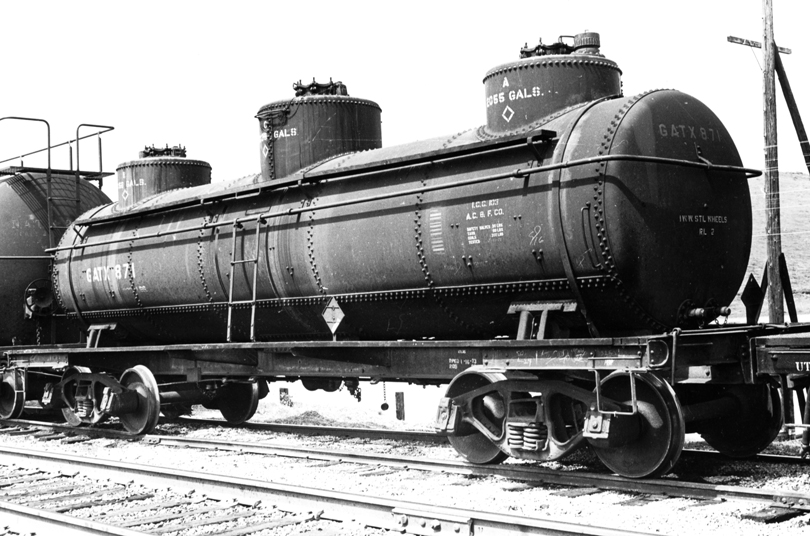 Triple Dome tank cars, while not as common as single-domes, are a railroad staple. They have been around since the first half of the 20th century.
The dome above tank cars serves as an expansion chamber as temperature affects the volume of any liquids contained within. With no dome, if the liquid did not 100% fill the tank, then it is possible for the liquid to slosh around inside the tank, causing instability and increasing the possibility of a derailment. The dome allows the tank to be slightly overfilled so that should the volume in the main section decrease due to colder temperatures or even a small leak, that there will still be sufficient liquid within to prevent sloshing. Similarly if temperature increases, the liquid can rise up inside the dome preventing excess pressure within the tank. While not as serious as an underfilled tank, an over-pressurized tank might present problems during unloading.
If you see
three
domes on a tank car it is because there are three separate compartments inside the tank car each containing a different liquid. This was desirable for many reasons.
Often times a delivery would consist of much less than a carload (LCL) of liquid. Remember the sloshing problem? So if you only had to fill a third of a tank with your commodity, then you can avoid the issue by using one of the three chambers within the tank car. Also, you might have several grades of a commodity to deliver such as unleaded, leaded and diesel fuel and you need them to be kept separate. Or you might be producing wine and you want your white wine kept separate from your red wine. Or maybe all three chambers had the same contents but were being delivered to three different customers. It can be very difficult to determine when one third of a single dome tank car has been discharged...
For all these reasons, three-dome tank cars were a common sight in the first half of the 20th century. However, with the rise of the interstate highway system and the modern trucking industry, LCL deliveries have primarily been accomplished with tanker trucks instead of tank cars and the three-dome tank car has gradually disappeared from the North American rail network.
Road Name History
: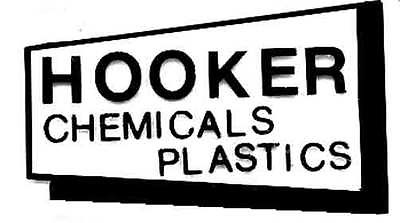 Hooker Chemical Company was an American chemical company that produced chlor-alkali products from 1903 to 1968. In 1922, Hooker bought the S. Wander & Sons company for the retail sales of lye and chlorinated lime. Hooker Chemical is best known for the chemical waste site Love Canal, which it sold in 1953, and led to a lengthy lawsuit several decades later.
The company was founded in 1903 as "The Development and Funding Company" by Elon Huntington Hooker, of Rochester, NY. Hooker created a company that used the Townsend cell to elecrolyse salt into chlorine and sodium hydroxide (NaOH), also known as "caustic soda" and "lye," in a chloralkali process. Elmer Sperry, founder of Sperry Electric, and Leo Baekeland, inventor of Bakelite and Velox photographic paper consulted for Hooker to improve the design of the cell.
The company was originally sited in Niagara Falls, NY because of the low cost electricity from the Niagara Falls power project (completed in 1895), the abundance of salt from nearby mines, and availability of water from the Niagara River. However, in 1929 Hooker built a new chloralkali plant in Tacoma Washington. Hooker also owned factories in Albany, NY.
Hooker Chemical Company was purchased by Occidental Petroleum Corporation in 1968.
Brand/Importer Information
:

In the hobby industry, few companies have built as bold and dynamic a reputation for quality products and technical achievement as Model Rectifier Corporation (MRC). More than a half century ago, MRC began its march toward hobby product leadership by designing model railroad train controls with a level of realism and power previously unavailable. Today, MRC's technology-rich Tech 6 and Prodigy DCC lead a long list of MRC engineered train controls and sound systems respected and enjoyed by millions of model railroad hobbyist around the world.
Success with model railroads led us to carry our passion for hobby quality and technology into the development of other outstanding brands and categories. Today, MRC is the exclusive distributor for some of the world's most respected hobby products as well as the creators and manufacturers of prominent proprietary lines. While our brands and products are diverse, they all share a common bond. Each product we sell meets stringent quality standards and exceeds the highest customer expectation levels. Extraordinary in its depth and breadth, MRC product lines include some of the world's most recognized hobby brands and category leaders.
Manufacturer Information
:

Mehano is a Slovenian toy manufacturer located in Izola, Slovenija. The company was founded as Mehanotehnika and was producing toys starting in June 1953. They first exhibited at the Nuerenberg Toy Fair in 1959. Mehano produced a number of different locomotives and rolling stock models for the North American market in the 1960s and 1970s. Companies such as Atlas and Life-Like imported a huge variety of their products. Generally they can easily be recognized as they are stamped "Yugosolavia" on the underframe. The company was formally renamed "Mehano" in 1990. Izola today is part of the country of Slovenia since the breakup of Yugoslavia.
Mehano filed for bankruptcy in 2008, but still continued to exist and operate. Since 2012, Mehano products are distributed by Lemke.
Item created by:
gdm
on 2017-03-29 09:19:18. Last edited by
CNW400
on 2020-06-09 12:15:38
If you see errors or missing data in this entry, please feel free to
log in
and edit it. Anyone with a Gmail account can log in instantly.