Specific Item Information: May be available in both high and low hood versions.
Model Information: Mehano made this model for MRC starting in 1969. Model Power started importing this engine after MRC dropped out of N Scale in the 1970s. This model is available both in high-nose and low-nose versions.
DCC Information: The Mehano versions do not support DCC at all.
Prototype History
: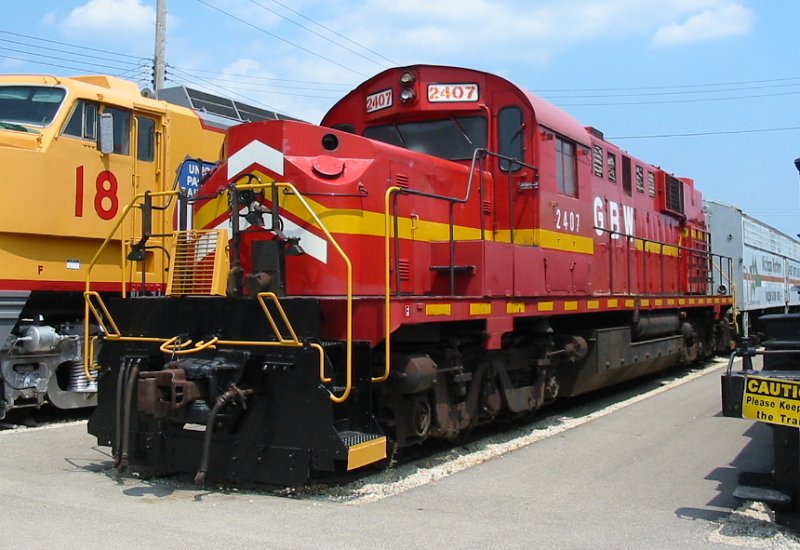 The ALCO RSD-15 was a diesel-electric locomotive of the road switcher type built by ALCO (the American Locomotive Company) of Schenectady, New York between August 1956 and June 1960, during which time 75 locomotives were produced. The RSD-15 was powered by an ALCO 251 16-cylinder four-cycle V-type prime mover rated at 2,400 horsepower (1.79 MW); it superseded the almost identical ALCO 244-engined RSD-7, and was catalogued alongside the similar but smaller 1,800 hp (1.34 MW) RSD-12, powered by a 12-cylinder 251-model V-type diesel engine.
The locomotive rode on a pair of three-axle Trimount trucks, in an AAR C-C wheel arrangement, with all axles powered by General Electric model 752 traction motors. These trucks have an asymmetrical axle spacing because of the positioning of the traction motors. The six-motor design allowed higher tractive effort at lower speeds than an otherwise similar four-motor design. The RSD-15 could be ordered with either a high or low short hood; railfans dubbed the low short hood version "Alligators", on account of their unusually long low noses.
From Wikipedia
Road Name History
: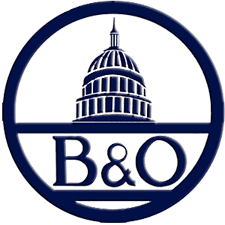 The Baltimore and Ohio Railroad (reporting marks B&O, BO) is one of the oldest railroads in the United States and the first common carrier railroad. It came into being mostly because the city of Baltimore wanted to compete with the newly constructed Erie Canal (which served New York City) and another canal being proposed by Pennsylvania, which would have connected Philadelphia and Pittsburgh. At first this railroad was located entirely in the state of Maryland with an original line from the port of Baltimore west to Sandy Hook. At this point to continue westward, it had to cross into Virginia (now West Virginia) over the Potomac River, adjacent to the confluence of the Potomac and Shenandoah rivers. From there it passed through Virginia from Harpers Ferry to a point just west of the junction of Patterson Creek and the North Branch Potomac River where it crossed back into Maryland to reach Cumberland. From there it was extended to the Ohio River at Wheeling and a few years later also to Parkersburg, West Virginia.
It is now part of the CSX Transportation (CSX) network, and includes the oldest operational railroad bridge in the USA. The B&O also included the Leiper Railroad, the first permanent horse-drawn railroad in the U.S. In later years, B&O advertising carried the motto: "Linking 13 Great States with the Nation." Part of the B&O Railroad's immortality has come from being one of the four featured railroads on the U.S. version of the board game Monopoly, but it is the only railroad on the board which did not serve Atlantic City, New Jersey, directly.
When CSX established the B&O Railroad Museum as a separate entity from the corporation, some of the former B&O Mount Clare Shops in Baltimore, including the Mt. Clare roundhouse, were donated to the museum while the rest of the property was sold. The B&O Warehouse at the Camden Yards rail junction in Baltimore now dominates the view over the right-field wall at the Baltimore Orioles' current home, Oriole Park at Camden Yards.
At the end of 1970 B&O operated 5552 miles of road and 10449 miles of track, not including the Staten Island Rapid Transit (SIRT) or the Reading and its subsidiaries.
Read more on
Wikipedia
.
Brand/Importer Information
:

In the hobby industry, few companies have built as bold and dynamic a reputation for quality products and technical achievement as Model Rectifier Corporation (MRC). More than a half century ago, MRC began its march toward hobby product leadership by designing model railroad train controls with a level of realism and power previously unavailable. Today, MRC's technology-rich Tech 6 and Prodigy DCC lead a long list of MRC engineered train controls and sound systems respected and enjoyed by millions of model railroad hobbyist around the world.
Success with model railroads led us to carry our passion for hobby quality and technology into the development of other outstanding brands and categories. Today, MRC is the exclusive distributor for some of the world's most respected hobby products as well as the creators and manufacturers of prominent proprietary lines. While our brands and products are diverse, they all share a common bond. Each product we sell meets stringent quality standards and exceeds the highest customer expectation levels. Extraordinary in its depth and breadth, MRC product lines include some of the world's most recognized hobby brands and category leaders.
Manufacturer Information
:

Mehano is a Slovenian toy manufacturer located in Izola, Slovenija. The company was founded as Mehanotehnika and was producing toys starting in June 1953. They first exhibited at the Nuerenberg Toy Fair in 1959. Mehano produced a number of different locomotives and rolling stock models for the North American market in the 1960s and 1970s. Companies such as Atlas and Life-Like imported a huge variety of their products. Generally they can easily be recognized as they are stamped "Yugosolavia" on the underframe. The company was formally renamed "Mehano" in 1990. Izola today is part of the country of Slovenia since the breakup of Yugoslavia.
Mehano filed for bankruptcy in 2008, but still continued to exist and operate. Since 2012, Mehano products are distributed by Lemke.
Item created by:
gdm
on 2017-03-29 12:20:42. Last edited by
gdm
on 2020-06-24 13:57:56
If you see errors or missing data in this entry, please feel free to
log in
and edit it. Anyone with a Gmail account can log in instantly.