Specific Item Information: Western Pacific - 2nd version 86 ' Double Door Boxcars. Western Pacific's Pullman Standard built auto parts boxcars were delivered in the "Distribution Dividend" scheme (see Bluford 86191 and 86192) in 1967. As these cars came due for repainting, they received this scheme. WP had a large Ford plant on line in Milpitas, California obliging them to contribute cars to a pool including many other railroads and several auto plants in the Midwest and South. This run will be available in 3 road numbers. 86481 Western Pacific - 2nd version single car $29.85; 86482 2-pack.
Prototype History
: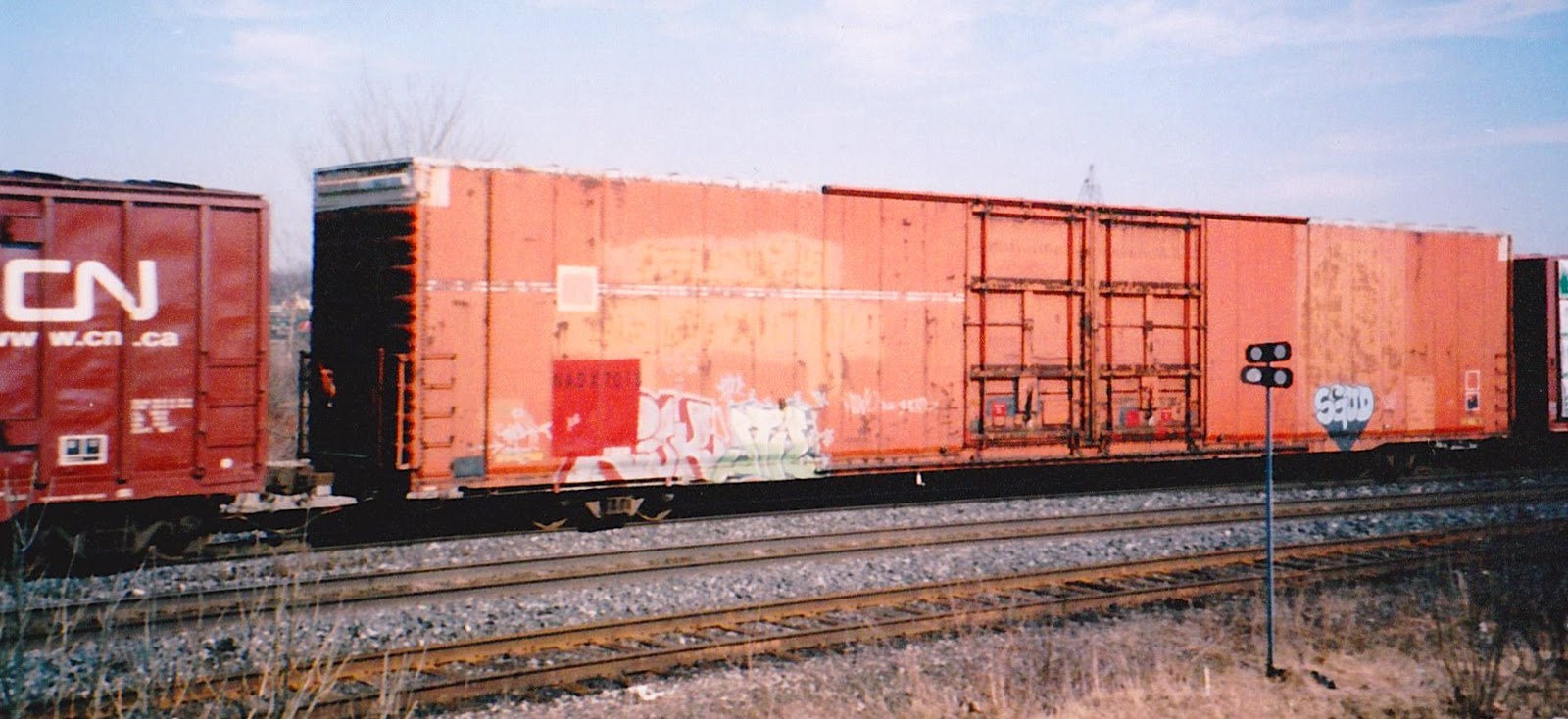 The three major automobile manufacturers in the United States, Chrysler, Ford, and General Motors, each developed specifications in the 1960s for specially built boxcars to transport automobile parts (not actual cars). They stated, if you build this type of car, your will be welcome to pick up and drop off parts at our plants. Thousands of these cars were built in the 1960s and 1970s. Three railcar manufacturers, Greenville, Pullman-Standard and Thrall took up the challenge and constructed 86 foot boxcars.
These cars are not only distinctive for their length (86 foot, also listed as 85 foot) but also for the fact that they were designed for a post-roofwalk world so they took advantage of the fact they didn't need to leave room for the roofwalk and instead are simply built taller. Hence they are considered High-Cube cars. They come in two major varieties: 8-door and 4-door. The eight door types were typically made for use at GM plants and have two sets of 9 foot doors on each side. When these doors are full opened, they created a pair of 18 foot opening on each side of the car. Their 4-door sisters, as specified by Ford and Chrysler, had one pair of 10 foot doors centered on each side, permitting a 20 foot opening.
As containers gradually replaced these cars for use in the auto industry, many were re-purposed for use in other industries that involve low-density commodities such as scrap paper.
Road Name History
: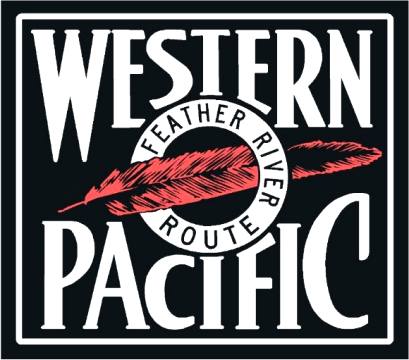 The Western Pacific Railroad (reporting mark WP) was a Class I railroad in the United States. It was formed in 1903 as an attempt to break the near-monopoly the Southern Pacific Railroad had on rail service into northern California. WP's Feather River Route directly competed with SP's portion of the Overland Route for rail traffic between Salt Lake City/Ogden, Utah and Oakland, California for nearly 80 years. In 1983 the Western Pacific was acquired by the Union Pacific Railroad. The Western Pacific was one of the original operators of the California Zephyr.
The original Western Pacific Railroad was established in 1865 to build the westernmost portion of the Transcontinental Railroad between San Jose, California (later Oakland, California), and Sacramento, California. This company was absorbed into the Central Pacific Railroad in 1870.
The second company to use the name Western Pacific Railroad was founded in 1903. Under the direction of George Jay Gould I, the Western Pacific was founded to provide a standard gauge track connection to the Pacific Coast for his aspiring Gould transcontinental system. The construction was financed by the Denver and Rio Grande Western Railroad, a company in the Gould system, which lost access to California due to the attempted acquisition of the Southern Pacific Railroad by the Rio Grande's main rival, the Union Pacific Railroad. The Western Pacific Railroad acquired the Alameda and San Joaquin Railroad and began construction on what would become the Feather River Route. In 1909 it became the last major railroad completed into California. It used 85-lb rail on untreated ties, with no tie plates except on curves over one degree; in 1935 more than half of the main line still had its original rail, most of it having carried 150 million gross tons.
The Western Pacific was acquired in 1983 by Union Pacific Corporation, which in 1996 would purchase its long-time rival, the Southern Pacific Railroad. In July 2005 Union Pacific unveiled a brand new EMD SD70ACe locomotive, Union Pacific 1983, painted as an homage to the Western Pacific.
Brand/Importer Information
:

Bluford Shops began in 2007 as a side project of two model railroad industry veterans, Craig Ross and Steve Rodgers. They saw a gap between road names available on N scale locomotives but not available on cabooses. They commissioned special runs of Atlas cabooses in Atlantic Coast Line, Central of Georgia, Monon, Boston & Maine and Southern plus runs on Grand Trunk Western and Central Vermont on the MDC wooden cabooses. While these were in process, they began to develop their first all new tooling project, 86' Auto Parts Boxcars in double door and quad door editions in N scale. By January of 2008, Bluford Shops became a full time venture. Along with additional N scale freight cars and their own tooling for new cabooses, they have brought their own caboose line to HO scale. They also have their popular Cornfields in both HO and N. The future looks bright as they continue to develop new products for your railroad.
The town of Bluford in southern Illinois featured a small yard on Illinois Central's Edgewood Cutoff (currently part of CN.) The yard included a roundhouse, concrete coaling tower (which still stands) and large ice house. Reefer trains running between the Gulf Coast and Chicago were re-iced in Bluford. Things are more quiet now in Bluford with the remaining tracks in the yard used to stage hoppers for mines to the south and store covered hoppers. Intersecting the IC line in Bluford is Southern Railway's (currently NS) line between Louisville and St. Louis. Traffic on this single track line remains relatively heavy.
Item created by:
gdm
on 2017-05-02 12:20:38
If you see errors or missing data in this entry, please feel free to
log in
and edit it. Anyone with a Gmail account can log in instantly.