Model Information: This is one of Atlas' Chinese-made toolings. It served as the replacement for the earlier Roco-made bulkhead flatcars from the 1960s and 1970s. This model is somewhat more detailed than the earlier Roco model It first appears in the Atlas 2000 catalog with two undecorated versions (open vs closed ends) and six different road names, each with multiple numbers. The price for the decorated version in 2000 was $13.95 and $9.95 for the two undecorated models.
Prototype History
: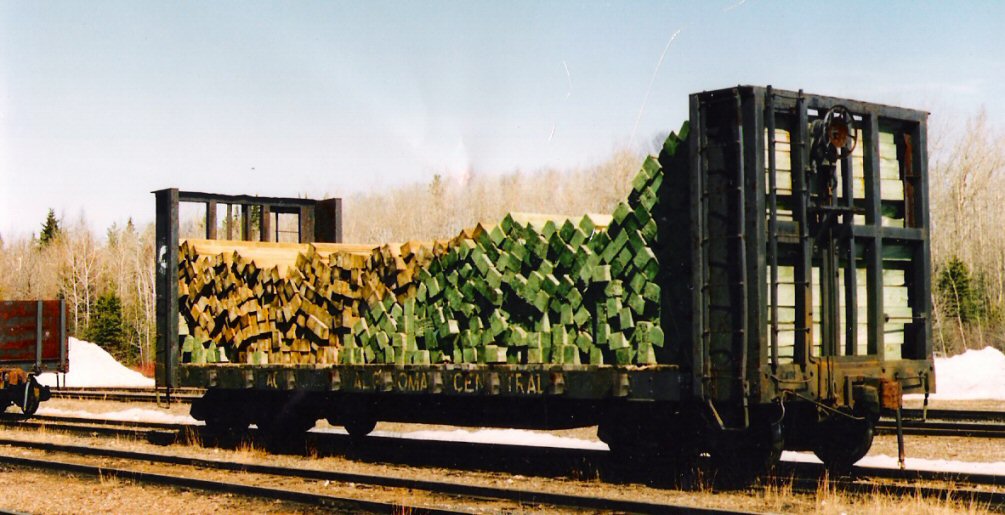 Pulpwood is not a specific type of wood, but actually tree limbs that are cut to a specified length, then turned into wood pulp and used in the paper industry. Early paper making had the trees near the paper plant. As timber resources were diminished, the need for transporting pulpwood began to rise. Railroads were seen as an efficient method of transporting pulpwood. Pulpwood in the Southeast and Northeast is generally cut into four-foot or less lengths and loaded onto "V-deck" bulkhead flat cars.
In the early 1950s General Steel Castings, produced a "V-deck" design.
Another notable manufacturer of pulpwood flat cars was the Southern Iron & Equipment Company (
SIECO
) that manufactured this type of car in the 1960s and 1970s, with over 800 delivered in the early 1979's to the Southern Railway, alone.
Road Name History
: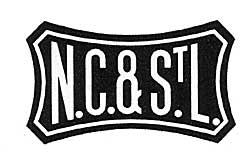 The NC&St.L (not to be confused with NYC&St.L which is the Nickel Plate Road) dates to 1845. Before 1873 it was called the Nashville & Chattanooga and locals continued to call it "the NC" until the end.
The NC&St.L ran from Memphis east to Nashville, then southeast to Chattanooga and finally Atlanta. There were also important branches to Paducah, Kentucky where they shared ownership of a bridge across the Ohio River with the CB&Q; Columbia, Tennessee; and Huntsville and Gadsden, Alabama (a big steel center.)
In 1879, NC&St.L began buying and leasing lines to reach Evansville, Indiana then west to St. Louis. In a move typical of the era, the L&N bought 55% of NC&St.L's stock, and transferred those lines to itself. Although operated independently, the NC&St.L would remain under the control of the L&N for the next 78 years.
NC&St.L was the middle link in "the Dixie Route" for passenger trains between Chicago (or St. Louis) and Florida. Trains such as The Dixie Flagler would travel on (from north to south) C&EI, L&N, NC&St.L (from Nashville to Atlanta), Atlanta Birmingham & Coast, Atlantic Coast Line and Florida East Coast. St. Louis trains skipped the C&EI, and some others used Central of Georgia instead of the AB&C.
On the steam front, Consolidations and Mikes handled the freight with Pacific's and Mountains pulling passengers. Most engines were equipped with Vanderbilt tenders. The only "modern" steam was a fleet of 25 4-8-4's, the first of that wheel arrangement in the south. NC&St.L called them "Dixies" instead of Northerns. These had semi-Vanderbilt tenders (flat sides that curved inward toward the bottom), smooth boilers, and conical smoke box fronts. The first batch had wide panels on the running boards that were painted yellow. These earned the nickname "Yellow Jackets."
North of Chattanooga, the NC&St.L crossed the Cumberland Mountains with 2.5% grades. This required pusher service. They had a trio of 2-8-8-2's for this but often used 2-8-0's and Mikes. Since there was nowhere to turn power at the summit, the helpers could face in either direction. Picture a long passenger train with a Yellow Jacket on the point. Passenger trains received helpers ONLY on the head end. So a 2-8-2 couples to the front of the Yellow Jacket -nose-to-nose. The Mike then leads the train over the mountains with the Vanderbilt tender leading the way. This happened routinely.
By 1953, NC&St.L had completely dieselized with an all EMD roster. F3's and F7's were painted blue and silver with black roofs. Geeps and switchers were painted oxide red with yellow stripes (with the exception of some dual service geeps in blue and silver.) The first batch of GP7's were delivered with switcher trucks. There is some argument over whether they did this to save money or weight. Later groups came with standard Blomberg trucks. The F's were used in freight and passenger service although only the B units had steam generators so a passenger train would have at least an A and B no matter how short it was.
During the 50's, NC&St.L was 1,043 miles long (a bit longer than Lackawanna or Montana Rail Link), had 132 diesels, 106 passenger cars and 6,800 freight cars. In 1957, they were finally merged into parent L&N.
Brand/Importer Information
: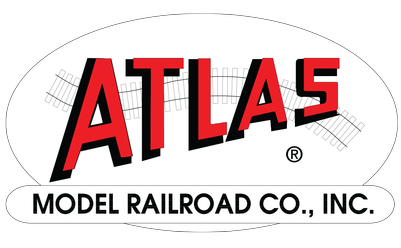 In 1924 Stephan Schaffan, Sr. founded the Atlas Tool Company in Newark, New Jersey. In 1933 his son, Stephan Schaffan, Jr., came to work for his father at the age of sixteen. Steve Jr. built model airplanes as a hobby and frequented a local hobby shop. Being an enterprising young man, he would often ask the owner if there was anything he could do to earn some extra spending money. Tired of listening to his requests, the hobby-store owner threw some model railroad track parts his way and said, "Here, see if you can improve on this".
In those days, railroad modelers had to assemble and build everything from scratch. Steve Jr. created a "switch kit" which sold so well, that the entire family worked on them in the basement at night, while doing business as usual in the machine shop during the day.
Subsequently, Steve Jr. engineered the stapling of rail to fiber track, along with inventing the first practical rail joiner and pre-assembled turnouts and flexible track. All of these products, and more, helped to popularize model railroading and assisted in the creation of a mass-market hobby. The budding entrepreneur quickly outgrew the limitations of a basement and small garage operation. Realizing they could actually make a living selling track and related products, Steve and his father had the first factory built in Hillside, New Jersey at 413 Florence Avenue in 1947. On September 30, 1949, the Atlas Tool Company was officially incorporated as a New Jersey company.
In 1985, Steve was honored posthumously for his inventions by the Model Railroad Industry Association and was inducted into the Model Railroad Industry Hall of Fame in Baltimore, Maryland. In addition, Steve was nominated and entered into the National Model Railroad Association Pioneers of Model Railroading in 1995.
In the early 1990s, the Atlas Tool Company changed its name to
Atlas Model Railroad Company, Inc.
Item created by:
gdm
on 2017-08-26 10:03:18
If you see errors or missing data in this entry, please feel free to
log in
and edit it. Anyone with a Gmail account can log in instantly.