Model Information: This body style was first produced by Lima for MRC, Model Power and AHM in the 1960s and 1970s. There are several versions of this car. One difference is some have a molded-on roof-walk, and another has a separate roof-walk. Also, one has deep ribs and the other has shallow ribs. The shallow rib version is likely the later tooling. The shallow rib version displays clearly visible rivet details. Model Power later made a knock-off of the shallow rib version in China.
Prototype History
: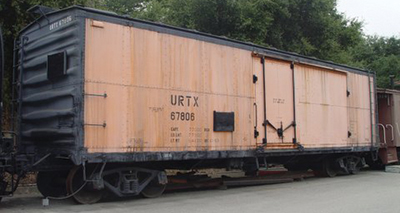 A refrigerator car (or "reefer") is a refrigerated boxcar (US) or van (UIC), a piece of railroad rolling stock designed to carry perishable freight at specific temperatures. Refrigerator cars differ from simple insulated boxcars and ventilated boxcars (commonly used for transporting fruit), neither of which are fitted with cooling apparatus. Reefers can be ice-cooled, come equipped with any one of a variety of mechanical refrigeration systems, or utilize carbon dioxide (either as dry ice, or in liquid form) as a cooling agent. Milk cars (and other types of "express" reefers) may or may not include a cooling system, but are equipped with high-speed trucks and other modifications that allow them to travel with passenger trains.
By the 1940's, new reefers were being built entirely of steel. Insulating techniques improved to the point where economical refrigeration could be accomplished using steel side plates in place of wood sheathing. Cars with steel roofs and sides were more durable and required fewer repairs.
The General American Transportation Corporation built several 40' steel reefer for the Union Refrigerator Transit Line (URTX) from the late 1940's into the 1950's.
This reefer was 40' long & weighted 61,500 lbs. The car is a steel bodied reefer with iced bunkers at each end. These ice bunkers hold 10,400 lbs. of chunk ice or 11,500 lbs. of crushed ice. Ice stations were located every 100-150 miles along the railroads main line to replace the melted ice. In the winter, charcoal heaters could be placed in the bunkers to keep the cargo from freezing. Fans are located in the floor at each end to circulate air and keep an even temperature throughout the car. Typical cargo would be fresh fruit, vegetables or eggs.
American Car & Foundry (ACF Industries) also built 40' reefer for several companies.
Road Name History
: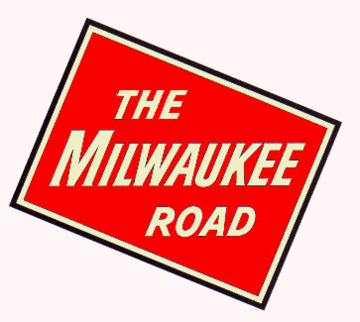 First of all, Milwaukee Road has only ever been a popular nickname. The real name from 1874 was Chicago Milwaukee & St. Paul. For the next 36 years, the CM&StP linked Chicago with Milwaukee, Green Bay, Madison, Wausau, the Twin Cities, Duluth, Kansas City and Omaha with a dense network of branches in Wisconsin, Iowa, southern Minnesota and eastern South Dakota. Essentially, the lines ended at the Missouri River.
With a dearth of friendly western connections, CM&StP decided to build their own line to the Pacific. The original target was the bustling megalopolis of Eureka, California. However, they built toward Seattle instead. In 1909 the line opened. Along the way, they served Miles City, Lewiston, Great Falls, Harlowton and Butte, Montana; Avery, Idaho; and Spokane, Seattle and Tacoma, Washington. In 1912, they began to electrify two long segments, Harlowton, Montana to Avery, Idaho and Othello, Washington to Tacoma.
In 1921, they leased the Chicago Terre Haute & Southeastern and a bit later the Chicago Milwaukee & Gary to reach the coal fields of southern Indiana. Both roads were in trouble and dragged the CM&StP into receivership. In 1928, they emerged with a small name change. It was now the Chicago Milwaukee St. Paul & Pacific. Right after that, the nickname "Milwaukee Road" began to catch on.
The three Class One's that already served the Pacific Northwest, Northern Pacific, Great Northern (along with their jointly owned minion Spokane Portland & Seattle) and Union Pacific were not pleased with their new neighbor and avoided building interchanges with them unless absolutely necessary. This left Milwaukee to haul whatever traffic they could originate or terminate on their own line or via a hand full of shortlines with which they interchanged. This is why when you see photos of Milwaukee Road trains west of the Dakotas, an exceptionally large majority of cars are lettered for Milwaukee Road.
Milwaukee's steam fleet is generally quite handsome beginning with the period after WWI. Many locomotives were built in their own shops. The steam era came to an end on the Milwaukee in 1957.
The electrified lines were ruled by boxcabs and Bi-Polars for decades. In the 1950's, Little Joe's diverted from the Soviet Union arrived on the Milwaukee (and the South Shore.) By the late 60's diesels began to regularly invade the electrified lines. Little Joes and diesels were MU'ed. The aging catenary could only handle so many electrics at a time so diesels filled the horsepower gap. By 1972, falling traffic, a declining fleet of serviceable electrics and the deteriorating catenary caused Milwaukee Road to de-energize the western lines lines with Avery to Harlowton lines following two years later.
Meanwhile on the east end, as a condition of the 1971 merger of Monon into L&N, Milwaukee Road received trackage rights from Chicago to Louisville. This gave Southern a friendly connection to Chicago it was losing with Monon.
In 1977, Milwaukee Road entered receivership again. This time, radical restructuring was needed. In 1980, everything west of Miles City, Montana was abandoned. Some lines were picked up by connections or spawned new shortlines but nearly 1,000 miles of track was pulled up. In 1982, Miles City to Ortonville, Minnesota was abandoned. Milwaukee was concentrating on their pre-1909 routes plus the new line to Louisville.
In an attempt to win back middle distance TOFC traffic, Milwaukee began running fast and short piggyback trains, usually behind a single SD40-2 and with a dozen or so 89' flats. Unit coal trains added to the bottom line. By the mid-80s, the streamlined Milwaukee Road was up for sale and Grand Trunk Western, Chicago & North Western and Soo Line got into a bidding war. GTW had diverted 40,000 cars onto Milwaukee Road between Chicago and Duluth to help them turn a profit in 1983. Ironically, the ICC (which controlled mergers at the time) pushed GTW out of the contest leaving just C&NW and Soo. Furious, GTW diverted their 40,000 carloads off the Milwaukee. C&NW outbid Soo, but the ICC chose Soo Line anyway. Milwaukee Road merged into Soo Line in 1985. Almost immediately, Soo shops began painting big black rectangles over MILWAUKEE ROAD on the diesels, giving birth to the "bandit" paint scheme.
Brand/Importer Information
:

Founded in the late 1960's by Michael Tager, the 3rd generation business specializes in quality hobby products serving the toy and hobby markets worldwide. During its 50 years of operation, Model Power has developed a full line of model railroading products, die-cast metal aircraft, and die-cast metal cars and trucks.
In early 2014, Model Power ceased its business operations. Its extensive portfolio of intellectual property and physical assets are now exclusively produced, marketed, sold, and distributed by
MRC
(Model Power, MetalTrain and Mantua) and by
Daron
(Postage Stamp Airplanes and Airliner Collection).
Manufacturer Information
:

Lima S.p.A (Lima Models) was a brand of railway models made in Vicenza, Italy, for almost 50 years, from the early 1950s until the company ceased trading in 2004. Lima was a popular, affordable brand of 00 gauge and N gauge model railway material in the UK, more detailed H0 and N gauge models in France, Germany, Italy, Switzerland, and the United States as well as South Africa, Scandinavia and Australia. Lima also produced a small range of 0 gauge models. Lima partnered with various distributors and manufacturers, selling under brands such as A.H.M., Model Power, Minitrain and PMI (Precision Models of Italy). Market pressures from superior Far Eastern produce in the mid-1990s led to Lima merging with Rivarossi, Arnold, and Jouef. Ultimately, these consolidations failed and operations ceased in 2004.
Hornby Railways offered €8 million to acquire Lima's assets (including tooling, inventory, and the various brand names) in March of the same year, the Italian bankruptcy court of Brescia (town near Milan, last headquarters of Lima) approving the offer later that year. In December 2004, Hornby Railways formally announced the acquisition along with the Rivarossi (H0 North American and Italian prototypes), Arnold (N scale European prototypes), Jouef (H0 scale French prototypes), and Pocher (die-cast metal automobile kits) ranges. As of mid-2006, a range of these products has been made available under the Hornby International brand, refitted with NEM couplings and sprung buffers and sockets for DCC (Digital Command Control) decoders.
From Wikipedia
Item created by:
gdm
on 2017-09-20 08:29:39. Last edited by
gdm
on 2020-05-30 18:14:18
If you see errors or missing data in this entry, please feel free to
log in
and edit it. Anyone with a Gmail account can log in instantly.