Prototype History
:

During the mid-19th century, attempts were made to ship agricultural products by rail. As early as 1842, the Western Railroad of Massachusetts was reported in the June 15 edition of the Boston Traveler to be experimenting with innovative freight car designs capable of carrying all types of perishable goods without spoilage. The first refrigerated boxcar entered service in June 1851, on the Northern Railroad (New York) (or NRNY, which later became part of the Rutland Railroad). This "icebox on wheels" was a limited success since it was only functional in cold weather. That same year, the Ogdensburg and Lake Champlain Railroad (O&LC) began shipping butter to Boston in purpose-built freight cars, utilizing ice for cooling.
The first consignment of dressed beef left the Chicago stock yards in 1857 in ordinary boxcars retrofitted with bins filled with ice. Placing meat directly against ice resulted in discoloration and affected the taste, proving to be impractical. During the same period Swift experimented by moving cut meat using a string of ten boxcars with their doors removed, and made a few test shipments to New York during the winter months over the Grand Trunk Railway (GTR). The method proved too limited to be practical.
The use of ice to refrigerate and preserve food dates back to prehistoric times. Through the ages, the seasonal harvesting of snow and ice was a regular practice of many cultures. China, Greece, and Rome stored ice and snow in caves, dugouts or ice houses lined with straw or other insulating materials. Rationing of the ice allowed the preservation of foods during hot periods, a practice that was successfully employed for centuries. For most of the 19th century, natural ice (harvested from ponds and lakes) was used to supply refrigerator cars. At high altitudes or northern latitudes, one foot tanks were often filled with water and allowed to freeze. Ice was typically cut into blocks during the winter and stored in insulated warehouses for later use, with sawdust and hay packed around the ice blocks to provide additional insulation. A late-19th century wood-bodied reefer required re-icing every 250 miles (400 km) to 400 miles (640 km).
From Wikipedia
Road Name History
: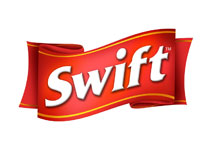 The Swift Refrigerator Line (SRL, also known as the Swift Refrigerator Transportation Company) was a private refrigerator car line established around 1875 by Chicago meat packer Gustavus Swift, the founder of Swift and Company. Ad for the line from 1921. Shows sample Swift cars at the top and a map of the distribution locations.
Swift hoped to develop an alternative to transporting live cattle across the Midwest. He experimented by moving dressed (cut) meat using a string of ten boxcars which ran with their doors removed, and made a few test shipments to New York during the winter months over the Grand Trunk Railway (GTR). The method proved too limited to be practical.
In 1878, Swift hired engineer Andrew Chase to design a ventilated car that was well-insulated, and positioned the ice in a compartment at the top of the car, allowing the chilled air to flow naturally downward. The meat was packed tightly at the bottom of the car to keep the center of gravity low and to prevent the cargo from shifting. Chase's design proved to be a practical solution to providing temperature-controlled carriage of dressed meats, and allowed Swift & Company to ship their products all over the United States, and even internationally, and in doing so radically altered the meat business.
The General American Transportation Corporation (GATX) assumed ownership of the line in 1930.
From Wikipedia
Brand/Importer Information
: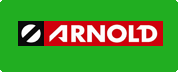 Founded in 1906 by Karl Arnold in Nuernberg, K. Arnold & Co. began its life producing tin toys and related items. They produced an extensive line of model ships, doll house items and other toys. In 1935, K. Arnold & Co. hired Max Ernst as their managing director. Ernst, not to be confused with the German realist artist of the same name, was a significant factor in the future of Arnold.
There are several distinct phases of Arnold's model train production. In the period of 1960 - 1962, Arnold marketed the Arnold Rapido 200 product line; this line was very crude yet it also was a sensation because of its much smaller size than TT.
The next phase was from 1963-1967, when the rapido product line begins to swing toward scale representations of the trains. It is during this period that the "Rapido Coupler" comes into production, beginning its widespread use by all model train manufacturers in N-Scale. It was in 1964 that the term "N-Scale" came into use. Between 1968 and 1970, rapido line of trains reached maturity, notably with its turntable and roundhouse. Arnold entered into a business relationship with the U.S. company Revell around 1968, beginning the marketing of Revell Rapido model trains. This relationship was marked by the beginning of production of more accurate North American prototype models by Arnold. This relationship continued for several years, ending in the late 1960s or early 1970s. Arnold continued their expanded production, with new models until the early 1990s.
On Max Ernst's 1976 retirement, Arnold employed perhaps 200 to 250 people, using three facilities in the Nurnberg area. The Company continued under family control until 1995, when Arnold went into bankruptcy and was sold to Rivarossi of Italy. Rivarossi, in turn, also went bankrupt, leading to the sale of all assets to Hornby of the United Kingdom. Production is carried out in China.
Item created by:
gdm
on 2017-10-19 16:41:45. Last edited by
gdm
on 2021-02-28 08:56:16
If you see errors or missing data in this entry, please feel free to
log in
and edit it. Anyone with a Gmail account can log in instantly.