Specific Item Information: Run limited to 200 pieces.
Model Information: Model introduced in 2009 (ABJ3, ABJ4 and ABJ7) and in 2013-2013 (ABJ1 and ABJ2). Re-released in 2013 (ABJ3, ABJ4). The ABJ1 and ABJ2 have no visual differences; Mabar sold all ABJ1/2 models as ABJ1, though some of the prototypes were actually ABJ2.
5-pole motor with flywheel. Traction to 1 bogie. Power pickup on all 8 wheels. Reversible white and red lights according to the direction of travel. Interiors with seats and driver cabins detailed.
DCC Information
: Accepts NEM 651 / NMRA 6-pin decoders.
In order to keep the inside of the car clear of visible electronics, the design is such that the connection of the PC board to the lights is made by very tiny wires (see
assembly drawing
). No need for soldering, but connectors are very tiny and difficult to reassemble.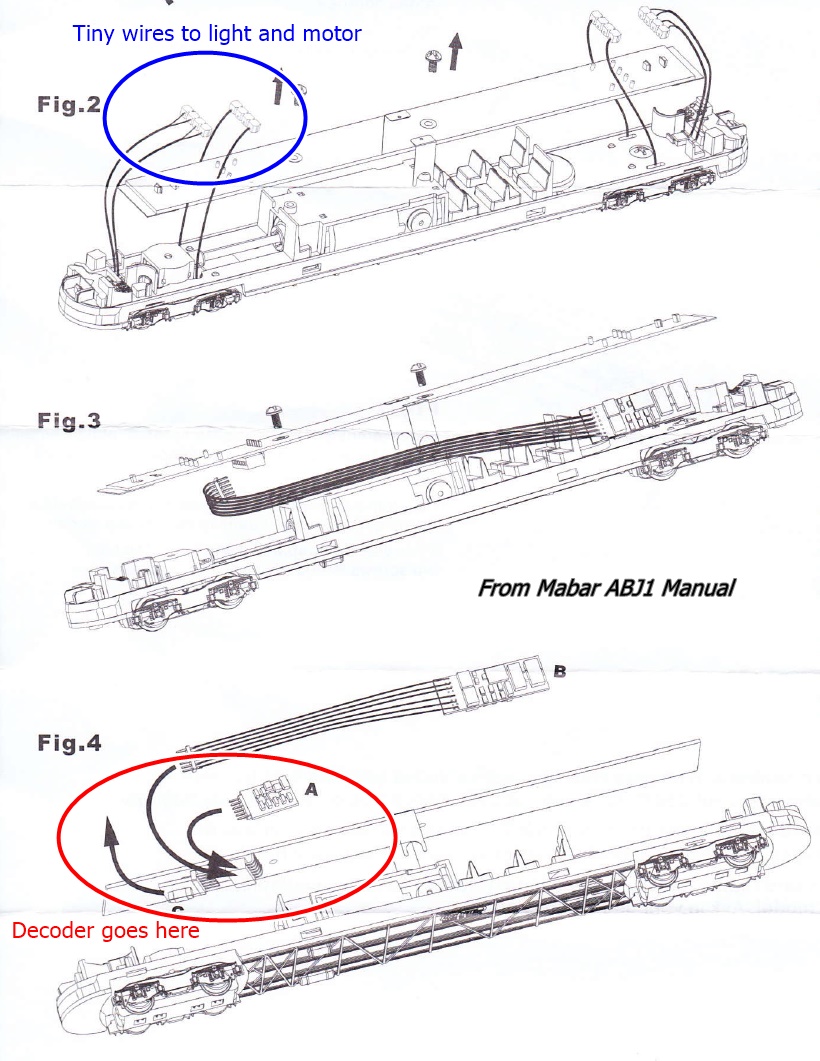 Mabar also proposed an ESU-Sound decoder for this model under the following references:
- 83453/E, Spanish version
- 83453/F, French Version
Models with stock number finishing with an 'S' are factory equipped with this decoder.
Prototype History
: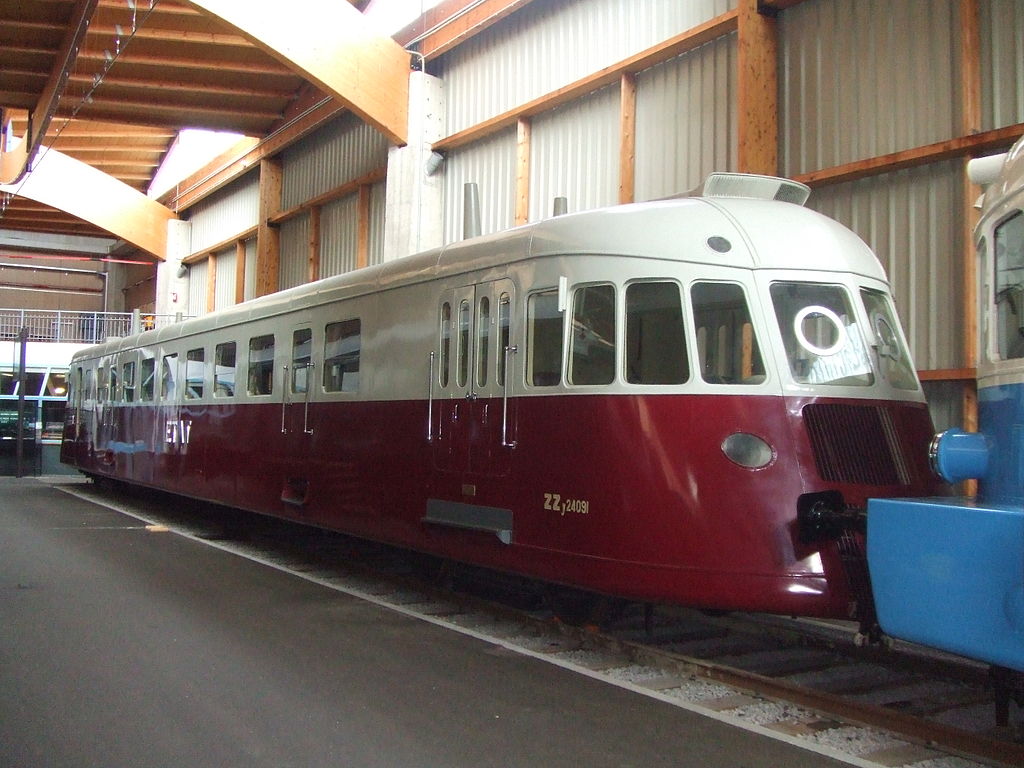 The Renault ABJ is a series of French railcars manufactured between 1935 and 1949 by Renault, and between 1936 and 1956 by MMC in Spain.
They were initially powered by a Renault 513 (12 V 140) diesel engine (265 hp).
They have been delivered in the following variants, mainly differentiated by their cooling system:
ABJ1: original version delivered to the regional French networks: AL (4), Est (21), Nord (21), PO-Midi (12), PLM (19). Several have later been transformed into ABJ2 or ABJ3.
ABJ2: very similar to the ABJ1, with additional cooling fans under frame. The Réseau de l'État acquired directly 21 of them.
A total of 98 ABJ1/2 have been produced. They were all transferred to SNCF at its creation in 1938 and renumbered in series X-30xx (ex-PLM), X-31xx (ex-EST and AL), X-32xx (ex-Nord), X-33xx (ex-PO-Midi) and X-34xx (ex-État).
ABJ3: powered by a Renault 517C (300 hp) engine. This model is recognizable by its oversized radiator intakes on top of the front cab, that led to nickname it the 'Bigouden' from the famous southern Brittany headdress. A total of 16 ABJ3 have been built for the SNCF in 1939 (series X-35xx).
ABJ4: powered by a Renault 517J (300 hp) engine. A total of 35 ABJ4 have been built for the SNCF in 1948 and 1949 (series X-36xx). Thay all have been assigned to the South-West region.
12 ABJs were destroyed during WWII. All remaining ABJs have been retired in the middle of the 1970's in France.
Read more on
Wikipedia
(in French).
The ABJ has been exported to Spain and Tunisia (six ABJ2).
In Spain, the ABJ has been manufactured under license by M.M y C (Material Móvil y Construcciones, Zaragoza, Spain - now part of CAF).
- 12
ABJ2
have been built between 1936 and 1940 for MZA (WM-226 to 231) and Norte (WMD-401 to 406). They were transferred to Renfe at its creation and renumbered in series 92xx (9204-9208) and 93xx (9300-9306). Read more on
www.ferropedia.es
- 20
ABJ7
(derived from ABJ4) have been built between 1949 y 1956 for Renfe (series 9313-9334). Read more on
www.ferropedia.es
The above description has been created specifically for TroveStar N scale database by Alain LM, as summary in English of the following French publications:
Source: Le Train.
- Les archives Autorails. Les Renault construits de 1929 à 1937. ISSN 1296-5537. Olivier Constant. 2017.
- Encyclopédie du matériel moteur SNCF. Tome 3: Les autorails depuis 1938 (1ère partie). ISSN 1296-5537. Olivier Constant. 2006.
Road Name History
: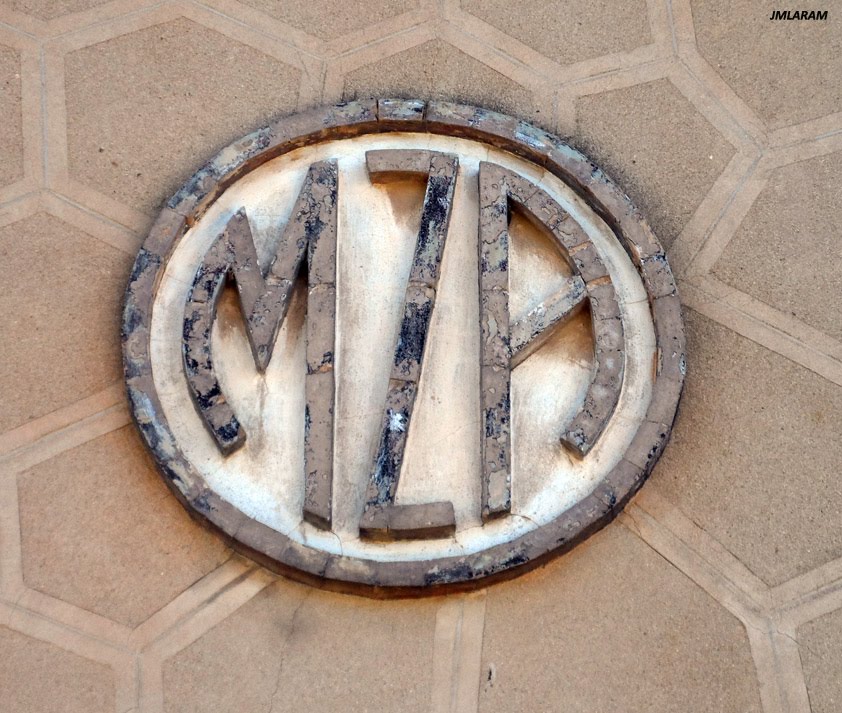 The
Compañía de los ferrocarriles de Madrid a Zaragoza y Alicante
(MZA) was a Spanish railway company established in 1856 and that it became one of the great companies of the railway sector along with its great competitor, the
Compañía de los Caminos de Hierro del Norte de España
.
This competition also came from the large financial families that competed at the time, the Rothschilds for MZA and the Pereires for the
Norte
. Starting from its first railroad concessions, it spread rapidly to take on some of the main lines of Extremadura, Castilla la Nueva, Andalusia or Levante, controlling an important market. The MZA was also the one that constructed the stations of Atocha in Madrid, El Carmen in Murcia, Campo Sepulcro (later of El Portillo) in Saragossa or Plaza de Armas in Seville, also known as station of Córdoba and at the moment reconverted in commercial center. With the arrival of the twentieth century, the Company was at the highest splendor of its operational history, although not long after the crisis made a dent in the company. The Spanish Civil War revealed to be the swan song for the company, that would be condemned because in 1941 the pro-Franco state decreed the nationalization of all the railroads to create the national company RENFE. From that moment, MZA ceased to exist.
Read more on
Wikipedia
(in Spanish) and on
ferropedia.es
(in Spanish).
Brand/Importer Information
: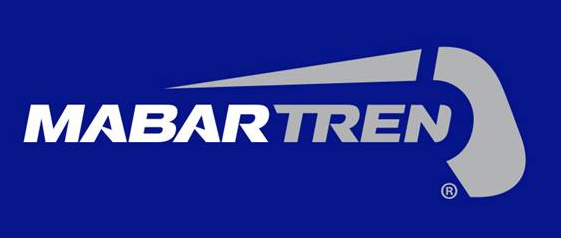 Mabar, a Spanish company located in Barcelona, was founded in 1952 by two train enthusiasts,
Ma
gda Sebastián and
Bar
tolome Boada, parents of the current partner, Ramón Boada. It was a retailer shop and also produced small series of Spanish models in HO and N scale.
In 2005, the retail business was definitely closed and under leadership of the son of the original owners, Ramón Boada, and his partner Clotilde Villas, the company specialized in creation and manufacturing of HO and N scale models of Spanish prototypes, and thereafter French ones. Mabar has gradually expanded its market and it currently has distributors in France, Portugal, Italy, Benelux, Switzerland, Greece and United States.
Item created by:
Alain LM
on 2017-11-04 13:52:12. Last edited by
CNW400
on 2020-06-11 08:53:08
If you see errors or missing data in this entry, please feel free to
log in
and edit it. Anyone with a Gmail account can log in instantly.