Specific Item Information: Arnold Rapido's motorized turntable has a 7 Inch Bridge. It included 6 Tracks and up to 48 Tracks could be put in place using Arnold's 0852 Segment Kits. Each Segment Kit provided three additional tracks, three stub-end tracks to place on the opposite side of the pit if needed and all of the needed contacts to place along the pit perimeter . The turntable will automatically self-align with each track without any nudging or micro-adjustment. The turntable spin direction is controlled with a momentary contact toggle switch which is held until the bridge is near the selected track. Arnold also provided an advanced control accessory for the Turntable, the 0855 Pre-Selector (see TroveStar Item 138805).
Model Information: Unspecified Body Style
Road Name History
:

Can't have model trains without track can we? The track on a railway or railroad, also known as the permanent way, is the structure consisting of the rails, fasteners, railroad ties (sleepers, British English) and ballast (or slab track), plus the underlying subgrade. It enables trains to move by providing a dependable surface for their wheels to roll upon. For clarity it is often referred to as railway track (British English and UIC terminology) or railroad track (predominantly in the United States). Tracks where electric trains or electric trams run are equipped with an electrification system such as an overhead electrical power line or an additional electrified rail.
Text and Images From Wikipedia
Rail codes:
The code refers to the actual height of the rail. The followings heights are used for N-scale:
- Code 80 = 0.080" tall or about 13" N scale height - the mostly used for sectional tracks.
- Code 70 = 0.070" tall or about 11" N scale height
- Code 55 = 0.055" tall or about 9" N scale height - the mostly used by modelers wishing a realistic effect for their layout. Can be used with all modern rolling stock (low flange wheels).
- Code 40 = 0.040" tall or about 6" N scale height
Turnout codes:
The turnout number describes the length needed for the diverging track to be 1 foot apart from the straight one . So the lower the number, the sharper the curve, and the higher the number, the more gradual curve on the diverging track.
- In a #4 turnout, the rails are 1 foot apart at a distance 4 feet beyond the frog
- In a #6 turnout, the rails are 1 foot apart at a distance 6 feet beyond the frog
- In a #8 turnout, the rails are 1 foot apart at a distance 8 feet beyond the frog
Note that European brands such as Minitrix or Fleischmann use a different notation for turnouts and refer to the radius of the curvature of the diverging track.
Brand/Importer Information
: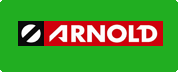 Founded in 1906 by Karl Arnold in Nuernberg, K. Arnold & Co. began its life producing tin toys and related items. They produced an extensive line of model ships, doll house items and other toys. In 1935, K. Arnold & Co. hired Max Ernst as their managing director. Ernst, not to be confused with the German realist artist of the same name, was a significant factor in the future of Arnold.
There are several distinct phases of Arnold's model train production. In the period of 1960 - 1962, Arnold marketed the Arnold Rapido 200 product line; this line was very crude yet it also was a sensation because of its much smaller size than TT.
The next phase was from 1963-1967, when the rapido product line begins to swing toward scale representations of the trains. It is during this period that the "Rapido Coupler" comes into production, beginning its widespread use by all model train manufacturers in N-Scale. It was in 1964 that the term "N-Scale" came into use. Between 1968 and 1970, rapido line of trains reached maturity, notably with its turntable and roundhouse. Arnold entered into a business relationship with the U.S. company Revell around 1968, beginning the marketing of Revell Rapido model trains. This relationship was marked by the beginning of production of more accurate North American prototype models by Arnold. This relationship continued for several years, ending in the late 1960s or early 1970s. Arnold continued their expanded production, with new models until the early 1990s.
On Max Ernst's 1976 retirement, Arnold employed perhaps 200 to 250 people, using three facilities in the Nurnberg area. The Company continued under family control until 1995, when Arnold went into bankruptcy and was sold to Rivarossi of Italy. Rivarossi, in turn, also went bankrupt, leading to the sale of all assets to Hornby of the United Kingdom. Production is carried out in China.
Item created by:
RoadRailer
on 2017-11-09 13:00:56. Last edited by
CNW400
on 2020-07-02 10:46:33
If you see errors or missing data in this entry, please feel free to
log in
and edit it. Anyone with a Gmail account can log in instantly.