Prototype History
: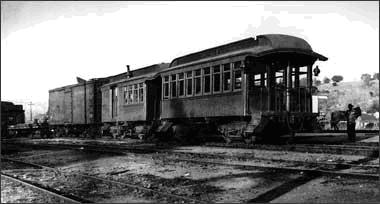 The Sierra Railway contracted with the Overton company to produce combine and coach sets used only on the Angels Camp branch where the short switchback tails limited the car length. 2-3 sets of the cars were built, in the early 1900s. Overton passenger cars are short, open platform, truss-rod cars with clerestory windows. It was natural to design the clerestory over the passenger compartment only, without continuing it over the end platforms, as there was no need for light and ventilation on the open platforms; however, it was soon found to be easier to build a full length clerestory without a complex joint at the ends. The clerestory actually weakened the structure of the car, as well as adding top-weight and cost. As far as we can tell, 'Overton' has become a sort-of generic term for early passenger cars with the above features.
Road Name History
:

The CP was established in 1861 by a group of California businessmen: Huntington, Hopkins, Crocker and Stanford. These men were given the collective name the Big Four (no relation to the Big Four route of the Cleveland Cincinnati Chicago & St. Louis Railroad.) CP was to build from Sacramento, California over the Sierra Nevada Mountains to Virginia City, Nevada. The following year, Congress expanded the mission of the CP to continue building east and meet the Union Pacific that would be building west to form the first transcontinental railroad. Construction began in 1863. They reached the Nevada state line in 1867 and in May of 1869 met the Union Pacific in Utah.
With the golden spike driven, CP turned west. They established a subsidiary called Western Pacific (unrelated to the Western Pacific that would later build from the Bay Area to Utah) and acquire the California Pacific to reach the San Francisco Bay at Vallejo. In 1879, CP built from Port Costa to Oakland (trains were barged from Vallejo to Port Costa until Carquinez Strait was finally bridged in 1929.) By 1870, the Big Four had gained control of the Southern Pacific and other area lines. Construction to the south was divided with some segments belonging to Southern Pacific and others to Central Pacific. The CP got as far south as Goshen Junction, about 50 miles south of Fresno.
Also in 1870, the CP bought the California & Oregon Railroad that was building north from Marysville, California. This line was pushed north through the Siskiyou Mountains to a connection with the Oregon & California Railroad at Ashland, Oregon. The Southern Pacific then bought the O&C. By 1884, the operational boundaries between Central Pacific and Southern Pacific were blurred. That year, the companies were re-organized and Central Pacific's railroad was leased to Southern Pacific. SP continued to add to the CP network. The last of the Big Four died in 1900 and control of the SP and CP was acquired by E.H. Harriman. The last additions to the CP system were the Natron Cutoff and the Modoc Line, both built in the 1920s. It was common during this period for CP equipment to be lettered Southern Pacific and even carry SP reporting marks but have either a small C.P. or even CENTRAL PACIFIC lettering (3" or smaller in a corner of the car side.) Following the breakup of the Harriman empire, Southern Pacific fought to hold on to the Central Pacific. The two were so entangled in their routes down the Central Valley and north into Oregon that splitting them would have been unworkable. Central Pacific remained a paper railroad under the Southern Pacific flag until finally merged out of existence in 1959.
Thanks to Craig Ross of
Bluford Shops
for this history.
Brand/Importer Information
:

MDC Roundhouse was founded in California in 1938 and relocated in 1993 to Carson City, Nevada due to statewide restrictions on painting. MDC Roundhouse was a producer of both RTR (Ready-to-Run) and kit versions of N Scale rolling stock as well as RTR locomotives. They entered the N scale market in 1979 with a Thrall Hi-Side Gondola and a Hi-Cube Single Door Box Car. MDC Roundhouse was purchased by Horizon Hobbies in June of 2004, when its owner since 1938 C. H. Menteer retired, and merged into their Athearn line.
Unlike many of their contemporaries which contracted with European firms to produce their products, MDC made their own toolings. They made several popular body styles and produced them for road names that many other vendors (even Micro-Trains) wouldn't touch. This made them popular with modelers. Also, their un-assembled "kits" permitted a lower price point so they were popular with "runners" as well as "modelers".
Of particular interest was the attention given to modern 50 foot steel boxcars. They made some attempt to accurately mold the differences into distinct models to represent each of the major prototype manufacturers products. They have distinct toolings not only for the different products from FMC, BFF and PS, but also multiple models for each of these manufacturers including "standard" vs "Youngstown" doors and "waffle" vs. "rib" sides. In total they produced 13 different versions of the 50 foot steel boxcar.
Item created by:
gdm
on 2017-12-04 17:49:00. Last edited by
scottakoltz
on 2020-06-14 19:07:54
If you see errors or missing data in this entry, please feel free to
log in
and edit it. Anyone with a Gmail account can log in instantly.