History: The Powder River Basin is a hot bed of coal activity. There is more coal run out of this one area than all other areas of the US combined. It is an amazing railfan opportunity, as there is train after train after train of 100+ cars leaving the basin for power plants all over the country. The trains pull through a mine and are flow loaded, with the train continuously moving at very slow speed, while the loader operator drops up to 110 tons of coal into each aluminum car. It is an awesome site to see. The flow loader piles the coal into the car, and each load settles to it's own shape. At the other end of the chain, many of the power plants or shipping docks (yes, some of this high quality cleaner burning coal goes overseas, too) unload the cars by rolling them over, while they are still coupled in the train. This is accomplished by use of a rotary coupler, which needs to be oriented correctly in the train in order to work. The orientation is accomplished visually by the unique colored end, or rotary end on the car. You will find these trains anywhere along their route with all of the rotaries lined up in the same direction. Each car is equipped with one rotary coupler, and one fixed coupler (the exceptions are the double rotary cars, which we'll get to in a second), so that the car can be rolled over without uncoupling. The most recent version of the car is constructed of aluminum for weight and strength reasons. The side stakes are a box shape of aluminum, and have distinctive crisp square corners. The earlier version of the car was made in steel, with folded steel "hat section" stiles that were thinner and rounder. Johnstown America is a pioneer in getting the most out of their materials.

When they introduced the revolutionary original all steel construction Bethgon, they started a change in the way railroads thought about coal transportation. With the Coalporter, the revolution continued. Now they are working on even more advanced systems to deliver clean fuel to America's electric plants. With their innovations, the Twin Tub has become one of the dominant coal conveyances in modern railroading. Certainly it is distinctive seeing 105 car unit trains on the rails. The cars on the road today are divided into several types. The railroad trains, like BNSF, and Norfolk Southern, are contract trains. They transport on routes that they have bid for and service with a rotating pool of equipment. The power company trains are owned or leased specifically by a particular power company, and run on a dedicated route from the coal mine to the power plant and back. From time to time, the power plant will require more coal than their owned equipment is capable of carrying, and they will lease or hire additional cars. These may come from a leasing organization (Transisco, Systems Fuels, or First Union), a railroad, or another power plant that may have over capacity. Portland General Electric is a good example of leasable trains. The Portland Rose cars often sit idle when local hydro electric power plants are generating at full capacity. At these times, the cars get leased out to other power companies at favorable rates. It is not unusual to see a train full of Portland Rose cars on it's way to San Antonio or St Louis when the Pacific Northwest has full rivers! The double rotary cars ride next to the locomotives or at any position where the train may need to be pulled in both directions to unload. If the unloader is placed on a stub track, at the end of the line, or on a wye, the loco may be tied onto either end, making it impossible to predict which way to order the cars (rotary first or non-rotary first). In these instances a double rotary is used. They are very distinctive, as whatever color is used to indicate a rotary coupler is visible on both ends. In the case of the PGEX cars, each end is equipped with colored panels and the four color rose.
Railroad/Company
: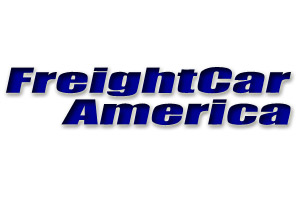 FreightCar America—the home of the aluminum bodied railcar, is proud of its heritage of designing and building highly productive railcars. And we have good reason. FreightCar America has been manufacturing quality railcars since 1901. The generations of employees responsible for creating its reputation for quality have made FreightCar America the largest North American manufacturer of aluminum bodied railroad freight cars used to haul coal. FreightCar America is now using its design knowledge, enhanced production facilities, and unequaled experience in aluminum bodied railcar manufacturing to expand its product line to include a wide variety of freight cars and to provide superior value to its customers.
Quality at FreightCar America is not just an idea—it's the high degree of excellence every FreightCar America employee is focused on achieving. FreightCar America is committed to building quality freight cars for its valued customers.
Item Links:
We found: 1 different collections associated with
Rail - Rolling Stock (Freight) - Gondola - Bathtub, Johnstown Twin Tub
Item created by:
gdm
on 2018-02-03 10:38:52
If you see errors or missing data in this entry, please feel free to
log in
and edit it. Anyone with a Gmail account can log in instantly.