Specific Item Information: One side of caboose was painted in a reverse image of the other side.
Model Information: This is a model of a steel offset-cupola caboose made in Yugoslavia by Mehano. It was first produced for Life-Like in the 1970s. Life-Like dropped it in the 1990s favor of a Chinese-made eight-window cupola caboose. Model Power became the new importer after that. These models ultimately vanished in the late 1990s (probably due to all the conflict in the former Yugoslavia).
Caboose underside reads Yogoslavia.
Prototype History
: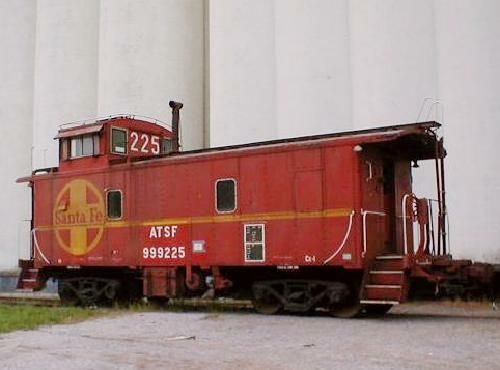 The origins of the railroad caboose appear to date back to the 1840s when Nat Williams, a conductor of the Auburn & Syracuse Railroad (a later affiliate of the New York Central) became fed up with cramped and uncomfortable quarters to do paperwork (a common job of the conductor, whose responsibility is general oversight and control of a train, passenger or freight), which was usually done in either a free space of a passenger car or combine/baggage car. To fix this problem, Williams found an unused boxcar and using a simple box and barrel, as a seat and desk, set up shop in the car to do his duties. Not only did he find out he had plenty of room to work but also figured that he could use the unused space to store tools (flags, lanterns, spare parts, etc.) and other essentials to have on board whenever needed (such things become commonly stored on the caboose).
Perhaps the most striking feature ever applied to the railroad caboose was its cupola. According to the story, conductor T.B. Watson of the Chicago & North Western in the 1860s reportedly used a hole in a boxcar's roof (which he was using as a caboose) to get a better vantage point of the train ahead. It is said that Watson was amazed by the view afforded from the position being able to not only see the train ahead but also from all sides, and to the rear as well. He apparently convinced C&NW shop forces to construct a type of open observation box onto an existing singe-level caboose with windows all around where one could sit and view their surroundings. The rest, as they say, is history and the common cupola was born.
Steel Cabooses replaced their wood-sheathed brethren after the second world war when the steel glut made the production and maintenance of steel cabooses far more efficient than wooden models. With the advancement of the End-of-Train device, cabooses slowly began to fall out of favor. However, in the early 2000's, "shoving platforms" began to appear as a place to safely house a crew when a reverse move was required. Instead of riding on the side of a freight car, the crew member now has a safe place to stand, while guiding the rear of a reverse move.
Road Name History
:

The NTRAK organization was founded in 1973. Its mission is to provide a set of specifications for N Scale modular layouts.
NTRAK modules are designed to bring model railroading to the public at conventions, exhibits, and shopping malls. In the past a person wanting to see model trains in operation had to seek out a club or home layout that was open to the public. These layouts were often designed for the convenience of the owners and operators, and not for public viewing. The modular layouts have the flexibility to be fitted into many different size and shape areas. They offer close up viewing and maximum train action. Long trains passing each other are always attention getters and are a feature of the NTRAK layouts. While designed for large public display layouts, the NTRAK modules are being used for home layouts and for club layouts as well. For the modeler, the NTRAK modules offer a number of advantages over a fixed layout. We are such a mobile society and the modules make it very easy to move a layout from one home to the next without destroying all the work that went into it. Our smaller homes, apartments, and mobile homes all lend themselves to N scale layouts. Persons who want to run longer trains have the opportunity to take a module to one of the many NTRAK meets during the year and to be part of a large layout. There they can run their longer trains and meet other N scale modelers.
Brand/Importer Information
:

Ak-Sar-Ben Hobby Co
Information on AkSarBen Hobby and their history is sketchy at best. Of course, AkSarBen is Nebraska spelled backwards so one might assume that they got their start in the Husker state. The most recent evidence of their existence, however, was in the 2010 Model Retailer Hobby Industry Directory listing them in Jacksboro, TN. The phone number listed is disconnected, so, who knows for sure? What is known is that AkSarBen Hobbies was owned by Allen Miller and got their start in the 1980's producing very high quality custom, limited edition HO and N Scale products. They probably have left the model train business for more than 20 years ago.
Manufacturer Information
:

Mehano is a Slovenian toy manufacturer located in Izola, Slovenija. The company was founded as Mehanotehnika and was producing toys starting in June 1953. They first exhibited at the Nuerenberg Toy Fair in 1959. Mehano produced a number of different locomotives and rolling stock models for the North American market in the 1960s and 1970s. Companies such as Atlas and Life-Like imported a huge variety of their products. Generally they can easily be recognized as they are stamped "Yugosolavia" on the underframe. The company was formally renamed "Mehano" in 1990. Izola today is part of the country of Slovenia since the breakup of Yugoslavia.
Mehano filed for bankruptcy in 2008, but still continued to exist and operate. Since 2012, Mehano products are distributed by Lemke.
Item created by:
Alain LM
on 2018-02-11 08:54:21. Last edited by
gdm
on 2020-07-24 07:29:17
If you see errors or missing data in this entry, please feel free to
log in
and edit it. Anyone with a Gmail account can log in instantly.