Specific Item Information: From series SRCX 900-919, built November 1977. As-delivered scheme with billboard "Sid Richardson Carbon Co." lettering, and ACI labels. 28 roof hatches.
Model Information: ScaleTrains first announced this model in 2017 and first delivered it in March of 2018. It is a highly detailed model of a specialized 3-bay cover hopper car. It features: a 1970s carbody featuring 10 column-style posts per side and unique double hip roofline, Separate granuflator plumbing, Per prototype: 22 or 28 roof hatches, Photo-etched stainless steel running boards and end platforms, Separately-applied ladders, Finely-detailed underbody brake detail, Body mounted semi-scale plastic Type E knuckle couplers, All-new ASF Gould-cast 70-ton Ride Control Trucks with finely rendered raised foundry data, 33" machined metal wheels, Coupler cut levers, Trainline hoses, Intricate brake plumbing, Color matched to Tru-Color Paint colors whenever possible, Printing and lettering legible even under magnification.

The knuckle couplers at first appear to be McHenry's due to the outside spring, but in fact seem to be a new design. We tested them by coupling them to a Micro-Train model with body-mount couplers and they played nicely together. They seem to be somewhat delicate, as one of the two sample models that arrived had a broken coupler. The detail is excellent, but one of the half-ladders literally fell off as I rotated the car in my hands. I am very leery of actually running these things.
Prototype History
: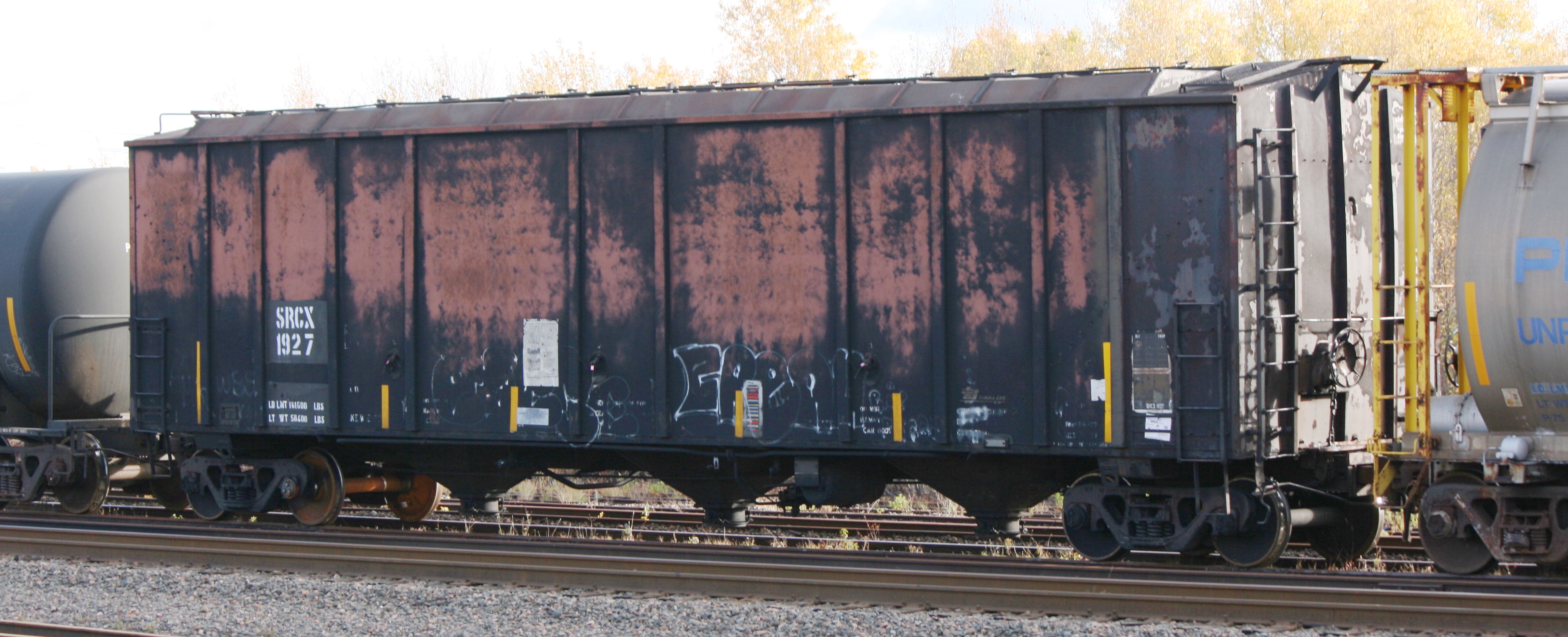 Found throughout North America, these unique freight cars are commonly found in large groups near major carbon black producers or users. They can also be seen singularly or in small blocks of cars in mixed freight trains. Both prototypes were painstakingly researched from field documentation, photographs, reference books, and builder drawings.
During the 1970s, Thrall Manufacturing Co. introduced a new railcar designed for handling carbon black. These 3-bay, 70-ton capacity covered hopper cars boasted a volume of 5750 cubic feet, and measured 51' over their ends. Unlike traditional covered hopper designs, where the end slope sheets are plainly visible, these cars featured an enclosed, boxy design, which was a necessity due to a special design feature to aid in the unloading of carbon black.
At the inside ends of the car are special inflatable bags, called "granuflators". When the car is loaded, they lay flat inside the car. When inflated with pressurized air, the granuflators expand, and push the carbon black towards the outlets. As typical with cars designed to haul carbon black, they featured tight-sealing 16" round roof hatches (22 or 28 depending upon customer specifications), sampling spigots on the car sides, and "butterfly" type outlet gates.
The "1970s" version of the 5750 represents production from approximately 1977 until 1979. This car features ten column-style posts per side and a unique roofline. While the ends are peaked and the end roof panels feature a single slope, the remaining roof panels feature a dual slope and a steep shoulder where it meets the side plate. Many of these cars are still in service today.
Road Name History
:

Sid W. Richardson, a successful oil wildcatter with wells in Texas, New Mexico, and Louisiana, founded Sid Richardson Company in 1947 to enhance the value of his newly discovered Keystone Gas Field in West Texas. A year later he formed Sid Richardson Carbon and Gasoline Co. when he purchased a channel black plant in Odessa, Texas. In partnership with his nephew, Perry R. Bass, he began a sustained period of expansion. While the Odessa plant eventually closed, the company became a leading manufacturer of oil furnace carbon black by building plants in Big Spring, Texas (1961) and Addis, Louisiana (1968). This was followed by the purchase of the Borger, Texas plant (1986). In addition to these manufacturing facilities, a research center was built in Fort Worth, Texas (1972) and a pilot plant in Big Spring, Texas (1982). Sales, Customer Service and Technical Service are located in Akron, Ohio. Corporate headquarters are located in downtown Fort Worth, Texas.
Sid Richardson Carbon & Energy Co. has demonstrated a proven record of steady and successful growth through continued expansion and process/product improvement. Two of the manufacturing facilities produce 55 MW of electricity through cogeneration and exports approximately 50% to the deregulated market. Today, the company provides an annual production capacity in excess of 970 million pounds (440 thousand metric tons) of furnace carbon black, including over 40 grades of ASTM and specialty carbon blacks to more than 80 companies.
Brand/Importer Information
:

ScaleTrains.com, Inc. is an upstart HO and N Scale model manufacturer that was founded by a team with more than 125 years of accumulated experience in the model railroad hobby and industry.
ScaleTrains is specifically focused on the tiny details in the printing and quality of the construction. The four friends who founded the company are all avid modelers themselves. Their factory is located in Tennessee. Unlike most other companies, they offer a range of different levels of complexity in their offerings so as to be able to provide products for both the budget-conscious collector as well as the detail-focused model enthusiast without compromising on quality for either.
They range covers the following, by increasing level of detailing:
Operator™ trains are built for modelers who enjoy running high-quality, realistic trains at an affordable price. Designed from builder's drawings and photographs, Operator models have fewer factory-applied parts and simplified printing. For added versatility, super-detail parts are available separately.
The Rivet Counter™ line strives to create the most accurately detailed models imaginable. The real-world counterpart is meticulously researched to ensure prototype fidelity. Each model features numerous factory applied parts including roadname and road number specific details whenever possible.
Museum Quality™ models are historically accurate replicas of the most famous locomotives in North American railroading history. Exhaustive research and a commitment to perfection combine to create the ultimate scale model. Museum Quality trains establish new standards which make them just as legendary as the original.
Item created by:
gdm
on 2018-03-13 12:10:26
If you see errors or missing data in this entry, please feel free to
log in
and edit it. Anyone with a Gmail account can log in instantly.