Specific Item Information
: Series: Conrail 6000-6021
Era: Early to Mid-1990s
As-delivered "skinny" cab numbers
Retrofitted "inverted-L" nose grab irons, and large vertical grab iron on right side long hood end
Phase III carbody with brakewheel, and early radiator exhaust grilles (6-panel)
GSC trucks
Separately applied details include brake cylinders, air piping, and handbrake chain
Small plow mounted on the front pilot
Large front anticlimber
Large and small Sinclair "Excalibur" cab roof antennas (Comm. and EOT)
Leslie RSL-3R horn mounted on offset pedestal on engine compartment
"Bathtub" exhaust silencer
Model Information
: Features:
Directional LED headlights
Printed LED lighted number boards
Phase Ib, II, and III carbodies with correct panels and grilles per variant
Standard (2-vent) or high-capacity (3-vent) dynamic brakes per prototype
Early (6-panel) or late (4-panel) radiator exhaust grilles
Wheel handbrakes
GSC truck sideframes
GE "nub" tread plate on walkways
Highly-detailed 4,400 gallon fuel tank with fuel fillers and gauges
Air reservoirs with separate plumbing
Accurately profiled frame with separately applied plumbing and cabling
Cab interior
Factory-applied wire grab irons, snowplow, spare knuckles, trainline hoses, 3-hose MU clusters, MU cables, uncoupling levers, windshield wipers, mirrors, air reservoirs, underframe bell, brake wheel, and more.
Body mounted ScaleTrains.com plastic semi-scale E Type knuckle coupler All-wheel drive
All-wheel electrical pick-up
Dual flywheels
Motor with 5-pole skew wound armature
Printing and lettering legible under magnification
Operates on Code 55, and 80 rail
Packaging safely stores model
Minimum Radius: 9 ¾"
Recommended Radius: 11"
Here is what ScaleTrains.com say about this model:
DCC Information: Available either DCC-ready (Next18 (NEM 662) interface) or factory-equipped with ESU LokSound.
DCC & sound equipped locomotives feature:
- ESU-LokSound Next18 Select Micro DCC and sound decoder with "Full Throttle"
- "Sugar cube" type speaker
- Accurate GE V16 7FDL-16 prime mover and auxiliary sounds, horn, bell, and more
- Operates on both DC and DCC layouts

Prototype History
: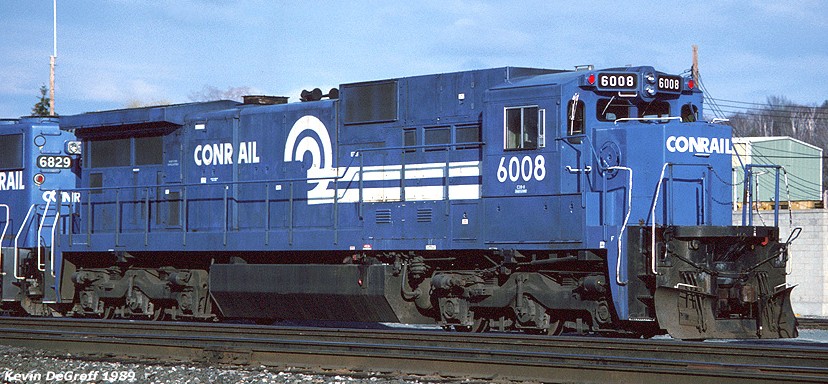 The GE C39-8 is a six-axle, 3,900hp diesel locomotive built from 1984 to 1987 with a total of 161 (including a coal-powered prototype) built. The C39-8 (originally, yet unofficially designated as the "C39-S7") was the first type of six-axle diesel locomotive produced by GE since the C30-7 and C36-7 diesel locomotives from GE's "Dash 7" line.
Conrail and Norfolk Southern were the only two railroads who originally ordered the model. CSX later inherited from a small fleet of former Conrail units. All of the surviving C39-8 units currently remain in service on various shortline, leasing, and rebuilding companies, most notably NREX and the Pennsylvania Northeastern shortline (subsidiary of the New Hope And Ivyland Railroad), as well as on South American railroads.
The GE C39-8 was essentially the six-axle equivalent of the four-axle, B39-8. Both featured nearly identical, updated carbody. Perhaps the most noticeable exterior difference with the model (and all "Dash 8s") was the roughly 10-foot "bulge" directly behind the cab that gave the roof-line a very irregular shape. This new featured simply housed the dynamic brakes with the radiators located in the rear of the carbody.
Read more on:
-
Wikipedia
-
American-Rails.com
-
Trains And Locomotives Wiki
-
Locomotives Wiki
Road Name History
:

The Consolidated Rail Corporation, commonly known as
Conrail
(reporting mark CR), was the primary Class I railroad in the Northeast U.S. between 1976 and 1999. Conrail is a portmanteau of "consolidated" and "rail" from the name of the company.
The U.S. federal government created Conrail to take over the potentially profitable lines of multiple bankrupt carriers, including the Penn Central Transportation Company and Erie Lackawanna Railway. With the benefit of industry-wide regulatory requirements being reduced (via the 4R Act and the Staggers Act), Conrail began to turn a profit in the 1980s and was turned over to private investors in 1987. The two remaining Class I railroads in the East, CSX Transportation and the Norfolk Southern Railway (NS), agreed in 1997 to split the system approximately equally, returning rail freight competition to the Northeast by essentially undoing the 1968 merger of the Pennsylvania Railroad and New York Central Railroad that created Penn Central. Following Surface Transportation Board approval, CSX and NS took control in August 1998, and on June 1, 1999, began operating their portions of Conrail.
Brand/Importer Information
:

ScaleTrains.com, Inc. is an upstart HO and N Scale model manufacturer that was founded by a team with more than 125 years of accumulated experience in the model railroad hobby and industry.
ScaleTrains is specifically focused on the tiny details in the printing and quality of the construction. The four friends who founded the company are all avid modelers themselves. Their factory is located in Tennessee. Unlike most other companies, they offer a range of different levels of complexity in their offerings so as to be able to provide products for both the budget-conscious collector as well as the detail-focused model enthusiast without compromising on quality for either.
They range covers the following, by increasing level of detailing:
Operator™ trains are built for modelers who enjoy running high-quality, realistic trains at an affordable price. Designed from builder's drawings and photographs, Operator models have fewer factory-applied parts and simplified printing. For added versatility, super-detail parts are available separately.
The Rivet Counter™ line strives to create the most accurately detailed models imaginable. The real-world counterpart is meticulously researched to ensure prototype fidelity. Each model features numerous factory applied parts including roadname and road number specific details whenever possible.
Museum Quality™ models are historically accurate replicas of the most famous locomotives in North American railroading history. Exhaustive research and a commitment to perfection combine to create the ultimate scale model. Museum Quality trains establish new standards which make them just as legendary as the original.
Item created by:
Alain LM
on 2018-07-01 05:26:38. Last edited by
CNW400
on 2020-07-20 13:21:57
If you see errors or missing data in this entry, please feel free to
log in
and edit it. Anyone with a Gmail account can log in instantly.