Specific Item Information: A + B units, both powered
Model Information: Model introduced in 2002, with Rapido couplers and a dummy knuckle front coupler. Very limited and unique run.
It re-used the same chassis structure introduced by Life-Like for its 2000 Alco FA-1/FB-1 and 2001 F-M C-Liner, though longer.
Sold in A/B pairs or as A Unit singletons.

Features:
- Modern split-frame design.
- Non-Directional bulb headlight on A units
- 12 Wheel electrical Pick-Up with Heavy Metal Chassis
- Five-Pole, Skew Wound Armature motor w/dual machined flywheels
- dummy knuckle front coupler on A units
DCC Information: No provision for DCC.
Prototype History
: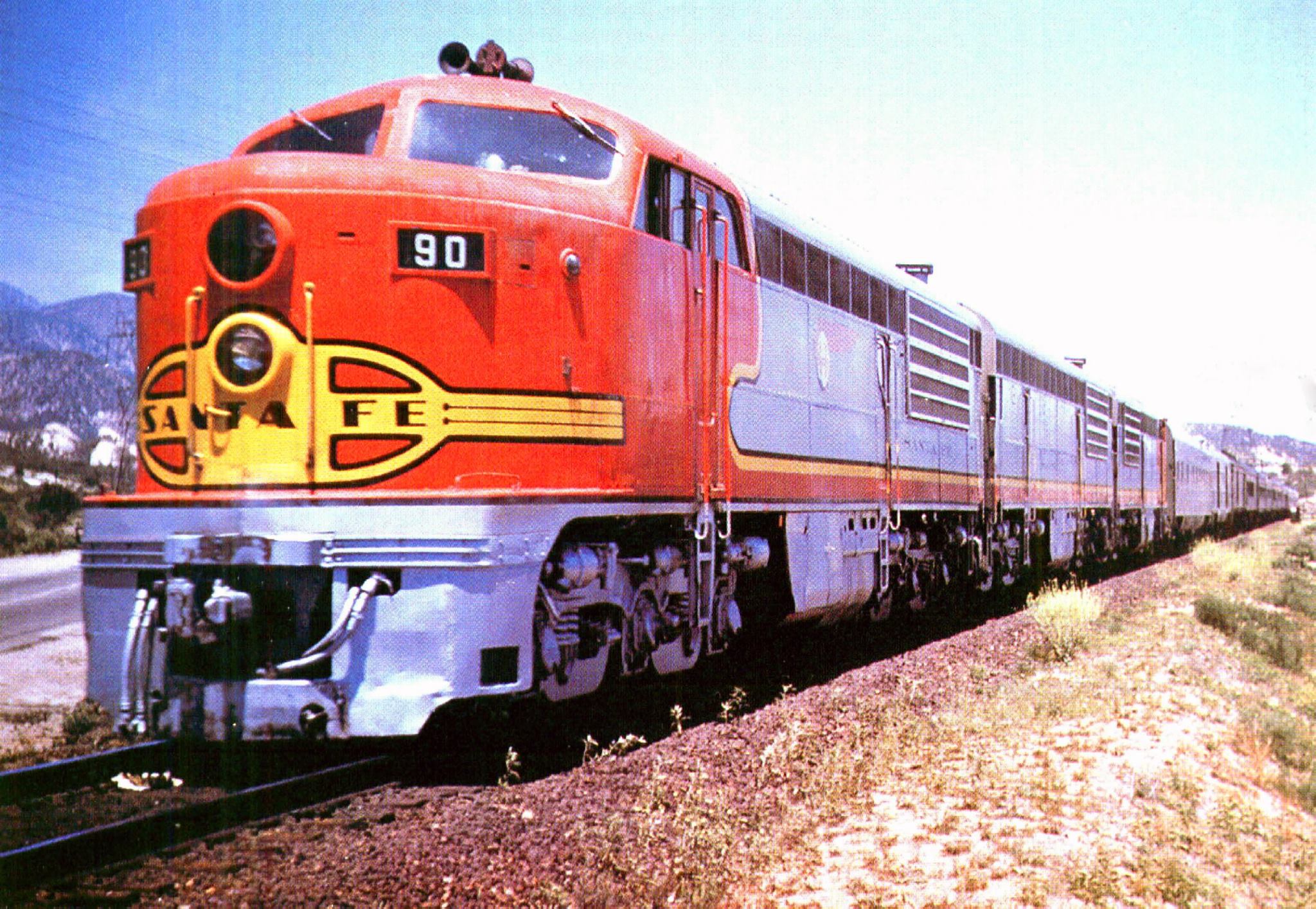 The Erie-built was the first streamlined, cab-equipped dual service diesel locomotive built by Fairbanks-Morse, introduced as direct competition to such models as the ALCO PA and EMD E-unit. As F-M lacked the space to manufacture the units in their own plant, the work was subcontracted out to General Electric, which produced the locomotives at its Erie, Pennsylvania, facility, thereby giving rise to the name "Erie-built."
The unit's 2,000 hp (1,500 kW), ten-cylinder opposed piston engine prime mover provided ample power to its A1A-A1A wheel set. F-M retained the services of renowned industrial designer Raymond Loewy to create a visually impressive car body for the Erie-built. The initial windshield configuration utilized rectangular glass panes, whereas those units manufactured after March, 1947 received windshields with a curved upper contour. Most units rode on conventional General Steel Castings trucks, but many were fitted with specialized, fabricated, assemblies. Eight of nine KCS Erie-builts were later repowered with an EMD 567 series diesel engine rated at 1750 horsepower.
82 cab-equipped lead A units and 29 cabless booster B units were built for American railroads between December 1945 and April 1949. Afterward, F-M continued to market dual service streamlined units under its Consolidated line of locomotives, more commonly referred to as "C-liners".
No FM Erie-Built units are known to survive today.
From Wikipedia
Read more on
American-Rails.com
Full F-M Erie-Built data sheet on
The Diesel Shop
.
Road Name History
: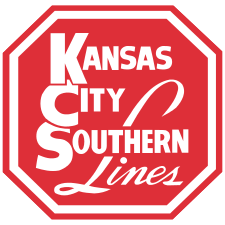 KCS began (with a different name) in 1890 under the direction of Arthur Stilwell for the purpose of building a railroad from Kansas City directly south along the Missouri – Kansas, Arkansas – Oklahoma, and Louisiana – Texas borders to the Gulf of Mexico. At the point where the railroad met the Gulf, Stillwell built a port complex and named it after himself, Port Arthur, Texas. Two years later, the company defaulted on a loan, Stilwell was kicked out and they changed the name of the railroad to Kansas City Southern. Stilwell went on to build the Kansas City Mexico & Orient.
The KCS steam fleet was, well, peculiar. They were the only railroad to use 0-6-6-0's, not as heavy switchers, not as pushers, but as mainline road engines. 2-8-8-0's were also used for heavy road service with Santa Fe types and Consolidations filling out the freight roster. 11 Pacifics handled the passenger trains. They were odd first in that they had 2 sand domes (rare on passenger power.) Second, they had a high mounted headlight but without a number plate in the middle of the smokebox door, giving the front a strange "faceless" appearance. A few of these Pacifics assigned to the Kansas City – Port Arthur "Flying Crow" were equipped with air horns that sounded like a cawing crow… Really! KCS also had 2 Shays used to muscle cars up and down the 10% grades of many Kansas City industrial spurs. (If you've been to Kansas City, you will understand why.) The pinnacle of the fleet was the J class 2-10-4's, purchased to replace the 0-6-6-0's in 1937. These were the last Texas types built by Lima and had sleek, jacketed boilers and enclosed cabs.
In 1939, the KCS acquired the Louisiana & Arkansas which ran from Dallas east to Shreveport and then New Orleans. Actually, it was the owners of the L&A that bought the KCS but for charter reasons, the deal was arranged so that KCS took control of L&A. L&A remained semi-autonomous in an SP-Cotton Belt sort of way. This brought the KCS system to over 1,660 miles (between Grand Trunk Western and Delaware & Hudson in relative size.) The L&A image began to fade away in the 1960s but it wasn't fully merged into KCS until 1992.
Dieselization came primarily from EMD with E's pulling the Flying Crow and Southern Belle, and F's in freight service. These were delivered in the classic red, black and yellow with red being dominant on the freight units and yellow on the passenger units. A-B-B-A sets of Erie Builts were also used in freight service but were notorious for breaking knuckles on the hog-back hills of the Ozarks.
Switchers and first generation hood units were delivered in black with white trim (much like Illinois Central) with the name spelled out on the long hood. Hood units and switchers came from EMD, Alco, Baldwin and FM.
In the 1960s, the paint scheme was simplified to a solid red. This became known as Deramus Red after the line's CEO William Deramus II. Deramus's son (William III) was head of Chicago Great Western and later M-K-T, both of which used similar reds. While William II was a reasonably adept CEO, his son William III was less successful, at least as far as the railroad was concerned. Under William III, track deteriorated and customers fled, which in turn permitted him to cut more service and staff. Fewer, longer trains were dispatched. Meanwhile William III was pouring available cash into diversifying into less regulated industries. By the 1970s, KCS faced a triple threat. Track condition was at an all time low, the first generation diesels were wearing out and tonnage was increasing. A new CEO began to turn the railroad around. The red paint scheme was dumped for white with red lettering. Grain moving down from Kansas City was joined by petro-chemicals moving up from the coast. Powder River Coal joined the mix during this period.
KCS's diversified holdings, including the Janus Fund, made KCS ripe for takeover. In 1985, leftist fundraiser George Soros attempted a hostile takeover but was foiled first by a real estate developer and then by a Deramus successor who had since moved to Hallmark Cards and then bought a large block of KCS stock.
Now a rousing success, KCS spun off Janus and other holdings and kept the railroad because that is where the REAL money was! In 2006, the Southern Belle red, yellow, and black paint scheme was re-introduced. A version of it was even applied to some new KCS freight cars (KCS freight cars had been notorious dull for decades with few having anything more than reporting marks to trumpet their owner.)
Brand/Importer Information
:

Life-Like Products LLC (now Life-Like Toy and Hobby division of Wm. K. Walthers) was a manufacturer of model railroad products and was based in Baltimore, Maryland.
It was founded in the 1950s by a company that pioneered extruded foam ice chests under the Lifoam trademark. Because ice chests are a summer seasonal item, the company needed a way to keep the factory operating year round. As model railroading was becoming popular in the post-war years, they saw this as an opportunity and so manufactured extruded foam tunnels for model trains. Over the years, Life-Like expanded into other scenery items, finally manufacturing rolling stock beginning in the late 1960s. At some point in the early 1970s, Life-Like purchased Varney Inc. and began to produce the former Varney line as its own.
The Canadian distributor for Life-Like products, Canadian Hobbycraft, saw a missing segment in market for Canadian model prototypes, and started producing a few Canadian models that were later, with a few modifications, offered in the US market with US roadnames.
In 2005, the company, now known as Lifoam Industries, LLC, decided to concentrate on their core products of extruded foam and sold their model railroad operations to Wm. K. Walthers.
In June 2018, Atlas and Walthers announced to have reached an
agreement
under which all Walthers N scale rolling stock tooling, including the former Life-Like tooling, will be purchased by Atlas.
Read more on
Wikipedia
and
The Train Collectors Association
.
Item created by:
Alain LM
on 2018-08-01 11:40:47. Last edited by
Alain LM
on 2020-10-04 15:29:39
If you see errors or missing data in this entry, please feel free to
log in
and edit it. Anyone with a Gmail account can log in instantly.