Specific Item Information: This is a joint venture between deLuxe and The N Scale Architect. This easy to build scene consists of a cast metal sanding tower, pump house (a lazer cut wood kit), plumbing, and a specially printed Maintenance of Way engine sand service covered hopper in one of 4 different road names. Not to be confused with deLuxe #104 Sandloading Facility (used to store engine sand and itself a nice complement to this new iNstant sceNe,) this kit features the actual loading spouts for filling locomotives with fresh sand. The covered hopper included is meant to be switched in and out of your engine terminal supply track and hauled off to the quarry for another load of clean sand.

The Boston & Maine car is gray and black with black, white and yellow printing.
The D&H car is silver with blue, black, white and red printing.
The SP car is gray with red, black and white printing.
The UP car is brown with silver, black, white and red lettering.
Road Name History
: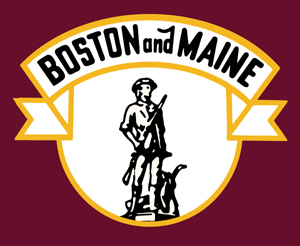 The Andover and Wilmington Railroad was incorporated March 15, 1833, to build a branch from the Boston and Lowell Railroad at Wilmington, Massachusetts, north to Andover, Massachusetts. The line opened to Andover on August 8, 1836. The name was changed to the Andover and Haverhill Railroad on April 18, 1837, reflecting plans to build further to Haverhill, Massachusetts (opened later that year), and yet further to Portland, Maine, with the renaming to the Boston and Portland Railroad on April 3, 1839, opening to the New Hampshire state line in 1840.
The Boston and Maine Railroad was chartered in New Hampshire on June 27, 1835, and the Maine, New Hampshire and Massachusetts Railroad was incorporated March 12, 1839, in Maine, both companies continuing the proposed line to South Berwick, Maine. The railroad opened in 1840 to Exeter, New Hampshire, and on January 1, 1842, the two companies merged with the Boston and Portland to form a new Boston and Maine Railroad.
The B&M flourished with the growth of New England's mill towns in the late 19th and early 20th centuries, but still faced financial struggles. It came under the control of J. P. Morgan and his New York, New Haven and Hartford Railroad around 1910, but anti-trust forces wrested control back. Later it faced heavy debt problems from track construction and from the cost of acquiring the Fitchburg Railroad, causing a reorganization in 1919.
By 1980, though still a sick company, the B&M started turning around thanks to aggressive marketing and its purchase of a cluster of branch lines in Connecticut. The addition of coal traffic and piggyback service also helped. In 1983 the B&M emerged from bankruptcy when it was purchased by Timothy Mellon's Guilford Transportation Industries for $24 million. This was the beginning of the end of the Boston & Maine corporate image, and the start of major changes, such as the labor issues which caused the strikes of 1986 and 1987, and drastic cost cutting such as the 1990 closure of B&M's Mechanicville, New York, site, the largest rail yard and shop facilities on the B&M system.
Guilford Rail System changed its name to Pan Am Railways in 2006. Technically, Boston & Maine Corporation still exists today but only as a non-operating ward of PAR. Boston & Maine owns the property (and also employs its own railroad police), while Springfield Terminal Railway, a B&M subsidiary, operates the trains and performs maintenance. This complicated operation is mainly due to more favorable labor agreements under Springfield Terminal's rules.
Read more on
Wikipedia
.
Brand/Importer Information
:

DeLuxe Innovations is a "wholesale manufacturer" of model trains. We manufacture scale replica train models and sell them to hobby shops and distributors worldwide. 2013 marked the 20 year anniversary of DeLuxe Innovations brand trains. There are over 25 body styles in our product line and all of the cars in our single and multi-car packs have different road numbers. DeLuxe Innovations, Inc. is owned by Dave Ferrari, founder of Squeak N Products. We are located in Midland Park, New Jersey. When Dave purchased the business it was located in Burbank, California which would have been a bit of a long commute so the move to the East Coast was planned. Our first East Coast location was in Whippany, NJ along the Whippany River.
The business was started in 1993 by George Johnsen and Roberta Liebreich in Burbank, California. They had a philosophy that just wouldn't allow using a coal car as a "stand in" for a woodchip car, or printing any and all boxcar paint schemes on a PS-1. Starting with the release of the first ever etched metal parts for a ready to run car (1994's Twinstack's metal walkways) through the full dimension underframe and etched metal roofwalk (1996's 1944 AAR Boxcar) to the challenging RoadRailer system (2000), our products have been accurate to target the modeler or enthusiast.
You can also follow DeLuxe on
Twitter
Item created by:
Powderman
on 2018-09-03 17:40:08. Last edited by
gdm
on 2021-02-25 15:51:35
If you see errors or missing data in this entry, please feel free to
log in
and edit it. Anyone with a Gmail account can log in instantly.