Series Information
: Locomotives of the World is a series of 100 dummy N gauge locomotives, for display only, released by Del Prado Editions in various countries, from 2005 to 2007. The don't have operating axles nor operating couplers, so they really are just nicely painted paperweights.
The models were released one at a time every week, but not at the same time and not in the same order in each country. We are using here the numbering of the Italian edition,
based on this source
.
Model Information: Dummy engine, for display only. This model is based on an old shell from Lima and fits on the Lima FP45 chassis.
Prototype History
: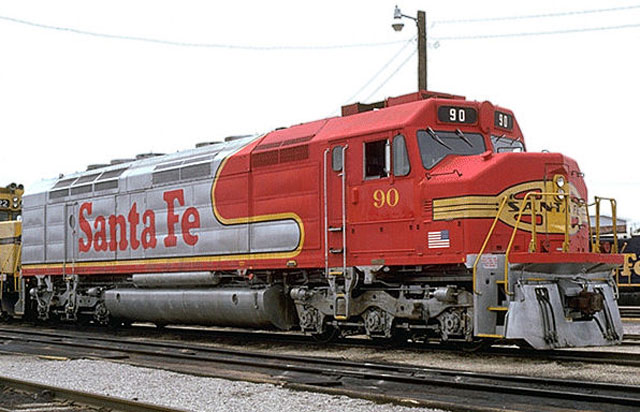 By the early 1960's the Electro-Motive Division (EMD) was at a big disadvantage. Their 567 engine, in use for over 20 years, had reached it's peak at 2.500 horsepower in a turbocharged 16-cylinder version. EMD released a new 645 engine in 1966. The most powerful locomotive using this series of engine was the SD45, powered by a 20-cylinder turbocharged 645E engine producing 3600 horsepower. Orders from railroads all over the country, especially western roads, poured in. Great Northern received the first one off the production line and Santa Fe took delivery of a 90-unit order the first year.
At the same time Santa Fe was looking to replace it's aging fleet of passenger locomotives. They wanted something more stylish than a freight hood unit with a steam generator for thier famous Super Chief train. EMD had already extended the SD45 frame and added a steam generator to the rear creating the SDP45. They responded to Santa Fe's request by adding a cowl body to the SDP45 thus creating the FP45.
Santa Fe took delivery of the first nine FP45's in December of 1967. Numbered 100-108, they were painted in the red and silver warbonnet passenger scheme with black Roman-style Santa Fe lettering on the sides. The cowl offered a cleaner engine compartment and internal walkways, both of which would lead to production of the F45, a regular SD45 with the cowl. Santa Fe acquired forty F45's in 1968, numbered 1900-1939 and delivered in the blue and yellow 'pinstripe' scheme. The second twenty were equipped with steam lines for use on passenger trains. When Amtrak took over passenger service the FP45's went into the freight pool, receiving blue and yellow paint. The pinstripe paint scheme gave way to the blue and yellow warbonnet scheme by 1980. In the early 80's all 40 FP45's and 8 F45's were rebuilt at the San Bernadino shops. During the failed merger with Southern Pacific seven FP45's and twenty F45's received red and yellow 'Kodachrome' paint. On July 4th, 1989, FP45's 5992 and 5998 were released from the San Bernadino shops as numbers 101 and 102 in the newly revived red and silver 'Super Fleet' scheme with a large Santa Fe on the sides. Two F45's were wrecked and scrapped and one was sold to Wisconsin Central while the remaining six were donated to various railroad museums. Six F45's were sold to Wisconsin Central and the remaining units went to Morrison-Knudsen as lease units with one being assigned and painted for Utah Railway.
Milwaukee Road was the other railroad that bought FP45's. Arriving in late 1968 for Hiawatha passenger service, they wore the UP yellow and gray scheme and were numbered 1-5. They differed from other F45's and FP45's as they did not have dynamic brakes installed. Even before Amtrak arrived these locomotives were re-assigned to freight service between Chicago and the Twin Cities.
Great Northern acquired fourteen F45's, numbered 427-440 and painted in the Big Sky Blue scheme, in 1969. The internal walkways were important to the GN given the winter weather on the line between the Twin Cities and Seattle. Crews no longer had to worry about ice and snow covered walkways like on their hood units. GN planned to run all of their main line freights with a F45 on the point. GN ordered an additional 12 units, which were delivered as Burlington Northern 6614-6625 in 1970. BN continued the F45 purchase in 1971 with 20 additional units numbered 6626-6645. The 46 F45's were regular power on the Chicago to West Coast trains over the former GN lines. Three of the original GN units were leased to Utah Railway for five years after being retired by BN. Two other units were sold to Susquehanna and three went first to Trancisco, then to Wisconsin and Southern, and finally to Montana Rail Link. One of the two Susquehanna units was re-sold to MRL in 1993.
EMD FP45
:
- Full data sheet on
The Diesel Workshop
.
- Read more on
Wikipedia
.
- Read more on
American-Rails.com
Road Name History
: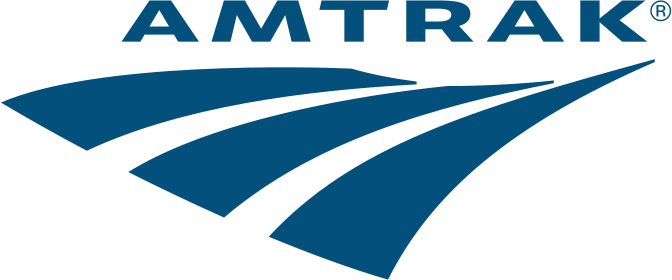 The National Railroad Passenger Corporation, doing business as Amtrak, is a passenger railroad service that provides medium- and long-distance intercity service in the contiguous United States. Founded in 1971 through the government-sponsored consolidation of most of the remaining U.S. passenger rail companies, it is partially government-funded yet operated and managed as a for-profit corporation.
Amtrak operates more than 300 trains each day on 21,300 miles (34,000 km) of track with select segments having civil operating speeds of 150 mph (240 km/h) and connecting more than 500 destinations in 46 states in addition to three Canadian provinces. In fiscal year 2015, Amtrak served 30.8 million passengers and had $2.185 billion in revenue, while employing more than 20,000 people. Nearly two-thirds of passengers come from the 10 largest metropolitan areas; 83% of passengers travel on routes shorter than 400 miles. Its headquarters is at Union Station in Washington, D.C.
The name "Amtrak" is a portmanteau of the words "America" and "trak", the latter itself a sensational spelling of "track".
Read more on
Wikipedia
.
Paint Scheme
:
Phase III, introduced in 1976, is still used on some equipment. On both passenger cars and locomotives, the outer white pinstripes were removed while the inner stripe was widened, resulting in red, white, and blue stripes of equal width. Turboliners and the LRC test train were painted in white, with the stripes at the bottom of the train. This scheme was introduced "for safety, graphic aid and saving money", as the white band was highly reflective and provided a place for car information, and the standard widths made better use of raw material.
Several types of locomotives that were acquired later were given variations on Phase III. AEM-7 locomotives had the blue stripe expanded to cover the entire lower part of the body. On Dash 8-32BWH locomotives, a deeper blue and red was used; the stripes had additional pinstripes and angled upward across the middle of the body. The similarity to the Pepsi logo led to the units being nicknamed "Pepsi Cans". Genesis locomotives had a lighter roof and narrower white stripe; the stripes angled downward on the sloped nose, and faded towards the rear. That variant was created by industrial designer Cesar Vergara, who also designed the angular bodies of the locomotives.
In October 2013, Amtrak introduced a new variant of Phase III with the production of the new Viewliner II cars, the first of which entered service in 2015. The Viewliner cars have some changes from previous Phase III passenger cars, including a red reflective stripe at the bottom and a newer ("Travelmark") logo. In January 2016, Amtrak revealed a P32AC-DM that was repainted into Phase III, similar to that of the heritage units Nos. 145 and 822, but featuring modern logos and "Empire Service" emblems on the sides. All P32AC-DMs will eventually be repainted into this scheme, with costs shared between Amtrak and the state of New York.
Brand/Importer Information
:

Del Prado is a Chinese manufacturer of toy soldiers and toy trains. Their N Scale line of locomotives do not have motors. They are dummy units, meant for display only.
Item created by:
gdm
on 2018-09-28 20:09:58. Last edited by
Alain LM
on 2021-05-27 12:11:10
If you see errors or missing data in this entry, please feel free to
log in
and edit it. Anyone with a Gmail account can log in instantly.