Specific Item Information: CP Beaver
Prototype History
: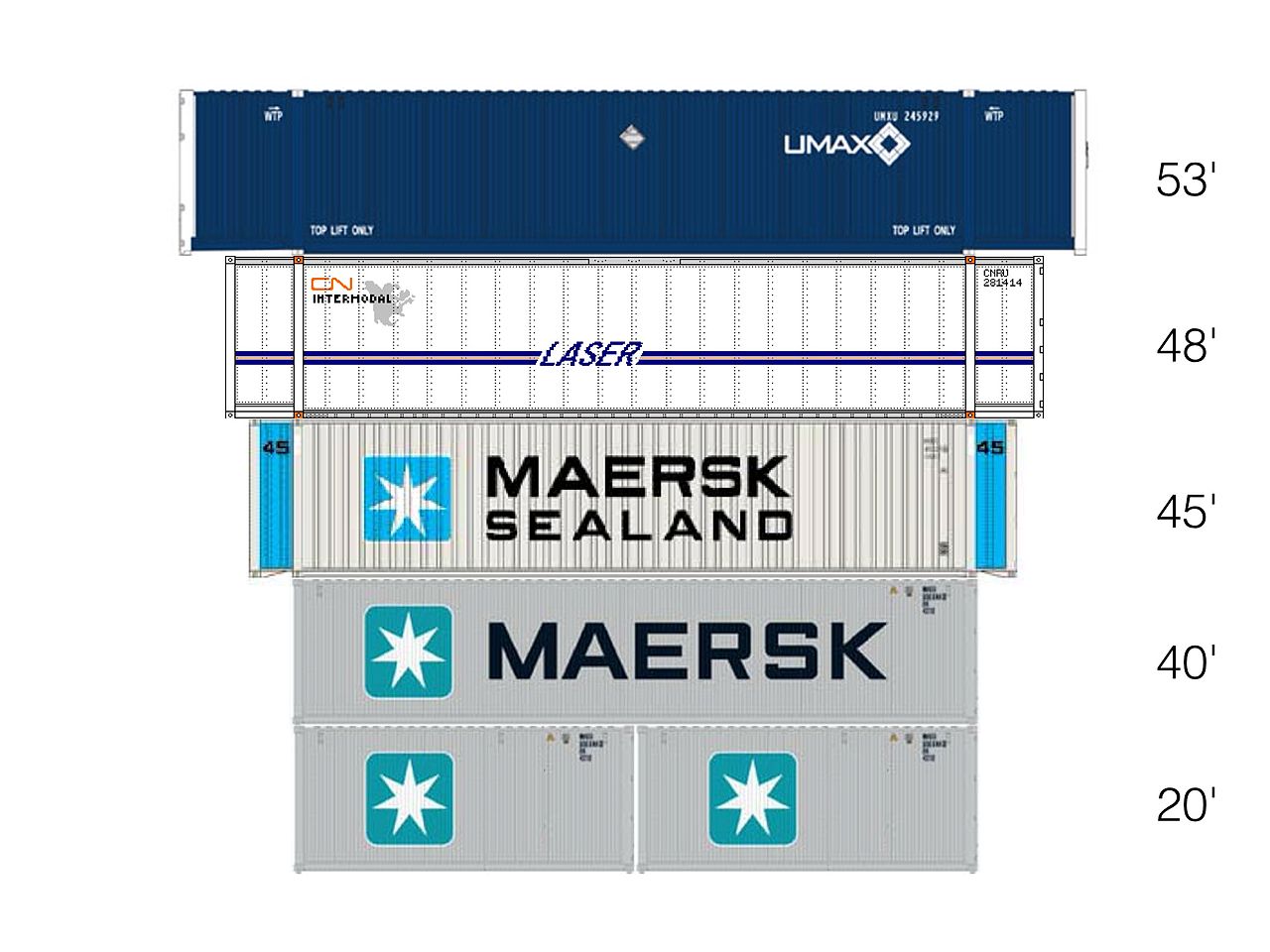 An intermodal container is a large standardized shipping container, designed and built for intermodal freight transport, meaning these containers can be used across different modes of transport – from ship to rail to truck – without unloading and reloading their cargo. Intermodal containers are primarily used to store and transport materials and products efficiently and securely in the global containerized intermodal freight transport system, but smaller numbers are in regional use as well. These containers are known under a number of names, such as simply container, cargo or freight container, ISO container, shipping, sea or ocean container, container van or (Conex) box, sea or c can.
The 48-foot (14.63 m) shipping container is a High Cube container in that it is 9 ft 6 in (2.90 m) tall on the exterior. It is 8 ft 6 in (2.59 m) wide which makes it 6 inches (15 cm) wider than ISO-standard containers. This size was introduced by container shipping company APL in 1986, and is used domestically in North America on road and rail, and may be transported on deck by ship. This size being 8 feet (2.44 m) longer and 6 inches (15 cm) wider has 29% more volume capacity than the standard 40-ft High Cube, yet the cost to move it by truck or rail are almost the same.
From Wikipedia
Road Name History
: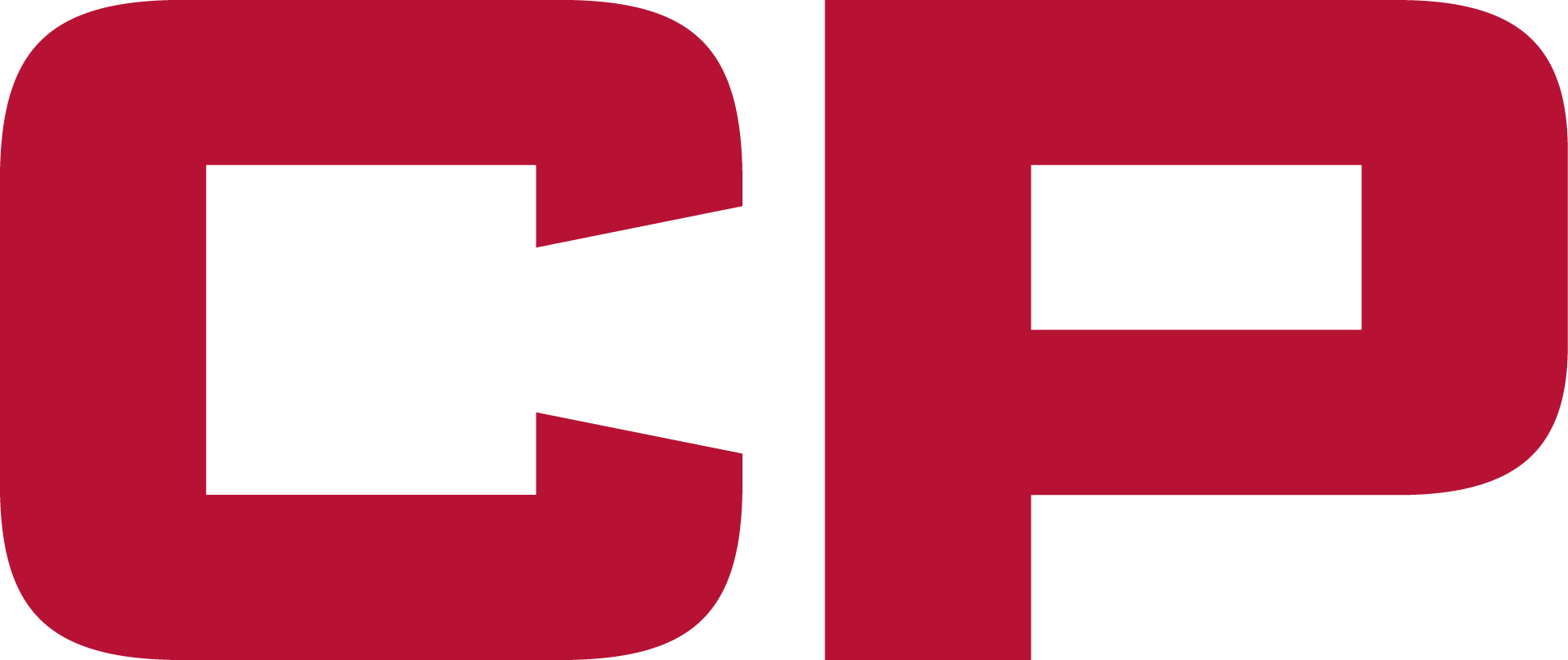 The Canadian Pacific Railway (CPR), formerly also known as CP Rail (reporting mark CP) between 1968 and 1996, is a historic Canadian Class I railroad incorporated in 1881. The railroad is owned by Canadian Pacific Railway Limited (TSX: CP, NYSE: CP), which began operations as legal owner in a corporate restructuring in 2001.
Headquartered in Calgary, Alberta, it owns approximately 23,000 kilometres (14,000 mi) of track all across Canada and into the United States, stretching from Montreal to Vancouver, and as far north as Edmonton. Its rail network also serves major cities in the United States, such as Minneapolis, Milwaukee, Detroit, Chicago, and New York City.
The railway was originally built between Eastern Canada and British Columbia between 1881 and 1885 (connecting with Ottawa Valley and Georgian Bay area lines built earlier), fulfilling a promise extended to British Columbia when it entered Confederation in 1871. It was Canada's first transcontinental railway, but currently does not reach the Atlantic coast. Primarily a freight railway, the CPR was for decades the only practical means of long-distance passenger transport in most regions of Canada, and was instrumental in the settlement and development of Western Canada. The CP became one of the largest and most powerful companies in Canada, a position it held as late as 1975. Its primary passenger services were eliminated in 1986, after being assumed by Via Rail Canada in 1978. A beaver was chosen as the railway's logo because it is the national symbol of Canada and was seen as representing the hardworking character of the company.
The company acquired two American lines in 2009: the Dakota, Minnesota and Eastern Railroad and the Iowa, Chicago and Eastern Railroad. The trackage of the ICE was at one time part of CP subsidiary Soo Line and predecessor line The Milwaukee Road. The combined DME/ICE system spanned North Dakota, South Dakota, Minnesota, Wisconsin, Nebraska and Iowa, as well as two short stretches into two other states, which included a line to Kansas City, Missouri, and a line to Chicago, Illinois, and regulatory approval to build a line into the Powder River Basin of Wyoming. It is publicly traded on both the Toronto Stock Exchange and the New York Stock Exchange under the ticker CP. Its U.S. headquarters are in Minneapolis.
After close of markets on November 17, 2015, CP announced an offer to purchase all outstanding shares of Norfolk Southern Railway, at a price in excess of the US$26 billion capitalization of the United States-based railway. If completed, this merger of the second and fourth oldest Class I railroads in North America would have formed the largest single railway company on that continent, reaching from the Pacific coast to the Atlantic coast to the Gulf Coast. The merger effort was abandoned by Canadian Pacific on April 11, 2016, after three offers were rejected by the Norfolk Southern board.
Read more on
Wikipedia
and on
Canadian Pacific official website
.
Paint Scheme
:
Type '
CPR
': Candy Apple Red, "Canadian Pacific" lettering with Beaver Logo on hood.
In September 1997, to properly portray its separate status and rekindle its heritage, CPR launched a retro-looking logo, complete with beaver, maple leaf and year of incorporation. The beaver and shield - adjusted slightly, with Canadian Pacific replacing Canadian Pacific Railway - was put in place for all corporate markings and was a symbol held in high esteem by employees.
First units repainted were AC4400CW #9581 and GP38-2 #3069 in September 1997. First new deliveries were AC4400CW's #9583-9683.
Sources:
CPR website
and
this website
.
Brand/Importer Information
:

DeLuxe Innovations is a "wholesale manufacturer" of model trains. We manufacture scale replica train models and sell them to hobby shops and distributors worldwide. 2013 marked the 20 year anniversary of DeLuxe Innovations brand trains. There are over 25 body styles in our product line and all of the cars in our single and multi-car packs have different road numbers. DeLuxe Innovations, Inc. is owned by Dave Ferrari, founder of Squeak N Products. We are located in Midland Park, New Jersey. When Dave purchased the business it was located in Burbank, California which would have been a bit of a long commute so the move to the East Coast was planned. Our first East Coast location was in Whippany, NJ along the Whippany River.
The business was started in 1993 by George Johnsen and Roberta Liebreich in Burbank, California. They had a philosophy that just wouldn't allow using a coal car as a "stand in" for a woodchip car, or printing any and all boxcar paint schemes on a PS-1. Starting with the release of the first ever etched metal parts for a ready to run car (1994's Twinstack's metal walkways) through the full dimension underframe and etched metal roofwalk (1996's 1944 AAR Boxcar) to the challenging RoadRailer system (2000), our products have been accurate to target the modeler or enthusiast.
You can also follow DeLuxe on
Twitter
Commissioner Information
:

Pacific Western Rail Systems
(PWRS Retail Ltd.) is a model railroad store, and they also do a lot of special runs. They do most of their business by mail order. Please call ahead of time if you would like to visit in person.
Pacific Western Rail Systems is located south of Vancouver at 15515 24th Ave in Surrey, British Columbia, Canada.
Pacific Western Rail Systems (Co-Op), the club in Surrey, BC, created and developed PWRS Retailing, LTD. A lot of their original business was selling limited-run cars. PWRS Retailing, Ltd. is a business. It was formed because the club's relationship with suppliers grew from a few special run cars, to ordering some locomotives for members, to helping a few friends, to the point where it was a full-time job and a large investment. Volunteer labor was not sufficient. The main owners of the business are those individual members of the club who chose to invest their own money and time in the business. The club members each own a minority interest in the store, but the club and the store are separate entities. Some of the original goals, such as developing a showcase, interactive layout with a sales point for the public, remain works in progress, and the shareholders of PWRS plan other achievements for the future of model railroading as well.
PWRS is a company incorporated in the Province of British Columbia and is owned by over 130 individual model railroaders. Their shareholders live in Canada, USA, Switzerland, England, and Australia.
Item created by:
Powderman
on 2018-10-20 09:48:49. Last edited by
CNW400
on 2020-05-28 23:00:19
If you see errors or missing data in this entry, please feel free to
log in
and edit it. Anyone with a Gmail account can log in instantly.