Specific Item Information:
WP 5102
WP 5105
WP 5109
Model Information: This model comes in both "Smoothside" and "Shallow-Rib" variations.
Prototype History
: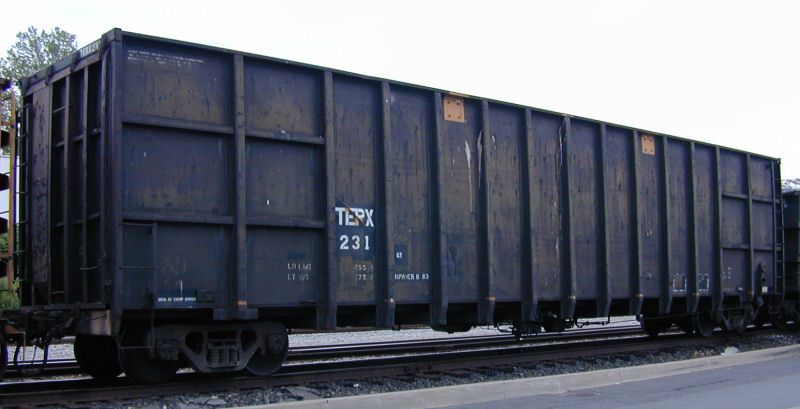 Although they are one of the lightest loads carried by rail, they require one of the biggest cars! Wood chips are big business for today's saw mills and lumber operations. Once burned as scrap or fuel-on-site, these by-products of the lumber industry are purchased by paper companies and used to make paper.
Specially designed for the pulp and paper industry, these cars can hold up to 6,800 cubic feet of pulpwood chips. Open-top gondolas without doors, end doors or bottom gates are designed for top loading. Unloading can be performed by top, end or bottom, depending on car design.
Road Name History
: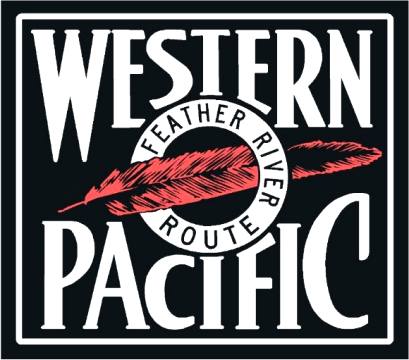 The Western Pacific Railroad (reporting mark WP) was a Class I railroad in the United States. It was formed in 1903 as an attempt to break the near-monopoly the Southern Pacific Railroad had on rail service into northern California. WP's Feather River Route directly competed with SP's portion of the Overland Route for rail traffic between Salt Lake City/Ogden, Utah and Oakland, California for nearly 80 years. In 1983 the Western Pacific was acquired by the Union Pacific Railroad. The Western Pacific was one of the original operators of the California Zephyr.
The original Western Pacific Railroad was established in 1865 to build the westernmost portion of the Transcontinental Railroad between San Jose, California (later Oakland, California), and Sacramento, California. This company was absorbed into the Central Pacific Railroad in 1870.
The second company to use the name Western Pacific Railroad was founded in 1903. Under the direction of George Jay Gould I, the Western Pacific was founded to provide a standard gauge track connection to the Pacific Coast for his aspiring Gould transcontinental system. The construction was financed by the Denver and Rio Grande Western Railroad, a company in the Gould system, which lost access to California due to the attempted acquisition of the Southern Pacific Railroad by the Rio Grande's main rival, the Union Pacific Railroad. The Western Pacific Railroad acquired the Alameda and San Joaquin Railroad and began construction on what would become the Feather River Route. In 1909 it became the last major railroad completed into California. It used 85-lb rail on untreated ties, with no tie plates except on curves over one degree; in 1935 more than half of the main line still had its original rail, most of it having carried 150 million gross tons.
The Western Pacific was acquired in 1983 by Union Pacific Corporation, which in 1996 would purchase its long-time rival, the Southern Pacific Railroad. In July 2005 Union Pacific unveiled a brand new EMD SD70ACe locomotive, Union Pacific 1983, painted as an homage to the Western Pacific.
Brand/Importer Information
:

DeLuxe Innovations is a "wholesale manufacturer" of model trains. We manufacture scale replica train models and sell them to hobby shops and distributors worldwide. 2013 marked the 20 year anniversary of DeLuxe Innovations brand trains. There are over 25 body styles in our product line and all of the cars in our single and multi-car packs have different road numbers. DeLuxe Innovations, Inc. is owned by Dave Ferrari, founder of Squeak N Products. We are located in Midland Park, New Jersey. When Dave purchased the business it was located in Burbank, California which would have been a bit of a long commute so the move to the East Coast was planned. Our first East Coast location was in Whippany, NJ along the Whippany River.
The business was started in 1993 by George Johnsen and Roberta Liebreich in Burbank, California. They had a philosophy that just wouldn't allow using a coal car as a "stand in" for a woodchip car, or printing any and all boxcar paint schemes on a PS-1. Starting with the release of the first ever etched metal parts for a ready to run car (1994's Twinstack's metal walkways) through the full dimension underframe and etched metal roofwalk (1996's 1944 AAR Boxcar) to the challenging RoadRailer system (2000), our products have been accurate to target the modeler or enthusiast.
You can also follow DeLuxe on
Twitter
Item created by:
Powderman
on 2018-11-10 14:32:13. Last edited by
CNW400
on 2020-05-28 19:41:57
If you see errors or missing data in this entry, please feel free to
log in
and edit it. Anyone with a Gmail account can log in instantly.