Specific Item Information:
Penn Central/US DOT
PCD-28 – IC-29 – PDC-29 (3-Cars)
Model Information
: Released in November 2018. Features:
Accurate dimensions scaled from original blueprints
Two powered Power Dome Cars with smooth, reliable drive systems
Articulated single-axle trucks with needlepoint axles
Full interior detail with interior lighting
Different Canadian and American versions with accurate details
All wheels pick up power for electrical reliability
Working headlights, tail lights, and Gyralites
Prototypically-tinted windows
CN and VIA customers can add a four-pack of Intermediate Cars to complete their trains
DCC Information: Comes either DCC-Ready or DCC/Sound equipped.
The DCC-Ready version accepts decoders with Next18 interface (NEM 662).
Sound-equipped models feature a sound decoder and sugar cube speaker in each Power Dome Car. Sounds are accurate Turbo sounds sourced from original Betamax video recordings. Sound decoders are custom ESU LokSound with amazing sound quality.
Prototype History
: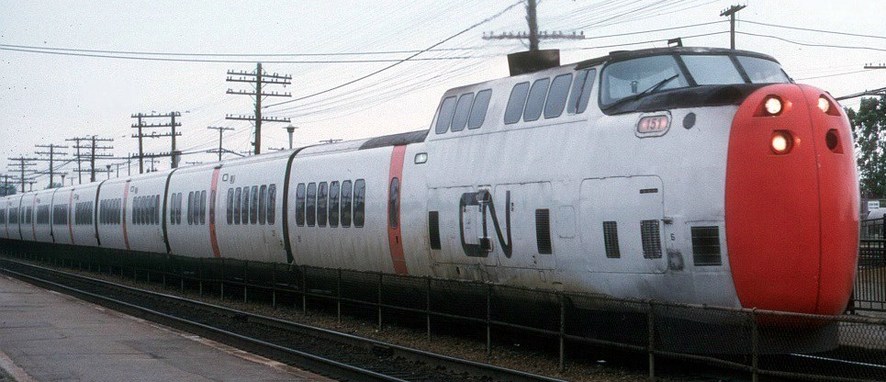 The United Aircraft TurboTrain is an important part of our railroad heritage. The Turbo was a high-speed passenger train that operated in Canada between 1968 and 1982 and in the United States between 1968 and 1976 (Amtrak disposed of the trains in 1980). To this day, it is the fastest production train in North American history. It achieved the American speed record of 170.8 MPH in 1967 and the Canadian speed record of 140.6 MPH in 1976, both of which still stand today.
The TurboTrain was designed and marketed by United Aircraft Corporate Systems Center (later Sikorsky Aircraft) as a gas turbine-powered, high-speed intercity train. Each train was powered by four or five Pratt & Whitney ST-6 gas turbine engines, with an additional gas turbine providing auxiliary power. The Turbo featured a unique pendular suspension over articulated single-axle trucks, which allowed the train to tilt in curves. That feature, combined with the short Intermediate Car length, meant that the Turbo could travel much faster than regular trains on conventional track. It was a high-speed train without the need to invest in high-speed train infrastructure.
A series of design studies carried out by Chesapeake and Ohio Railway in the 1950s used the second-generation Talgo design for their car suspensions. The suspension arms for each neighboring pair of cars were attached to a common bogie ("truck") between them, as opposed to having a pair of separate bogies for each car. The bogies rode the common curve between the two cars, centered by traction springs that centered the axle between adjoining car bodies. TurboTrain cars are 2 1⁄2 feet (76 cm) lower than conventional cars, to lower the center of gravity in relation to the swinging point at the top of the arms. The arms included air springs to smooth out the motion, although it still felt "odd" while the train navigated short turns in switchyards and stations.
United Aircraft (UAC) purchased the C&O patents to enter into the DOT's Northeast Corridor Demonstration Project. The TurboTrain was designed by personnel of the Corporate Systems Center Division (CSC) of UAC, at Farmington, Connecticut. The design was similar to the original C&O version, but modified to use turbine power instead of diesel. The chosen engines were a modified version of the Pratt & Whitney Canada PT6 (also a UAC division) known as the ST6, downrated from 600 to 300 hp (447 to 224 kW). The PT6 uses a "free turbine" that acts as a torque coupler, so the new design did not require a transmission and was able to drive the powered wheels directly. The power cars had three engine bays on either side of the car and could mount engines in pairs for two to six turbines, depending on the needs of the carrier. Another ST6 drove an alternator to provide 'hotel' electrical power for the train. Each power car had a fuel capacity of 5,774 litres; 1,525 US gallons (1,270 imp gal).
The Turbo's final run was on October 31, 1982, when they were replaced by the all-Canadian LRC trainsets from Bombardier Transportation, which employed conventional diesel-electric locomotives. Although they had an early reputation for unreliability, according to CN's records, the rebuilt TurboTrains had an availability rate of over 97% for their careers with CN and Via. The LRC suffered from similar teething problems, notably with the tilt system locking the cars in a tilted position.
From Wikipedia
Read more on
American-Rails.com
and on
Sikorsky Archives
.
Road Name History
: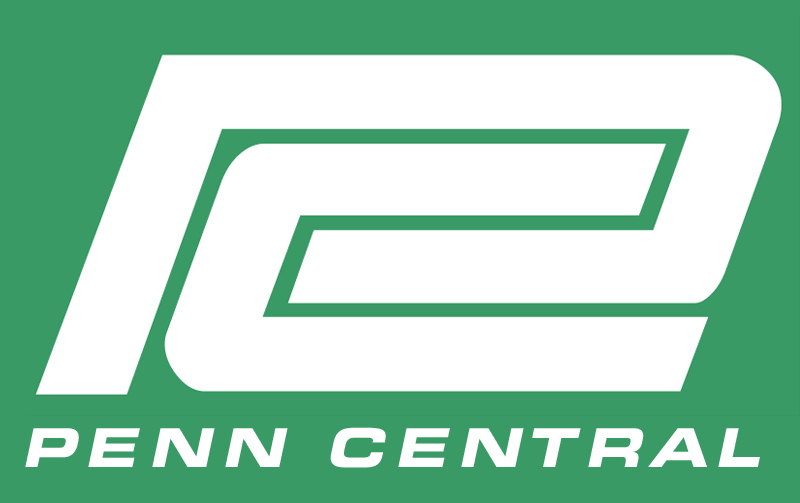 The Penn Central Transportation Company, commonly abbreviated to Penn Central, was an American Class I railroad headquartered in Philadelphia, Pennsylvania, that operated from 1968 until 1976. It was created by the 1968 merger of the Pennsylvania and New York Central railroads. The New York, New Haven & Hartford Railroad was added to the merger in 1969; by 1970, the company had filed for what was, at that time, the largest bankruptcy in U.S. history.
The Penn Central was created as a response to challenges faced by all three railroads in the late 1960s. The northeastern quarter of the United States, these railroads' service area, was the most densely populated region of the U.S. While railroads elsewhere in North America drew a high percentage of their revenues from the long-distance shipment of commodities such as coal, lumber, paper and iron ore, Northeastern railroads traditionally depended on a mix of services.
As it turned out, the merged Penn Central was little better off than its constituent roads were before. A merger implementation plan was drawn up, but not carried out. Attempts to integrate operations, personnel and equipment were not very successful, due to clashing corporate cultures, incompatible computer systems and union contracts. Track conditions deteriorated (some of these conditions were inherited from the three merged railroads) and trains had to be run at reduced speeds. This meant delayed shipments and personnel working a lot of overtime. As a result, operating costs soared. Derailments and wrecks became frequent, particularly in the midwest.
The American financial system was shocked when after only two years of operations, the Penn Central Transportation company was put into bankruptcy on June 21, 1970. It was the largest corporate bankruptcy in American history at that time. Although the Penn Central Transportation Company was put into bankruptcy, its parent Penn Central Company was able to survive.
The Penn Central continued to operate freight service under bankruptcy court protection. After private-sector reorganization efforts failed, Congress nationalized the Penn Central under the terms of the Railroad Revitalization and Regulatory Reform Act of 1976. The new law folded six northeastern railroads, the Penn Central and five smaller, failed lines, into the Consolidated Rail Corporation, commonly known as Conrail. The act took effect on April 1, 1976.
Read more on
Wikipedia
.
Brand/Importer Information
:

Rapido Trains Inc. is a high-end manufacturer of model trains and accessories in HO, OO and N (North American 1:160 and British 1:148) scales. The firm's mission is to recreate the entire rail travel experience, from fully-detailed interiors and under-frames on models to fully-wired telephone poles for model railroads.
The name RAPIDO was introduced by Canadian National in 1965 to headline the railway's high-speed intercity passenger services. Until the mid-1980s, RAPIDO stood for fast schedules, frequent trains, and superb service.
Today, Rapido Trains continues the RAPIDO concept with state-of-the-art models and attention to fine detail. This company is
not
related to the venerable (and now defunct) German manufacturer Arnold Rapido, nor the present-day Arnold (which is owned by the United Kingdom's Hornby), Canadian based Rapido Trains was founded in 2003.
Item created by:
Powderman
on 2018-11-11 16:24:18. Last edited by
Alain LM
on 2021-05-22 02:26:57
If you see errors or missing data in this entry, please feel free to
log in
and edit it. Anyone with a Gmail account can log in instantly.