Specific Item Information: This set will feature four GTW 50ft Ribsided single Sliding Door Boxcars painted GTW Light Blue with an aluminum roof, white lettering and the GTW "Wet Noodle" Herald. The cars will have light weathering and Yellow Reflective Tape. GTW series 309300-309399 built by Berwick, Lot 19900, Sep-Oct 1974. Rebuilt 02/1990

Pack# 026 90 001X NSE MTL16-186
026 91 001X RD# GTW 309329 - NSE MTL16-182X
026 92 001X RD# GTW 309355 - NSE MTL16-183X
026 93 001X RD# GTW 309362 - NSE MTL16-184X
026 94 001X RD# GTW 309367 - NSE MTL16-185X
Model Information: This model was first produced by Kadee in February of 1981. It is a model of a 50 Foot Steel Rib-Side Single Sliding Door Boxcar. Specifically, this Micro-Trains body style models the FMC 50' 5077 Single Sliding Door prototype. It is also used by Micro-Trains to model Pullman Standard 50' boxcars. Hence on some releases, this car is labeled as a Pullman Standard and in other cases it is labeled as an FMC boxcar, and it also is frequently labeled as a '50' Rib Side Box Car[sic]' with no mention of prototype whatsoever. It appears to be closest to the FMC 5077 boxcar prototype (from the 1970s) in any event. These models can appear with any one of multiple different sliding door types. The doors for this model are operating ones (cool!).
Prototype History
: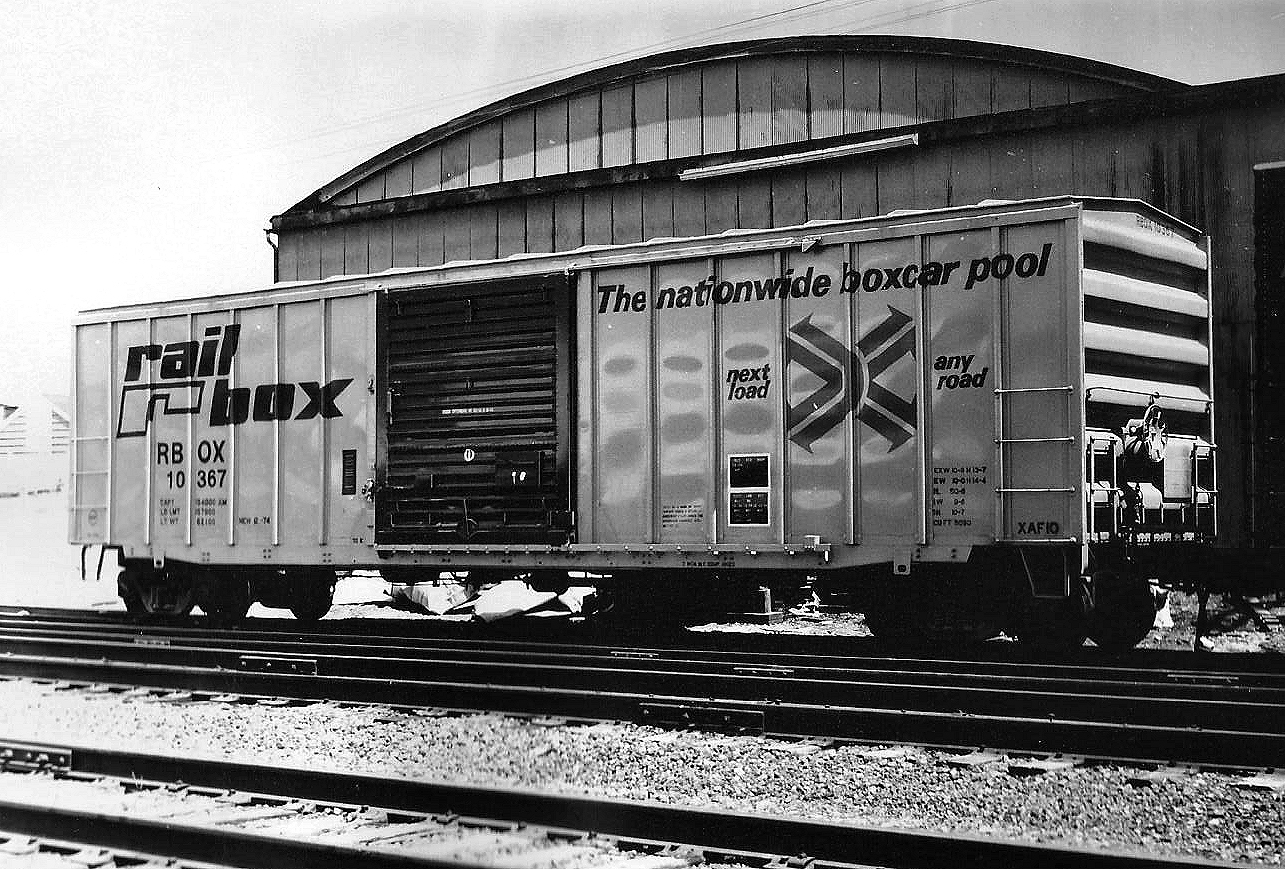 In the 1970's with the growth of the Per Diem business model, FMC produced a series of 50 foot box cars in different configurations. The single-sliding-door configuration is one of the best known and used widely by many different railroads. These cars were produced using the Gunderson metal works which FMC had acquired in 1965. In late 1975, FMC began producing a 5,077-cubic-foot Plate B box car for IPD and Railbox service. FMC's 5077s have seven panels to either side of the 10-foot door, an X-panel roof, and non-terminating ends that are slightly different from those used on FMC's earlier cars. Note how the sidesill is notched all the way back to the bolsters, a key feature of FMC's mature design.
The main difference between the 5077 cu. ft cars built by FMC vs the 5277-5347 cu. ft cars built by the same manufacturers is the overall height of the car, the smaller 5077 cars were Plate B while the larger 5277-5347 cars were Plate C. Over 4,300 cars were produced from 1975-1979 by FMC's Portland, Oregon plant. The cars were delivered in numerous colorful shortline paint schemes, as well as the nationwide car pool fleet of Railbox. Many secondhand cars were later seen in Class 1 railroads and large leasing company fleets under additional shortline reporting marks.
Road Name History
: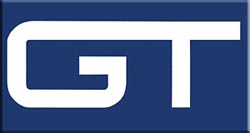 The Grand Trunk Western dates from 1928 as part of the Canadian government's process of nationalizing some major Canadian railroads (under the name Canadian National) including the Grand Trunk Railway which had built the line. The GT lines in Michigan, Indiana and Illinois were combined under the Grand Trunk Western banner. The GTW linked the Canadian border at Port Huron (north of Detroit, Michigan) with Chicago via Durand, Lansing, and South Bend. There were also routes to Detroit, Pontiac, Bay City, Carson City, and the Lake Michigan car ferry port of Muskegon (with ferry service to Wisconsin where GTW maintained a small yard and stationed a switcher.) The GTW had about 1,000 route miles during this period. So, the GTW was an American railroad that was a wholly owned subsidiary of a Canadian corporation, wholly owned by the Canadian government. In 1970, GTW was made a subsidiary of Grand Trunk Corporation (still wholly owned by CN) which also held sister roads Central Vermont, Duluth Winnipeg & Pacific and Grand Trunk (which operated in New York and New England.) This was done to give CN's american employees more opportunities to advance in the organization.
The GTW steam fleet looked very much like what you would see on the CN but GTW's engines were built in the U.S. by Alco, Lima, and Baldwin. A fleet of 58 Alco built Mikes handled the prime road freight assignments until augmented by 43 4-8-4's from Alco and Lima. Parent CN also relied heavily on 4-8-4's so this was not a surprise. The last of these was delivered in 1944. Despite picking up F units and geeps for freight service early on, GTW was late to retire steam. The last run (in passenger service no less) was in 1960!
The first generation of diesels included F's and GP9's (set up long hood forward as on parent CN) followed by GP18's for freight service. GTW went to EMD and Alco for switchers. Road units were painted in a green and gold scheme essentially the same as that of CN but with their own lettering and logos.
In 1962, GTW adopted a new "noodle" logo using the letters GT to conform to CN's own noodle logo adopted two years before. Locomotives were painted black with Morency Orange ends (later replaced with red) with light gray frame stripes and lettering. Cab units received the familiar "sergeant stripe" scheme used on CN. GTW's second generation of diesels (which also introduced the switch to low short hoods and running short-hood-forward) began in 1969 with the delivery of SD40's followed by GP38AC and GP38-2 models. In December of 1971, GTW switched from black to blue with red ends and white frame stripe and lettering.
In addition to acting as a link from Chicago to eastern Canada, GTW was also an important carrier for the auto industry. Their freight car fleet included large numbers of auto parts boxcars and auto racks. In the early 70's, GTW adopted the motto, "the Good Track road" on their freight cars to set them apart from their derailment prone neighbor Penn Central.
In 1980, GTW acquired another railroad critical to the auto industry, the Detroit Toledo & Ironton. This gave GTW routes from Detroit to the Ohio River. A year later, they acquired Norfolk & Western's half of the Detroit & Toledo Shore Line, merging that small bridge line connecting Detroit with Toledo.
At this point, GTW was over 1,500 miles long with 262 diesels and nearly 12,000 cars. In 1995, GTW's parent Canadian National was privatized, at which point there was less need for the US subsidiaries to have distinctly separate identities. Grand Trunk Western continues as a "paper railroad" but operations on these lines are now run as part of the greater Canadian National system.
Brand/Importer Information
: Micro-Trains is the brand name used by both Kadee Quality Products and Micro-Trains Line. For a history of the relationship between the brand and the two companies, please consult our
Micro-Trains Collector's Guide
.
Manufacturer Information
:

Micro-Trains Line split off from Kadee Quality Products in 1990. Kadee Quality Products originally got involved in N-Scale by producing a scaled-down version of their successful HO Magne-Matic knuckle coupler system. This coupler was superior to the ubiquitous 'Rapido' style coupler due to two primary factors: superior realistic appearance and the ability to automatically uncouple when stopped over a magnet embedded in a section of track. The success of these couplers in N-Scale quickly translated to the production of trucks, wheels and in 1972 a release of ready-to-run box cars.
Micro-Trains Line
Co. split off from Kadee in 1990 to form a completely independent company. For this reason, products from this company can appear with labels from both enterprises. Due to the nature of production idiosyncrasies and various random factors, the rolling stock from Micro-Trains can have all sorts of interesting variations in both their packaging as well as the products themselves. When acquiring an MTL product it is very important to understand these important production variations that can greatly enhance (or decrease) the value of your purchase.
Please consult our
Micro-Trains Collector's Guide
Commissioner Information
:

Pacific Western Rail Systems
(PWRS Retail Ltd.) is a model railroad store, and they also do a lot of special runs. They do most of their business by mail order. Please call ahead of time if you would like to visit in person.
Pacific Western Rail Systems is located south of Vancouver at 15515 24th Ave in Surrey, British Columbia, Canada.
Pacific Western Rail Systems (Co-Op), the club in Surrey, BC, created and developed PWRS Retailing, LTD. A lot of their original business was selling limited-run cars. PWRS Retailing, Ltd. is a business. It was formed because the club's relationship with suppliers grew from a few special run cars, to ordering some locomotives for members, to helping a few friends, to the point where it was a full-time job and a large investment. Volunteer labor was not sufficient. The main owners of the business are those individual members of the club who chose to invest their own money and time in the business. The club members each own a minority interest in the store, but the club and the store are separate entities. Some of the original goals, such as developing a showcase, interactive layout with a sales point for the public, remain works in progress, and the shareholders of PWRS plan other achievements for the future of model railroading as well.
PWRS is a company incorporated in the Province of British Columbia and is owned by over 130 individual model railroaders. Their shareholders live in Canada, USA, Switzerland, England, and Australia.
Item created by:
Powderman
on 2019-01-03 16:31:55. Last edited by
gdm
on 2022-11-05 11:29:12
If you see errors or missing data in this entry, please feel free to
log in
and edit it. Anyone with a Gmail account can log in instantly.