Specific Item Information: Built: WC 11-40. RR32 - Straight Line Map.
Model Information: This model was first introduced in the mid '90s in kit with references 61101 to 61109, 61112, 61198 (unpainted) and 61199 (painted, undecorated). Starting in 1998, it was also offered in RTR (Ready-to-Roll) versions with references 66101 and following. To get the RTR reference matching the kit version, just replace the two first digits of the stock number '61' by '66'. It is now only available in RTR version. It has been re-run several times since its introduction, with the largest series 66101 and 66102 counting no less than 48 different road numbers. It is now available in 18 series ranging from 66101 to 66118, that vary through their paint schemes.

This model is a correct reproduction of the Santa Fe classes Rr-19, 21, 23, 25 and 27 rebuilt reefers, with 4/4 recessed dreadnaught ends, 5' swing doors w/o reinforcements above the doors.
Classes Rr-28 and Rr-32 differ from the earlier ones by the platforms near ice hatches, that are only positioned inboard of the ice hatches, instead of surrounding them. The versions of model for these classes correctly reproduce the different arrangement of these platforms .
Prototype History
: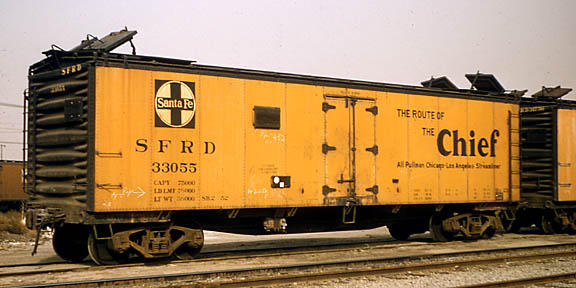 The Santa Fe Refrigerator Despatch (reporting mark SFRD) was a railroad refrigerator car line established as a subsidiary of the Atchison, Topeka and Santa Fe Railway (often shorten in Santa Fe) in 1884 to carry perishable commodities. At its peak in the '50s, the fleet of SFRD reefer was in excess of 14,000 cars, making it the second largest reefer fleet serving the west after PFE (Pacific Fruit Express, a subsidiarity of Union Pacific and Southern Pacific).
The curved-line and straight-line maps began to be used in 1940, depending on which shop did the repaint. Sometime around 1943 the straight-line maps became the norm and were predominate through 1947. The billboard slogans at that time included:
Grand Canyon Line
,
Scout
,
El Capitan
,
Super Chief
, and
Chief
.
Cars repainted before 1944 had periods in the S.F.R.D. reporting marks; after that the periods were dropped and the reporting marks were S F R D.
In 1947, the maps were no long painted and
Ship and Travel Santa Fe All the Way
took its place. The Scout name was dropped in 1947. By 1952, the surviving map/slogan cars would have been pretty dirty and well weathered; cleaner SFRD reefers had the later slogan scheme.
In 1958, the slogans went away and the large billboard Herald became the standard. Cars ran with this scheme until the mid 70s when ice reefers became obsolete.
Rebuilt reefers
:
Between 1937 and the early '40s , Santa Fe rebuilt over 4100 of its 40' wood reefers as steel sheathed reefers, all to virtually the same design. These former USRA cars kept their fishbelly center sill underframes. Given that they have been rebuilt in several batches, they are all similar but with small variations on doors and platforms around ice hatches. They are classified as Rr-19, 21, 23, 25, 27, 28, 29 and 32.
- Rr-19 SFRD 31254 - 31655 rebuilt 1937
- Rr-21 SFRD 34000 - 34499 rebuilt 1937
- Rr-23 SFRD 31656 - 33155 rebuilt 1938
- Rr-25 SFRD 33156 - 33455 rebuilt 1939
- Rr-25 SFRD 33556 - 33655 rebuilt 1939
- Rr-27 SFRD 34500 - 34950 rebuilt 1939
- Rr-28 SFRD 35000 - 35499 rebuilt 1940 (platform inboard of the ice hatches)
- Rr-29 SFRD 36000 - 36300 rebuilt 1940
- Rr-32 SFRD 35500 - 35999 rebuilt 1941 (platform inboard of the ice hatches)
More details on
this site
.
Road Name History
: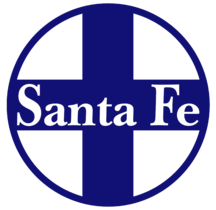 The Atchison, Topeka and Santa Fe Railway (reporting mark ATSF), often abbreviated as Santa Fe or AT&SF, was one of the larger railroads in the United States. Chartered in February 1859, the railroad reached the Kansas-Colorado border in 1873 and Pueblo, Colorado, in 1876. To create a demand for its services, the railroad set up real estate offices and sold farm land from the land grants that it was awarded by Congress. Despite the name, its main line never served Santa Fe, New Mexico, as the terrain was too difficult; the town ultimately was reached by a branch line from Lamy.
The Santa Fe was a pioneer in intermodal freight transport, an enterprise that (at one time or another) included a tugboat fleet and an airline (the short-lived Santa Fe Skyway). Its bus line extended passenger transportation to areas not accessible by rail, and ferryboats on the San Francisco Bay allowed travelers to complete their westward journeys to the Pacific Ocean. The ATSF was the subject of a popular song, Harry Warren & Johnny Mercer's "On the Atchison, Topeka and the Santa Fe", written for the film, The Harvey Girls (1946).
The railroad officially ceased operations on December 31, 1996, when it merged with the Burlington Northern Railroad to form the Burlington Northern & Santa Fe Railway.
Read more on
Wikipedia
.
Paint Scheme
:
The Super Chief was one of the named passenger trains and the flagship of the Atchison, Topeka and Santa Fe Railway. It claimed to be "The Train of the Stars" because of the celebrities it carried between Chicago, Illinois, and Los Angeles, California.
Brand/Importer Information
: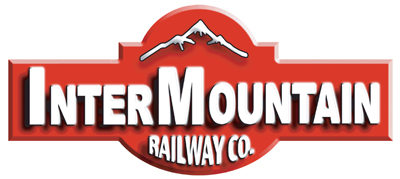 InterMountain was founded in 1985 by Fred Brummet. They got started in the model railroad business by producing O-Scale model kits. They got started in the N Scale business almost a decade later when in 1994 they introduced the 40-23 reefer car in kit form. Later, in 1998, they started producing RTR (Ready-to-Run) models. By the early 2000s, InterMountain phased out kit production in favor of the RTR models.
The InterMountain Railway company is located at 1224 Boston Ave in Longmont, CO. They are a manufacturer of HO, N and Z scale model trains. They have produced kits as well as RTR (Ready-To-Run) models. Their N Scale products include locomotives as well as rolling stock. Their rolling stock lineup includes Boxcars, Hoppers, Tank Cars, Reefers, Gondolas, Stock Cars and Flatcars.
Their locomotive releases have primarily been diesel units, with the one major exception being their series of AC-12 Cab Forward steam locos. Their diesel lineup includes F3's, F7's, F9's, SD40's, SD45's and FT units. They are known for quality and detail. They also release their rolling stock in larger varieties of road numbers than most of the other manufacturers.
Item created by:
petecduffy
on 2019-03-18 09:37:42. Last edited by
gdm
on 2020-07-24 07:24:39
If you see errors or missing data in this entry, please feel free to
log in
and edit it. Anyone with a Gmail account can log in instantly.