Model Information: Manufactured in two (mid and end) and three hitch versions, based upon ACF plans for the 1973 models, the Atlas replicas are packaged with two different styles of hitch, container pedestals, and the correct jack pads for that year.

The manufacturer's recommended minimum operating radius for these cars is thirteen inches.

Prototype Information: Introduced in the late 1960s, the ACF 89 foot 4 inch flatcars were designed to meet the growing need for versatile intermodal rolling-stock.

Used by Trailer Train and other North American railroads, the cars were designed to carry a pair of trailers or containers, or a combination of one of each.

Many of the 1960s and 1970s era ACF flatcars were modified in the late 1980s to accept longer trailer lengths, with the majority of those remaining in service today modified to accommodate three parcel pup trailers.
Prototype History
:

A flatcar (US) (also flat car (US) or flat wagon (UIC)) is a piece of railroad (US) or railway (non-US) rolling stock that consists of an open, flat deck mounted on a pair of trucks (US) or bogies (UK), one at each end containing four or six wheels. Occasionally, flat cars designed to carry extra heavy or extra large loads are mounted on a pair (or rarely, more) of bogeys under each end . The deck of the car can be wood or steel, and the sides of the deck can include pockets for stakes or tie-down points to secure loads. Flatcars designed for carrying machinery have sliding chain assemblies recessed in the deck.
Flatcars are used for loads that are too large or cumbersome to load in enclosed cars such as boxcars. They are also often used to transport intermodal containers (shipping containers) or trailers as part of intermodal freight transport shipping.
COFC (Container On Flat Car) cars are typically 89' long and carry four 20' intermodal containers or two 40'/45' shipping containers (the two 45' containers are carryable due to the fact that the car is actually 92' long, over the strike plates). With the rise of intermodal freight transport-specific well cars that allow double stacking, and given the age of most of these flats, numbers will decline over the next several years
From Wikipedia
Road Name History
: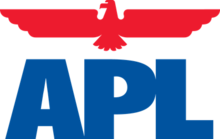 APL (formerly American President Line) offers a comprehensive suite of services extending from international freight forwarding to both origin and destination services, including freight consolidation, warehousing and distribution management. We employ innovative Information Technology (IT) to deliver maximum supply chain efficiency, visibility and control. APL Logistics is a Singapore-based global cargo transportation and logistics company. APL, along with its parent company CMA CGM, is the world's third-largest container transportation and shipping company, providing more than 80 weekly services. APL operates a container-ship fleet, including 153 container vessels.
The Pacific Mail Steamship Company was founded in 1848. In 1912, Congress banned ships owned by railroads from using the Panama Canal, and so Pacific Mail was sold to W. R. Grace and Company, where it operated as a subsidiary from 1916 till 1925, when the company's trans-Pacific fleet was bought over by the Dollar Shipping Company for $5,625,000 in cash. In August of 1938, the United States Maritime Commission judged the company unsound and assumed control over it, appointing William Gibbs McAdoo to succeed R. Stanley Dollar and Joseph R. Sheehan as the new president of the line. The first item of business was an amendment to the corporate charter, renaming the line as "American President Lines". In 2009, APL moved to a new headquarters in Singapore. Previously, APL had been based in Oakland, California.
From Wikipedia
Brand/Importer Information
: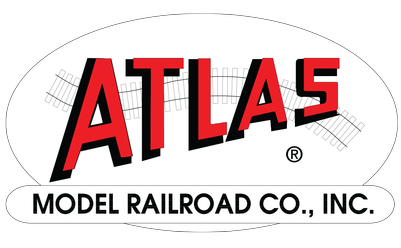 In 1924 Stephan Schaffan, Sr. founded the Atlas Tool Company in Newark, New Jersey. In 1933 his son, Stephan Schaffan, Jr., came to work for his father at the age of sixteen. Steve Jr. built model airplanes as a hobby and frequented a local hobby shop. Being an enterprising young man, he would often ask the owner if there was anything he could do to earn some extra spending money. Tired of listening to his requests, the hobby-store owner threw some model railroad track parts his way and said, "Here, see if you can improve on this".
In those days, railroad modelers had to assemble and build everything from scratch. Steve Jr. created a "switch kit" which sold so well, that the entire family worked on them in the basement at night, while doing business as usual in the machine shop during the day.
Subsequently, Steve Jr. engineered the stapling of rail to fiber track, along with inventing the first practical rail joiner and pre-assembled turnouts and flexible track. All of these products, and more, helped to popularize model railroading and assisted in the creation of a mass-market hobby. The budding entrepreneur quickly outgrew the limitations of a basement and small garage operation. Realizing they could actually make a living selling track and related products, Steve and his father had the first factory built in Hillside, New Jersey at 413 Florence Avenue in 1947. On September 30, 1949, the Atlas Tool Company was officially incorporated as a New Jersey company.
In 1985, Steve was honored posthumously for his inventions by the Model Railroad Industry Association and was inducted into the Model Railroad Industry Hall of Fame in Baltimore, Maryland. In addition, Steve was nominated and entered into the National Model Railroad Association Pioneers of Model Railroading in 1995.
In the early 1990s, the Atlas Tool Company changed its name to
Atlas Model Railroad Company, Inc.
Item created by:
CNW400
on 2019-03-18 12:42:40. Last edited by
CNW400
on 2020-06-04 16:27:55
If you see errors or missing data in this entry, please feel free to
log in
and edit it. Anyone with a Gmail account can log in instantly.