History: Caio Duilio was an Italian Andrea Doria-class battleship that served in the Regia Marina during World War I and World War II. She was named after the Roman fleet commander Gaius Duilius. Caio Duilio was laid down in February 1912, launched in April 1913, and completed in May 1916. She was initially armed with a main battery of thirteen 305 mm (12.0 in) guns, but a major reconstruction in the late 1930s replaced these with ten 320 mm (13 in) guns. Caio Duilio saw no action during World War I owing to the inactivity of the Austro-Hungarian fleet during the conflict. She cruised the Mediterranean in the 1920s and was involved in the Corfu incident in 1923.

During World War II, she participated in numerous patrols and sorties into the Mediterranean, both to escort Italian convoys to North Africa and in attempts to catch the British Mediterranean Fleet. In November 1940, the British launched an air raid on Taranto; Caio Duilio was hit by one torpedo launched by a Fairey Swordfish torpedo bomber, which caused significant damage. Repairs lasted some five months, after which the ship returned to convoy escort duties. A fuel shortage immobilized the bulk of the Italian surface fleet in 1942, and Caio Duilio remained out of service until the Italian surrender in September 1943. She was thereafter interned at Malta until 1944, when the Allies permitted her return to Italian waters. She survived the war, and continued to serve in the post-war Italian navy, primarily as a training ship. Caio Duilio was placed in reserve for a final time in 1953; she remained in the Italian navy's inventory for another three years before she was stricken from the naval register in late 1956 and sold for scrapping the following year.
Class
: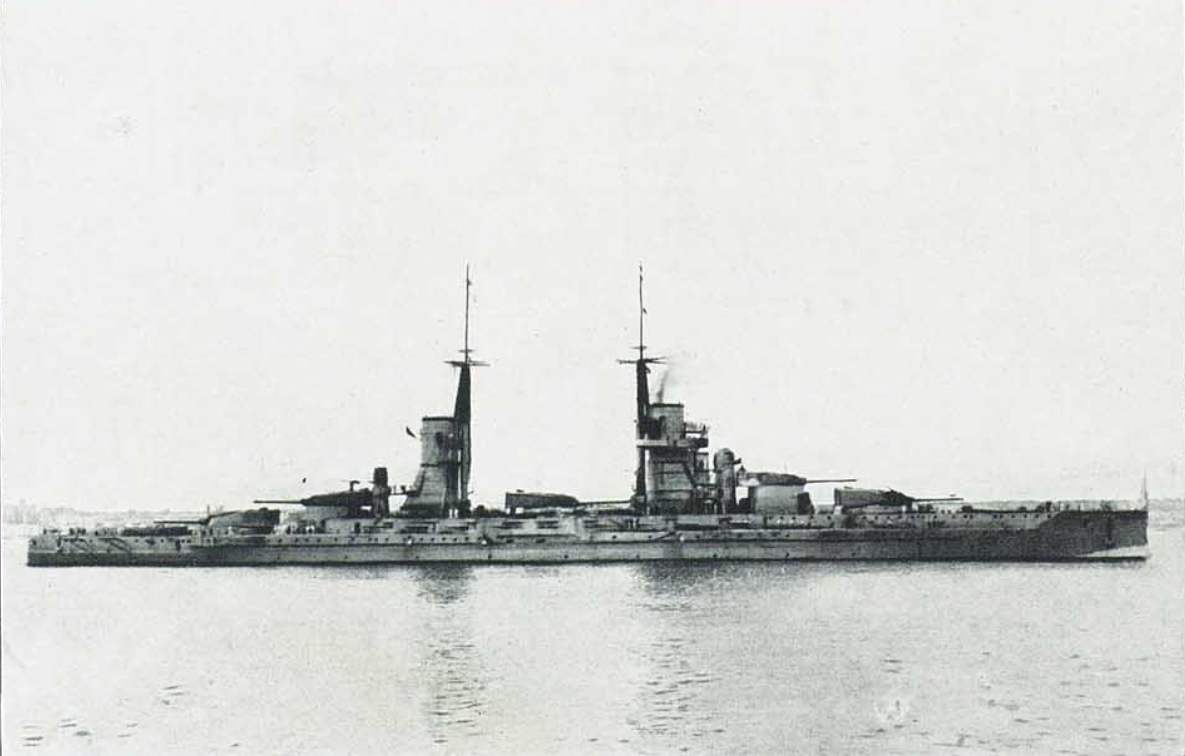 The Andrea Doria class (usually called Caio Duilio class in Italian sources) was a pair of dreadnought battleships built for the Royal Italian Navy (Regia Marina) during the early 1910s. The two ships, Andrea Doria and Caio Duilio, were completed during World War I. The class was an incremental improvement over the preceding Conte di Cavour class. Like the earlier ships, Andrea Doria and Caio Duilio were armed with a main battery of thirteen 305-millimeter (12.0 in) guns.
The two ships spent World War I based in southern Italy to keep the Austro-Hungarian Navy bottled up in the Adriatic, but neither vessel saw any combat. After the war, they cruised the Mediterranean and were involved in several international incidents, including the Corfu Incident in 1923. Both ships were placed in reserve a decade later and began a lengthy reconstruction in 1937. The modifications included removing their center main battery turret and boring out the rest of the guns to 320 mm (12.6 in), strengthening their armor protection, installing new boilers and steam turbines, and lengthening their hulls. The reconstruction work lasted until 1940, by which time Italy was already engaged in World War II.
The two ships were moored in Taranto on the night of 11/12 November 1940 when the British launched a carrier strike on the Italian fleet. In the resulting Battle of Taranto, Caio Duilio was hit by a torpedo and forced to beach to avoid sinking. Andrea Doria was undamaged in the raid; repairs for Caio Duilio lasted until May 1941. Both ships escorted convoys to North Africa in late 1941, including Operation M42, where Andrea Doria saw action at the inconclusive First Battle of Sirte on 17 December. Fuel shortages curtailed further activity in 1942 and 1943, and both ships were interned at Malta following Italy's surrender in September 1943. Italy was permitted to retain both battleships after the war, and they alternated as fleet flagship until the early 1950s, when they were removed from active service. Both ships were scrapped after 1956.
History
:

Italy, a European country with a long Mediterranean coastline, has left a powerful mark on Western culture and cuisine. Its capital, Rome, is home to the Vatican as well as landmark art and ancient ruins. Other major cities include Florence, with Renaissance masterpieces such as Michelangelo's "David" and Brunelleschi's Duomo; Venice, the city of canals; and Milan, Italy's fashion capital.
Item Links:
We found: 1 different collections associated with
Caio Duilio - Battleship - Dreadnought
Item created by:
Lethe
on 2019-03-24 10:02:36. Last edited by
gdm
on 2019-07-23 10:01:33
If you see errors or missing data in this entry, please feel free to
log in
and edit it. Anyone with a Gmail account can log in instantly.