Model Information: Among the worlds most recognizable engines, the GG1 is no stranger to rail fans of all levels. The GG1 has been plastered on everything from magazine ads and Hollywood movies to coach seat headrests. The GG1 represents a true breakthrough in electric locomotive technology. Patterned after the GE New Haven, it was the eventual culmination of nearly 40 years of experimentation. Broadway Limited Imports brings the memory of this world famous locomotive in diecast construction with Paragon3 electronics including Rolling ThunderTM
DCC Information: Operates in DC & DCC (use DCMaster for DC Sound) Record & Play Operation - Records and plays back sounds and movements once or repeatedly for automatic operation 16-bit Sample Rate for exceptional high frequency sound clarity Alternate Whistle / Horn where applicable for locomotive with air horn and steam whistle - both the main whistle and alternate can be easily played Adjustable bell ringing interval for faster or slower bell Numerous user-mappable functions with available keys Passenger Station Ambient Sounds - Controlled with Function Key Freight Yard related radio chatter - Controlled with Function Key Lumber Yard Ambient Sounds - Controlled with Function Key Farm related radio chatter - Controlled with Function Key Crew Radio Communications - Controlled with Function Key Maintenance Yard related radio chatter - Controlled with Function Key Demo Mode for display and demonstrations Simple Programming with Integral DCC Decoder Individually adjustable sound volumes for most effects
Prototype History
: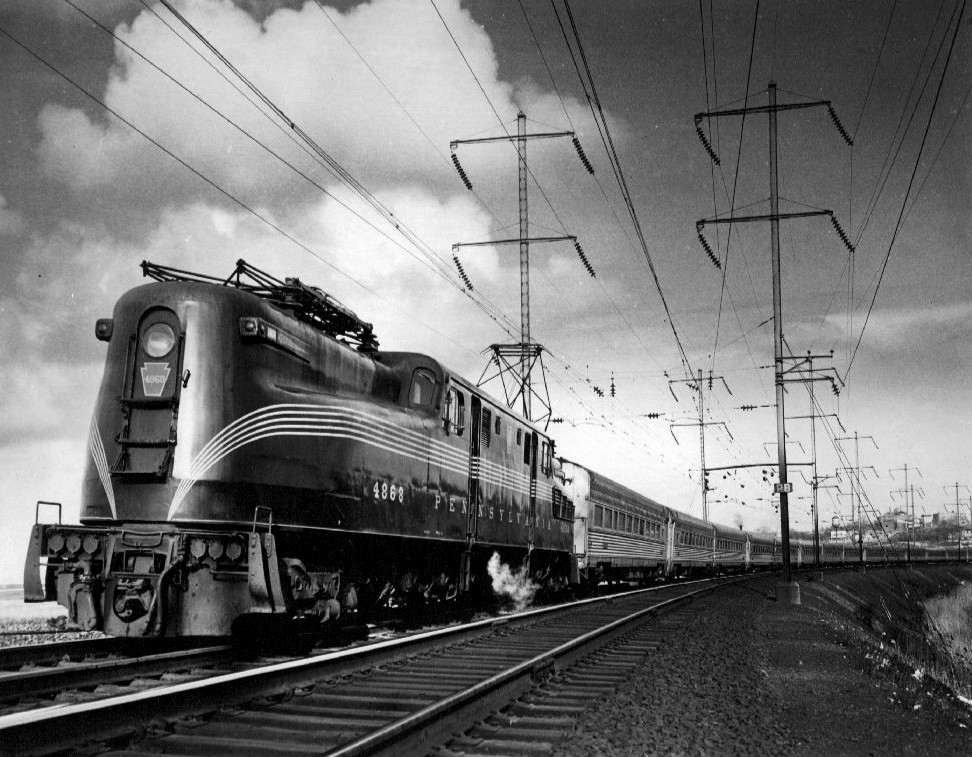 The PRR GG1 was a class of electric locomotives built for the Pennsylvania Railroad (PRR) for use in the northeastern United States. Between 1934 and 1943, General Electric and the PRR's Altoona Works built 139 GG1s. The GG1 entered service with the PRR in 1935, and later operated on successor railroads Penn Central, Conrail and Amtrak. The last GG1 was retired by New Jersey Transit in 1983. Most have been scrapped, but several remain in museums.
The mechanical design of the GG1 was based largely on the New Haven EP3, which had been borrowed earlier from the New Haven Railroad by the PRR to compare it to its current standard electric locomotive, the P5a. In 1933, the PRR decided to replace its P5a locomotives and told General Electric and Westinghouse to design prototype locomotives with the following specifications: a lighter axle load and more power than the P5a, a top speed of at least 100 miles per hour (160 km/h), a streamlined body design and a single (central) control cab.
Both companies delivered their prototypes to PRR in August 1934. General Electric submitted the GG1 and Westinghouse submitted the R1. The R1 was essentially "little more than an elongated and more powerful version of the P5a" with an AAR wheel arrangement of 2-D-2. Both locomotives were tested for ten weeks in regular service between New York and Philadelphia and on a test track in Claymont, Delaware. Because the R1's rigid wheelbase prevented it from negotiating sharp curves and some railroad switches, PRR chose the GG1 and ordered 57 additional locomotives on November 10, 1934. Of the 57, 14 were to be built by General Electric in Erie and 18 at the Altoona Works. The remaining 20 locomotives were to be assembled in Altoona with electrical components from Westinghouse in East Pittsburgh and chassis from the Baldwin Locomotive Works in Eddystone. An additional 81 locomotives were then built at Altoona between 1937 and 1943.
On January 28, 1935, to mark the completion of the electric line from Washington, D.C to New York City, PRR ran a special train pulled by PRR 4800 before it opened the line for revenue service on February 10. It made a round trip from D.C. to Philadelphia and, on its return trip, set a speed record by arriving back in D.C. 1 hour and 50 minutes after its departure from Philadelphia.
In the mid-1950s, with declining demand for passenger train service, GG1s 4801?4857 were re-geared for a maximum speed of 90 miles per hour (140 km/h) and placed in freight service. They initially retained their train heating steam generator, and were recalled to passenger service for holiday season mail trains, and 'Passenger Extras' such as those run for the annual Army?Navy football game in Philadelphia.
Timetable speed limit for the GG1 was 75-80 mph until October 1967 when some were allowed 100 mph for a year or two;[citation needed] when Metroliner cars were being overhauled in the late 1970s, GG1s were again allowed 100 mph when pulling Amfleet cars on trains scheduled to run 224.6 miles from New York to Washington in 3 hours 20?25 minutes.
The first designer for the GG1 project was industrial designer Donald Roscoe Dohner, who produced initial scale styling models, although the completed prototype looked somewhat different.[13][14] At some point, PRR hired famed industrial designer Raymond Loewy to "enhance the GG1's aesthetics."
From Wikipedia
Road Name History
: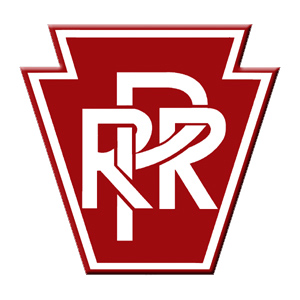 The Pennsylvania Railroad (reporting mark PRR) was an American Class I railroad, founded in 1846. Commonly referred to as the "Pennsy," the PRR was headquartered in Philadelphia, Pennsylvania.
The PRR was the largest railroad by traffic and revenue in the U.S. for the first half of the twentieth century. Over the years, it acquired, merged with or owned part of at least 800 other rail lines and companies. At the end of 1925, it operated 10,515 miles of rail line; in the 1920s, it carried nearly three times the traffic as other railroads of comparable length, such as the Union Pacific or Atchison, Topeka & Santa Fe railroads. Its only formidable rival was the New York Central (NYC), which carried around three-quarters of PRR's ton-miles.
At one time, the PRR was the largest publicly traded corporation in the world, with a budget larger than that of the U.S. government and a workforce of about 250,000 people. The corporation still holds the record for the longest continuous dividend history: it paid out annual dividends to shareholders for more than 100 years in a row.
In 1968, PRR merged with rival NYC to form the Penn Central Transportation Company, which filed for bankruptcy within two years. The viable parts were transferred in 1976 to Conrail, which was itself broken up in 1999, with 58 percent of the system going to the Norfolk Southern Railway (NS), including nearly all of the former PRR. Amtrak received the electrified segment east of Harrisburg.
Brand/Importer Information
: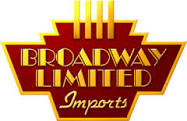 Broadway Limited Imports, LLC
defines itself as "
the world's foremost producer of top-quality HO and N scale model trains
".
Broadway Limited Imports is composed of a team of 15 fun loving individuals who are dedicated to creating the most realistic model railroading experience possible, with the best customer service possible.
The Broadway Limited Imports headquarters is located in Ormond Beach, Florida at 9 East Tower Circle. It's just under an hour's drive from Disney World.
About Broadway Limited Imports.
Item created by:
CNW400
on 2019-05-22 17:46:24. Last edited by
CNW400
on 2020-06-18 08:47:36
If you see errors or missing data in this entry, please feel free to
log in
and edit it. Anyone with a Gmail account can log in instantly.