History: Ascari was one of seventeen Soldati-class destroyer built for the Italian Royal Navy (Regia Marina) in the late 1930s and early 1940s. When Italy entered World War II, on 10 June 1940, Ascari was part of the 12th Destroyer Division, together with sister ships Lanciere, Corazziere and Carabiniere. On 11 June Ascari and her sister ships carried out a reconnaissance mission in the Sicilian Channel.

On 23 March 1943 Ascari sailed from Palermo carrying German troops towards Tunis, and was joined at sea by the sister ship Camicia Nera and two other destroyers, Leone Pancaldo and Lanzerotto Malocello, also carrying German troops. At 7:18 on 24 March, Lanzerotto Malocello struck a mine laid by HMS Abdiel about 28 miles north of Cape Bon and was left dead in the water. It was initially thought that the ship had been torpedoed, and Commander Mario Gerini, Ascari's commanding officer and also in command of the destroyer group, ordered Leone Pancaldo and Camicia Nera to proceed towards Tunis as he tried with Ascari to bring help to Lanzerotto Malocello, that sank about 90 minutes later. While rescuing Lanzerotto Malocello's survivors, however, Ascari hit in turn three mines, losing her bow and stern and finally sinking at 13:12, about 25 miles north of Zembretta. Some MAS boats sent from Bizerta and Pantelleria reached the scene after about four hours, and could only rescue 59 of the 533 troops and crew aboard Ascari. Commander Gerini was lost together with 193 of his crew and 280 German soldiers.
Class
: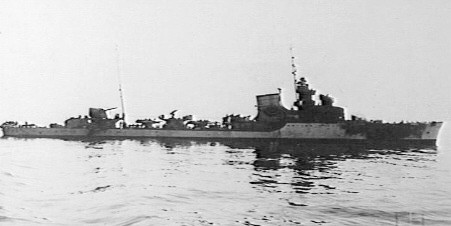 The Soldati class (also known as Camicia Nera class, meaning Blackshirt) were a group of destroyers built for the Italian Navy during World War II. The ships were named after military professions (Artigliere, for example, meaning "artilleryman"). There were two batches; twelve ships were built in 1938–39, and a second batch of seven ships were ordered in 1942, although only five were completed.
Ten ships of the class were lost during the war. Three of the survivors were transferred to the French Navy and two to the Soviet Navy as war reparations, while two served in the Italian post-war navy, the Marina Militare.
History
:

Italy, a European country with a long Mediterranean coastline, has left a powerful mark on Western culture and cuisine. Its capital, Rome, is home to the Vatican as well as landmark art and ancient ruins. Other major cities include Florence, with Renaissance masterpieces such as Michelangelo's "David" and Brunelleschi's Duomo; Venice, the city of canals; and Milan, Italy's fashion capital.
Item Links:
We found: 1 different collections associated with
Ascari - Destroyer
Item created by:
gdm
on 2019-09-02 07:16:40
If you see errors or missing data in this entry, please feel free to
log in
and edit it. Anyone with a Gmail account can log in instantly.