Specific Item Information
: In the early Sixties, Evans Products saw a need for specialized cars to transport coiled steel. The existing cars at the time were often 70-ton specially equipped mill gondolas. The new commodity-specific coil-steel car were built with a 100-ton capacity using a trough frame and body. The early designs were refined during the 1960s and eventually Evans adopted a 48-foot length as standard. Production lasted well into the 1970s. The Atlas 48-foot coil steel car is based on the Evans design of 1967 as well as being a close stand-in for the 1970s cars.
Features:
Die-cast body
Crisp painting and lettering
Two removable rounded hoods with stacking frames
Detailed wood lined trough floor
Model Information: Walthers introduced this model in the 1990s. It was part of the series of Chinese-made models that was developed by Walthers to replace the European models they had been importing. This is the first major release of a steel coil car. Later on, Atlas and Red Caboose would produce their own versions. This model features truck-mounted Rapido couplers and low-profile plastic wheelsets.
Prototype History
: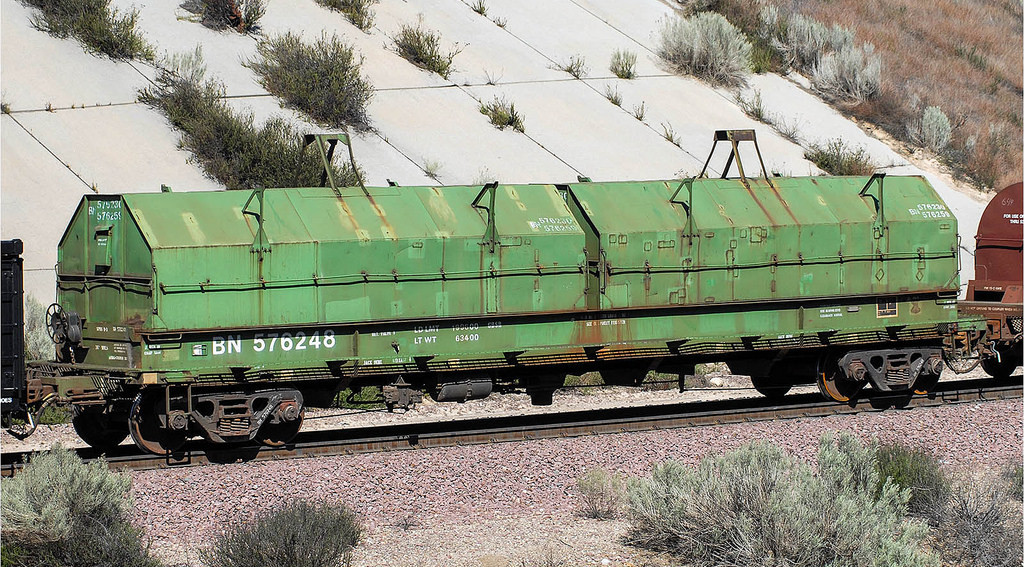 The increased volume of coiled steel transportation gave rise to a new purpose-built freight car. Previously rolls of coiled-steel had generally traveled in specially equipped gondola cars. In the 1960s a lighter type of car emerged specifically for hauling coils of steel in an integral trough. The car type gained popularity and eventually over 17,000 cars were built. One common model was the 48 foot design from Evans.
The new commodity-specific coil-steel car were built with a 100-ton capacity using a trough frame and body. The early designs were refined during the 1960s and eventually Evans adopted a 48-foot length as standard. Production lasted well into the 1970s.
Road Name History
: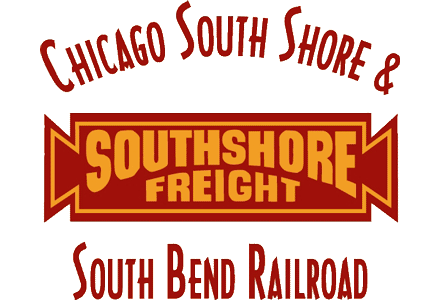 The CSS&SB was born in 1925 when traction and utility magnate Samuel Insull acquired and reorganized the Chicago Lake Shore & South Bend. The CLS&S was a robustly built electric interurban line connecting South Bend, Indiana with Michigan City, Gary, East Chicago, Hammond and finally Illinois Central's suburban line at Kensington, Illinois, just south of Chicago. The line was already blessed with broad curves and slight grades so it was not difficult for Insull to convert the line into a heavy electric in a style that would be familiar to fans of PRR, DL&W or Reading. Insull also secured trackage rights on the IC into Chicago. The overhead wire is a mix of catenary and trolley wire (the latter used on some of the low speed street trackage.)
Like many railroads, CSS&SB fell into bankruptcy in 1932 and Samuel Insull lost control. The Golden Age of Traction was over and the new management began to place more emphasis on freight service.
In addition to some boxcab electrics, the South Shore was one of two American roads to own "Little Joe" electrics. These had been built in the 1950s for the Soviet Union but Cold War tensions killed the deal. They were re-gauged (Russia is 5' gauge) and sold to South Shore and Milwaukee Road instead. The "Little Joe" name was a reference to Joseph Stalin.
In 1967, Chesapeake & Ohio gained control of the South Shore and the occasional C&O diesel could be found switching the South Shore. In 1981, the Little Joe's were retired and freight operations were dieselized with yellow and blue (like Chessie without the vermilion) GP38-2's. Passenger operations remained electrified. Passenger losses were subsidized by the state of Indiana through this period. In 1982, the Northern Indiana Commuter Transportation District paid for a fleet of new passenger cars that replaced the heavy steel cars that first went into service in the Insull era.
In 1989, the South Shore fell into bankruptcy, bringing an end to CSX (formerly C&O) control of the line. Northern Indiana Commuter Transportation District took over operation of the money losing passenger operations. The following year, the Anacostia & Pacific short line group established a new Chicago South Shore & South Bend Railroad to provide freight service on the line. It was this group that brought back the orange and maroon paint scheme last used on the Little Joes. They currently operate 182 miles of line, much of it on trackage rights.
Traffic on the South Shore is primarily a pair of power stations that receive unit coal trains and mills that ship pig iron and finished steel. They also carry grain, manufactured goods, paper, and roofing materials.
Major customers include: Alexander Chemical, ArcelorMittal-Burns Harbor, Criterion Catylst & Technologies, GAF Corporation, Five Star Sheets, Foodliner, Maryland Pig Services, Northern Indiana Public Service, NAMASCO/Primary Steel, PSC Metals, Reserve Marine/Transfer Logistics, Rollcoater, Sims Metal Management, U.S. Steel - Midwest, USALCO, and Windy City Warehouse.
Brand/Importer Information
: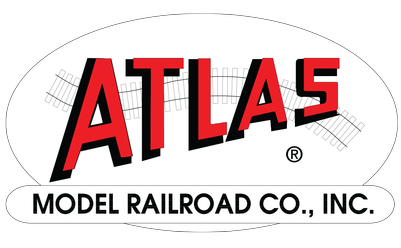 In 1924 Stephan Schaffan, Sr. founded the Atlas Tool Company in Newark, New Jersey. In 1933 his son, Stephan Schaffan, Jr., came to work for his father at the age of sixteen. Steve Jr. built model airplanes as a hobby and frequented a local hobby shop. Being an enterprising young man, he would often ask the owner if there was anything he could do to earn some extra spending money. Tired of listening to his requests, the hobby-store owner threw some model railroad track parts his way and said, "Here, see if you can improve on this".
In those days, railroad modelers had to assemble and build everything from scratch. Steve Jr. created a "switch kit" which sold so well, that the entire family worked on them in the basement at night, while doing business as usual in the machine shop during the day.
Subsequently, Steve Jr. engineered the stapling of rail to fiber track, along with inventing the first practical rail joiner and pre-assembled turnouts and flexible track. All of these products, and more, helped to popularize model railroading and assisted in the creation of a mass-market hobby. The budding entrepreneur quickly outgrew the limitations of a basement and small garage operation. Realizing they could actually make a living selling track and related products, Steve and his father had the first factory built in Hillside, New Jersey at 413 Florence Avenue in 1947. On September 30, 1949, the Atlas Tool Company was officially incorporated as a New Jersey company.
In 1985, Steve was honored posthumously for his inventions by the Model Railroad Industry Association and was inducted into the Model Railroad Industry Hall of Fame in Baltimore, Maryland. In addition, Steve was nominated and entered into the National Model Railroad Association Pioneers of Model Railroading in 1995.
In the early 1990s, the Atlas Tool Company changed its name to
Atlas Model Railroad Company, Inc.
Manufacturer Information: 'Atlas Model Railroad' represents the New Jersey manufacturing facility for Atlas brand model railroad products. Atlas also imported European made models in their early years and those items will be noted as having manufacturers set appropriately. In the 1990s Atlas moved all their toolings to China.
Item created by:
CMK
on 2019-10-02 04:30:06. Last edited by
CMK
on 2021-09-09 07:37:52
If you see errors or missing data in this entry, please feel free to
log in
and edit it. Anyone with a Gmail account can log in instantly.